A great way to explore our sense of taste is to experiment with different flavors. We decided to sample different types of fruit to see what bedazzled our taste buds and which we didn't care for. We made a special trip to the grocery store so they could pick and choose different fruits to try. Toddlers eat with their eyes first so I made sure to make their sampling plate visually colorful and boy were they thrilled. Both girls were eager to dig in and try each different piece of fruit.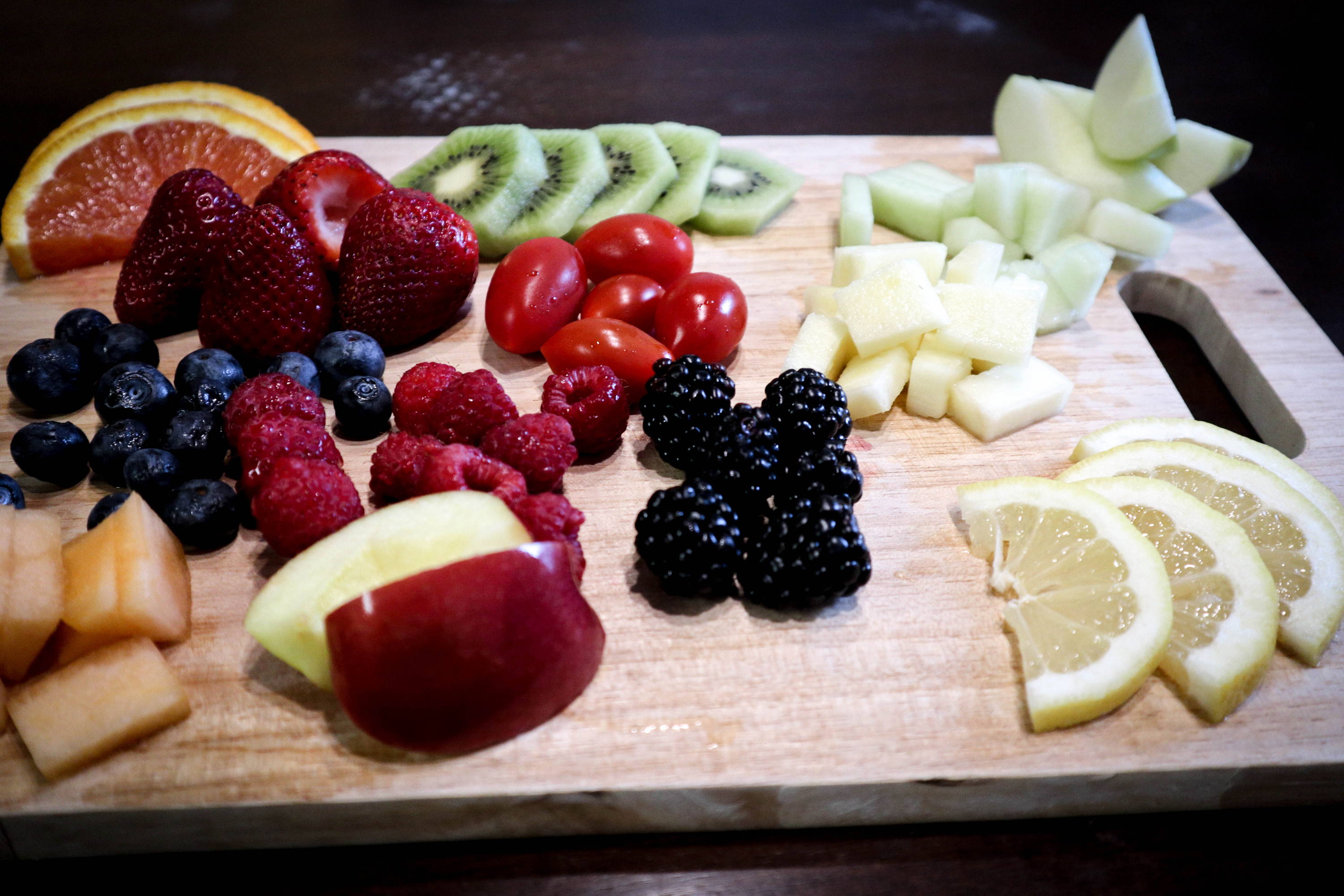 A board full of deliciousness waiting to be devoured by toddlers.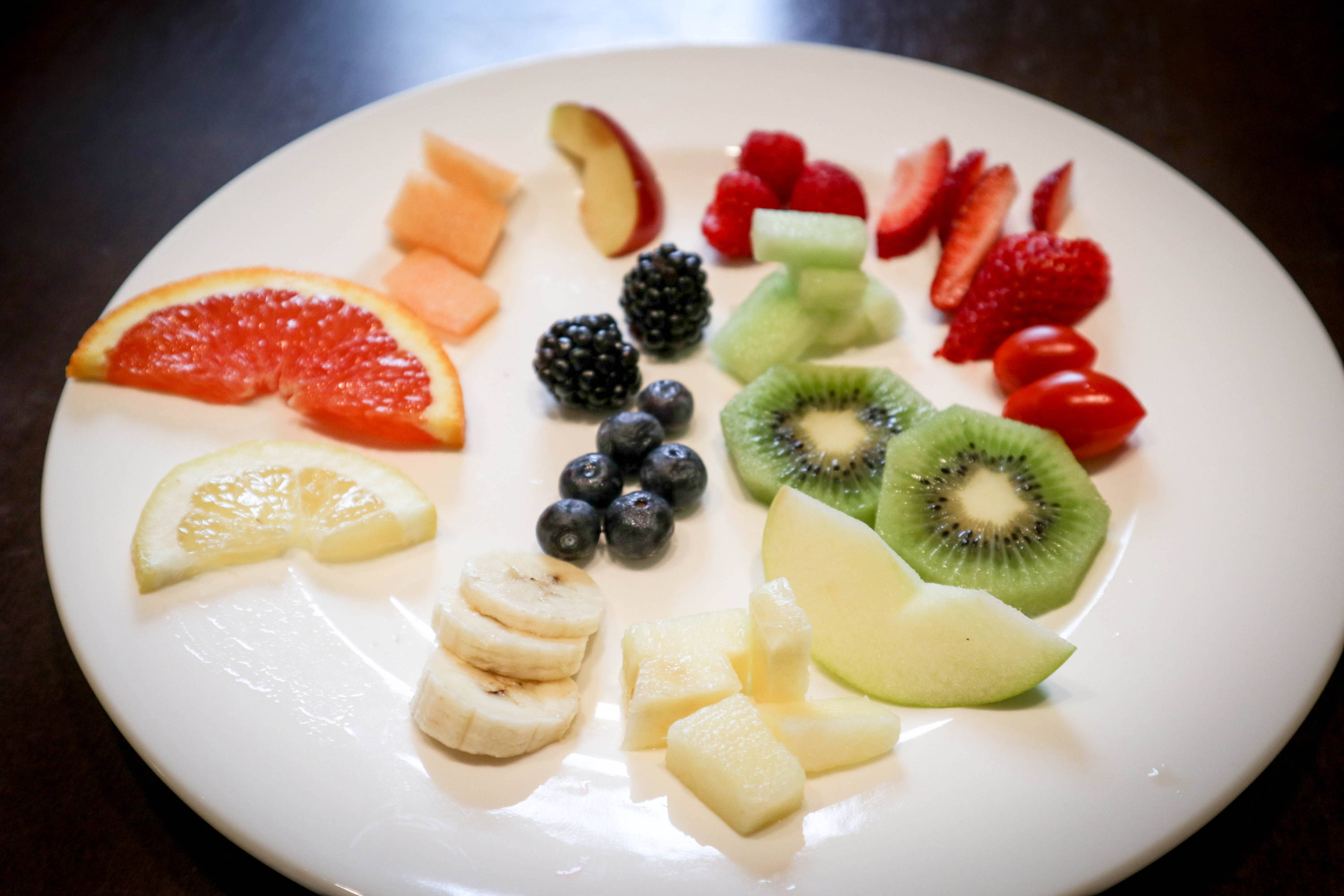 What their plate of food looked like.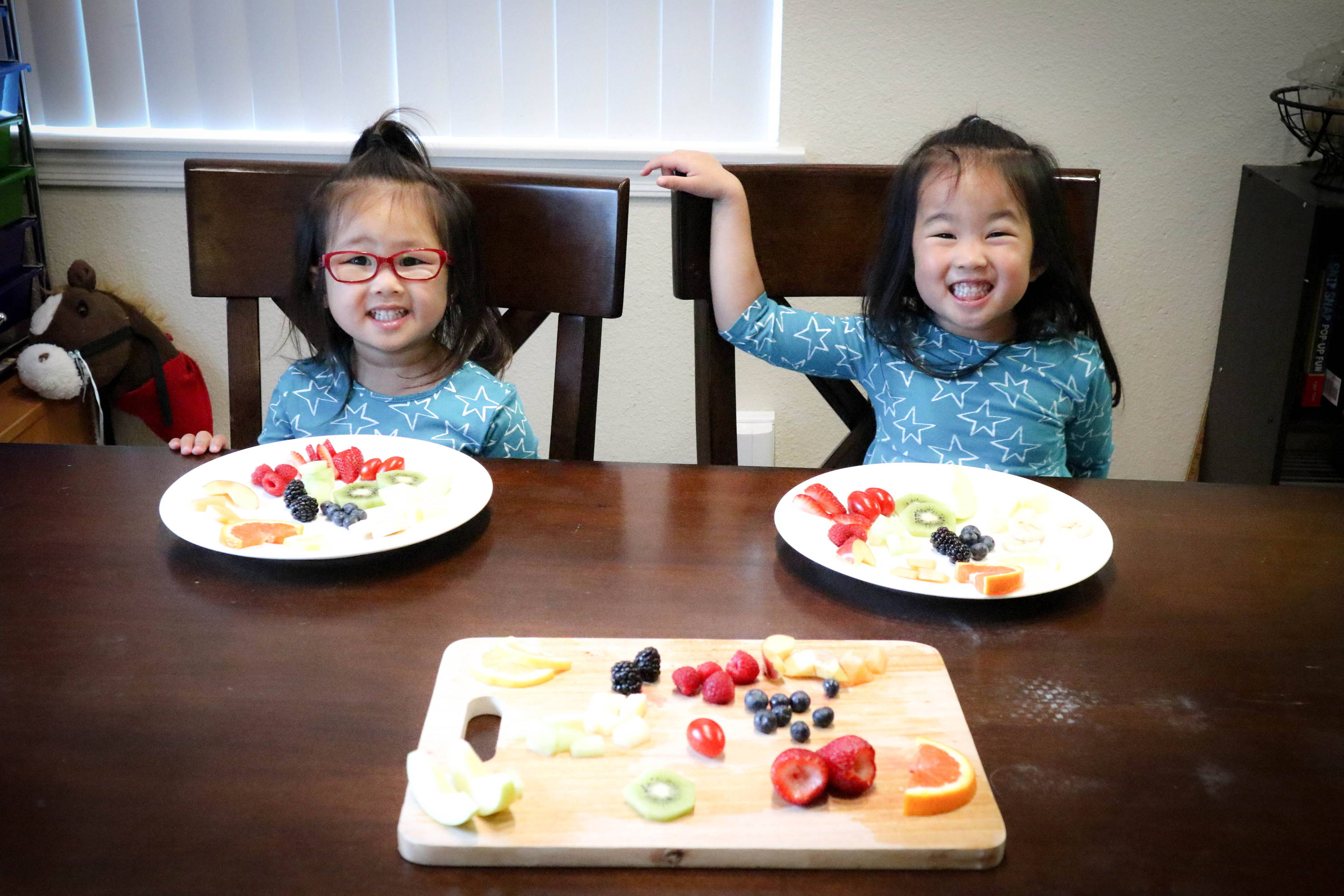 The girls are excited and ready to try what's on their plate!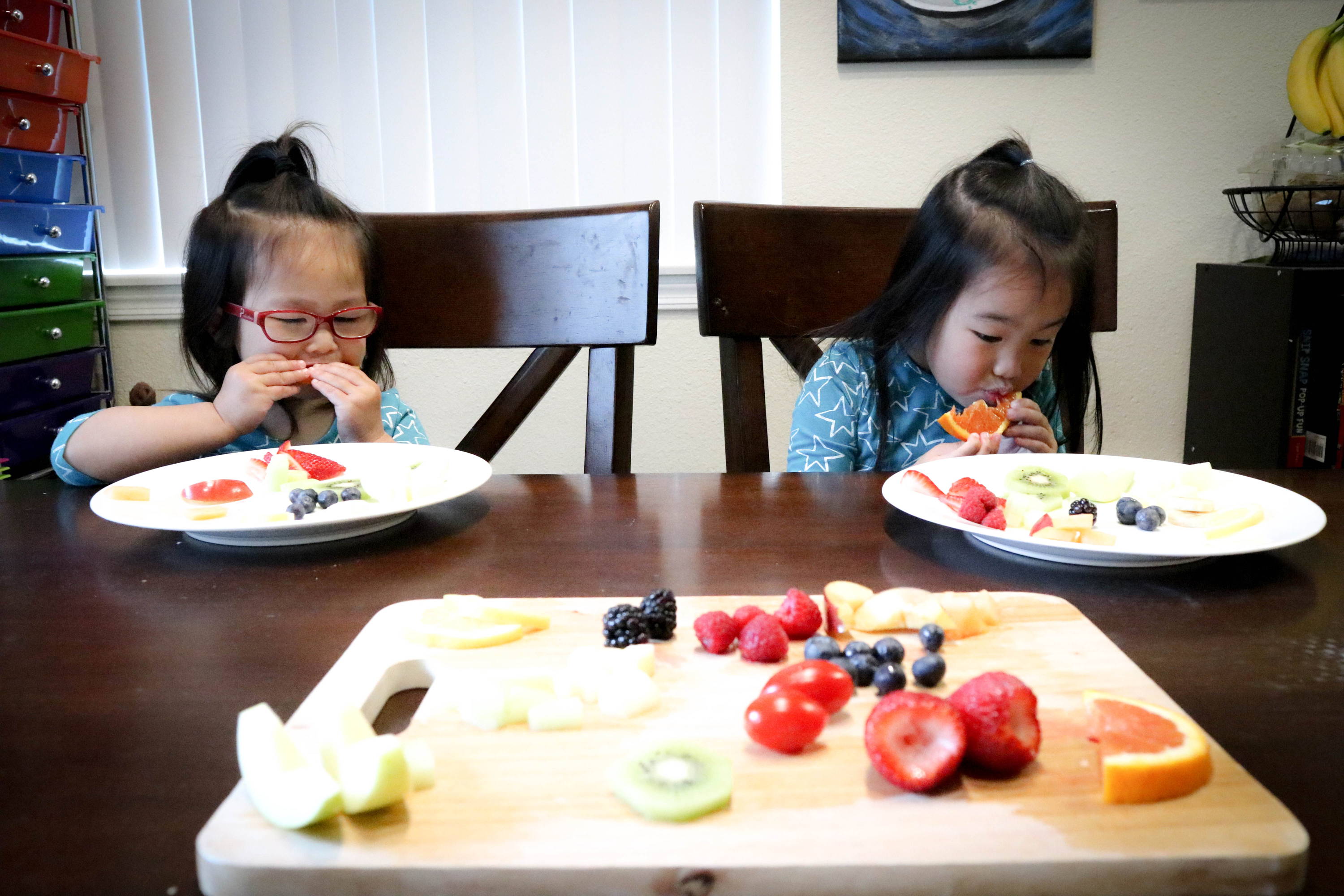 First up, grapefruit! They both agreed it was weird - sweet but kind of sour.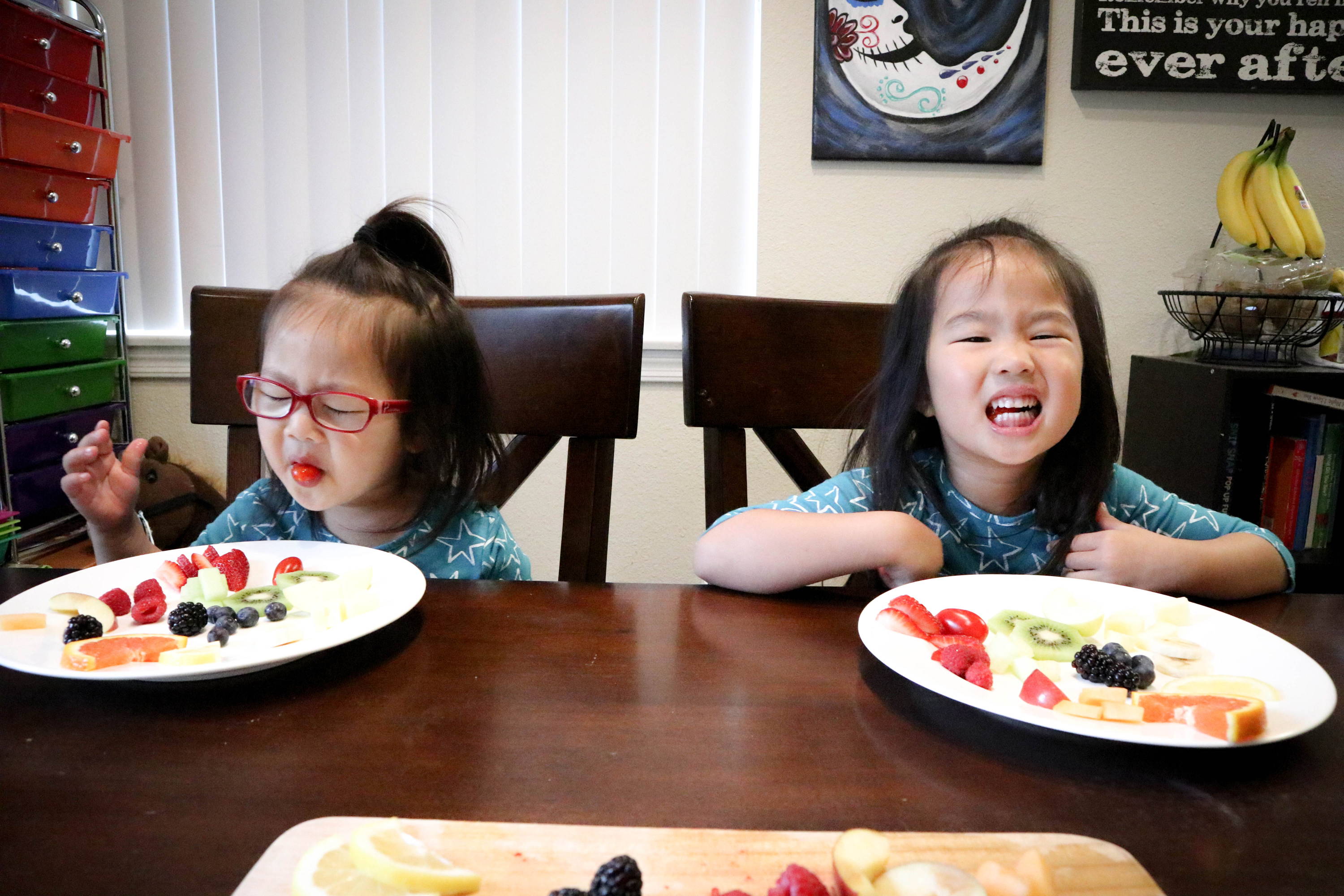 Tomatoes are now their enemies. They both did not enjoy these. Their verdict on the taste: gross.
Harper LOVED blackberries! She said it was sweet!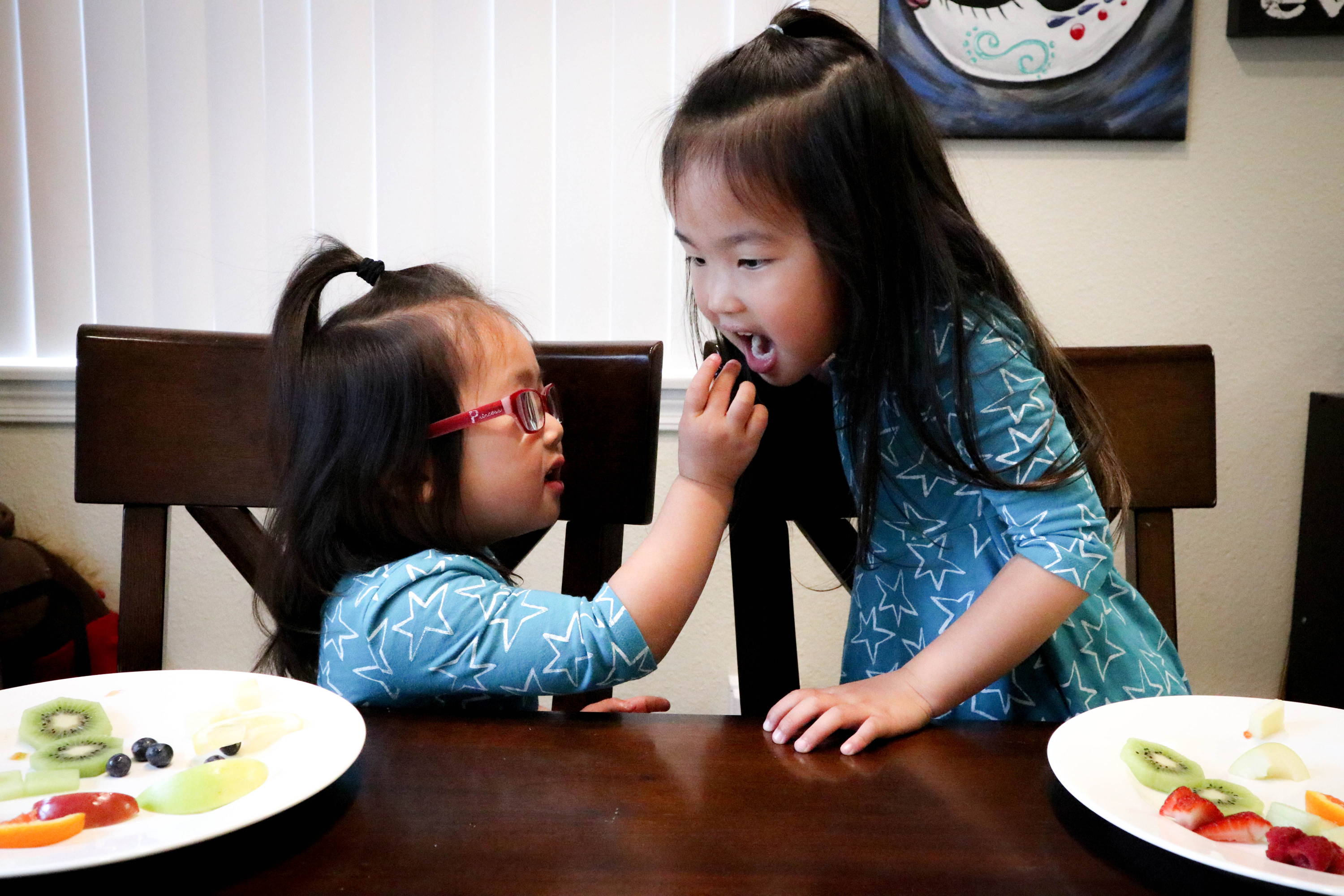 Sharing is caring and Harper insisted on sharing her blackberry with Zoey.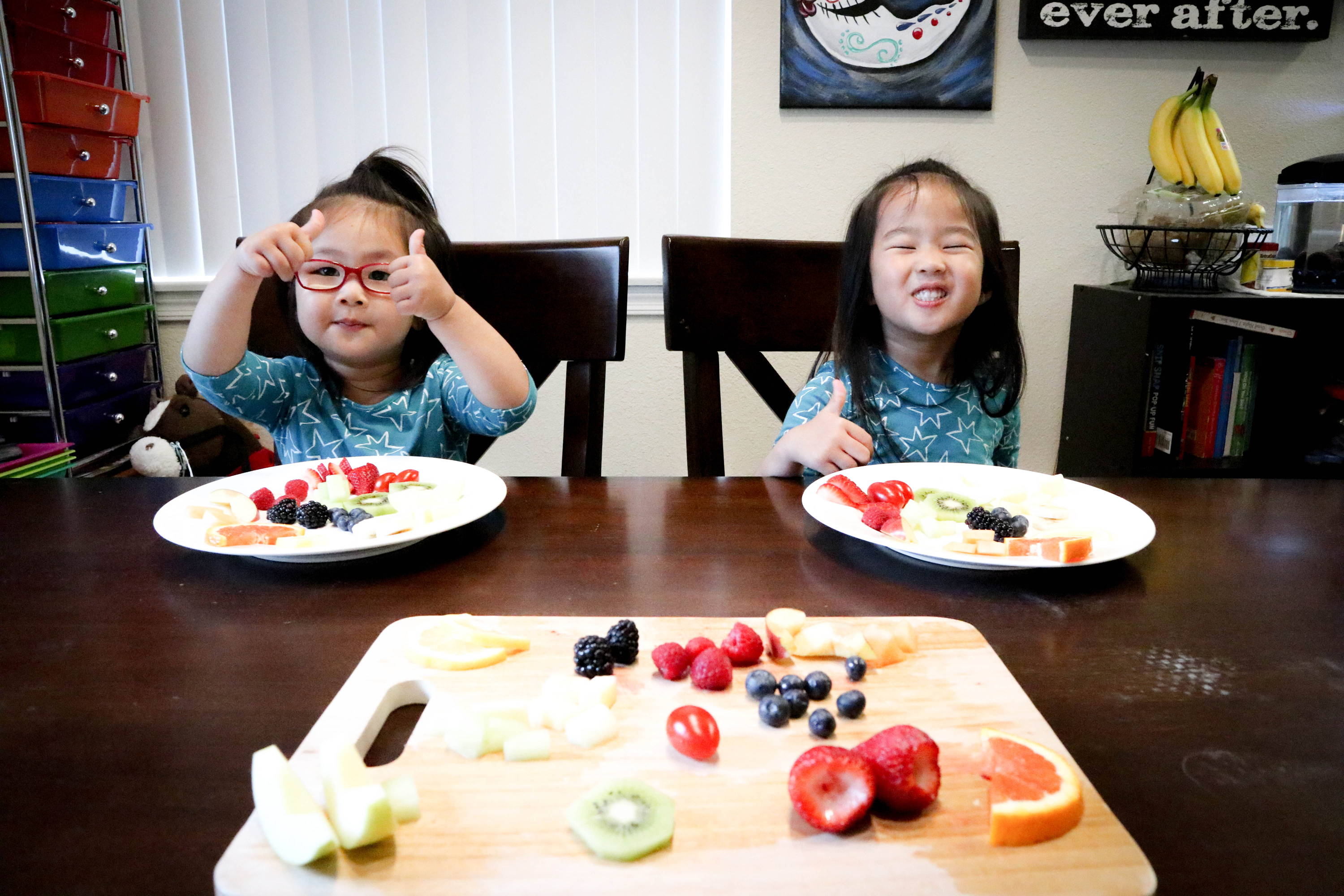 Both girls agree, this activity receives a thumbs up!
Each new bite was a new adventure and a new sensation - some of which weren't great and some that were fantastic but each a learning experience for all of us. I learned what both girls loved and what made them gag and run for water to rinse their mouth out. This activity is a great way to try new things in a fun way and to encourage your children to explore their sense of taste and explain what they taste to you.

► Activity
Sample foods that are sweet, salty, sour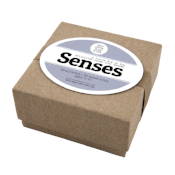 ► Age of child(ren)
2 & 4
► Length of time spent on activity (approx.)
Actual activity 45 minutes; more time to gather fruit at the market
► Materials needed/chosen
We chose to use different fruit to represent different tastes. We had: lemons, grapefruit, tomatoes, blackberries, blueberries, raspberries, strawberries, red apples, green apples, melons, cantaloupe, kiwi, bananas, and pineapples.
► Any prep-work? If so, what?
Just gathering the different fruit and cutting them.
► Directions / What we did
We decided to use fruit for this activity since fruit has a wide range of flavors and ultimately it's pleasing to the toddler eye and we all know if a toddler/child does not like what they see - they usually won't try it. We gathered the fruit together at the market - they chose different fruit they wanted to try. When we returned home, I laid out the fruit, reviewed their names and we talked about what they thought each tasted like (they knew some, some they haven't tried before). The anticipation during the cutting was intense and it took a lot of patience and watching while I cut and prepared the fruit. When it was ready, the girls dove into what they wanted to try one by one.
► Possible ways to expand on the activity
I think a great way to expand on this activity is to utilize this with different categories of food: snacks, vegetables, and maybe even textures! (Think cheese, egg, peanut butter, yogurt) - and maybe try it blindfolded so they need to guess the food!
► What would you do differently next time?
I think I would incorporate some more green vegetables even though they may not be too keen on trying them, exposing them to it and encouraging them to try the different vegetables with the fruit may help them become more accustomed to it.
► What my child was able to do by themselves
They were able to taste everything.
► What my child needed help with
They weren't able to cut the fruit. They also needed me to hold the napkin while they spit out the ones they did not enjoy.
► My child's thoughts about the activity
Both Zoey and Harper had VERY interesting reactions to the tomatoes. Their final thoughts were that they did NOT like tomatoes and that lemons were sour and the kiwi was too tart. Overall, I think they enjoyed the different colors and anticipating the different tastes. They did go for the water and spit out some of the fruit in-between tastings.
► Any other thoughts or info about the activity?
This was an excellent activity to introduce new vocabulary (naming fruit, flavors, colors, and senses) with the girls. They enjoyed (almost everything) but did formulate their opinions about their favorite flavors and fruits. Harper loved the blackberries and Zoey loved the tart green apples. They both did not like the tomatoes. Overall, the girls enjoyed this activity and all the new things they got to try.
---
Jennifer N. is an educator and photographer converted to stay-at-home mother of two spunky girls. When she's not wrangling her two wildlings on one of their adventures, she is writing and documenting the joys of parenting and childhood one photograph at a time. After surviving two children under two, she believes she can take on the world.
Sign-up for our newsletter to receive monthly activity ideas & documentation, here. sensesbox