I'm always looking for easy and free activities to do with my kids around the house. If it's raining outside or if it's just a busy day, honestly, I don't always have time to go to the craft store! And I don't always want them to watch TV. Building a fort is such a great go to! It's always going to be different, and always an adventure. You can pull out different sheets and blankets each time and change up your location. My 3 year old, Hallen, thought it was so cool. It was her little castle for her and Ariel...and baby sister Hazel when she decided to join in as well. It stayed up the entire day, and that's the only place she played until bed time. We even read our bed time stories together under her fortress!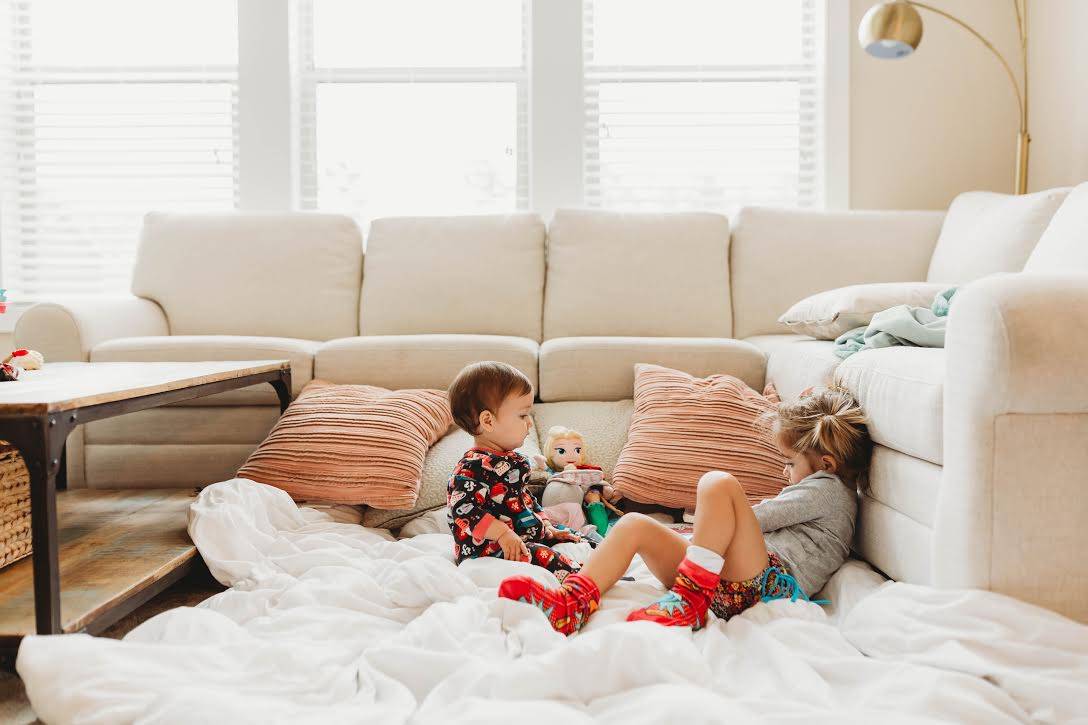 The beginning of our fort making! I laid a big duvet out for them to lay on, so it'd be nice and soft. And put our couch pillows down as well.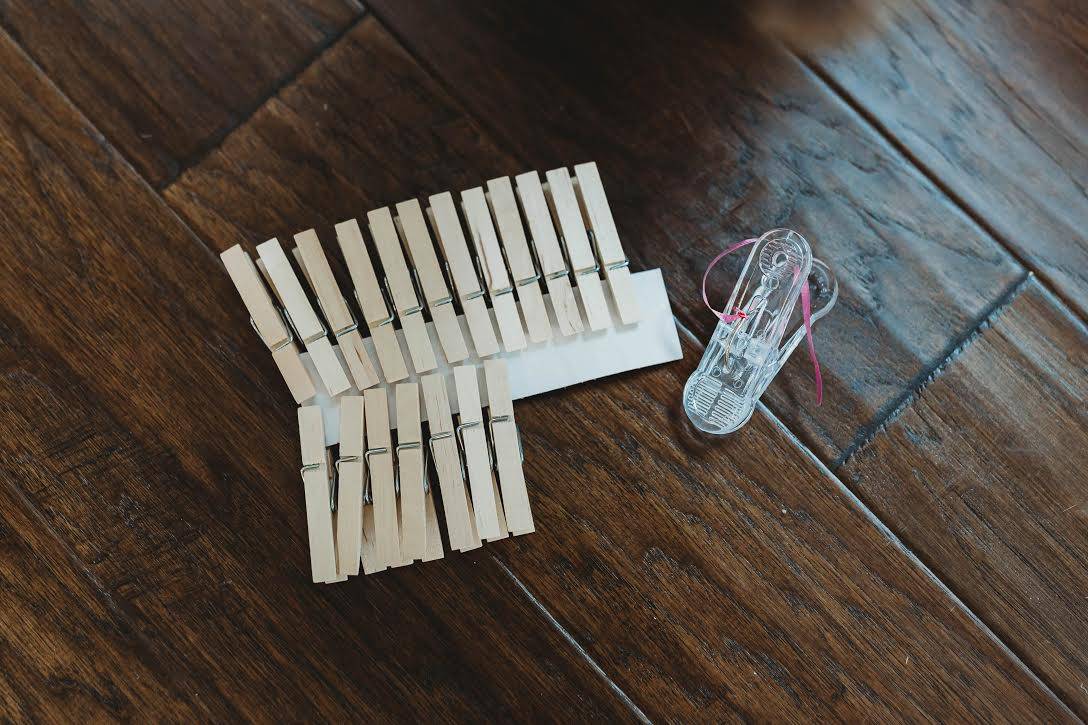 I used a few clothes pins to connect our sheets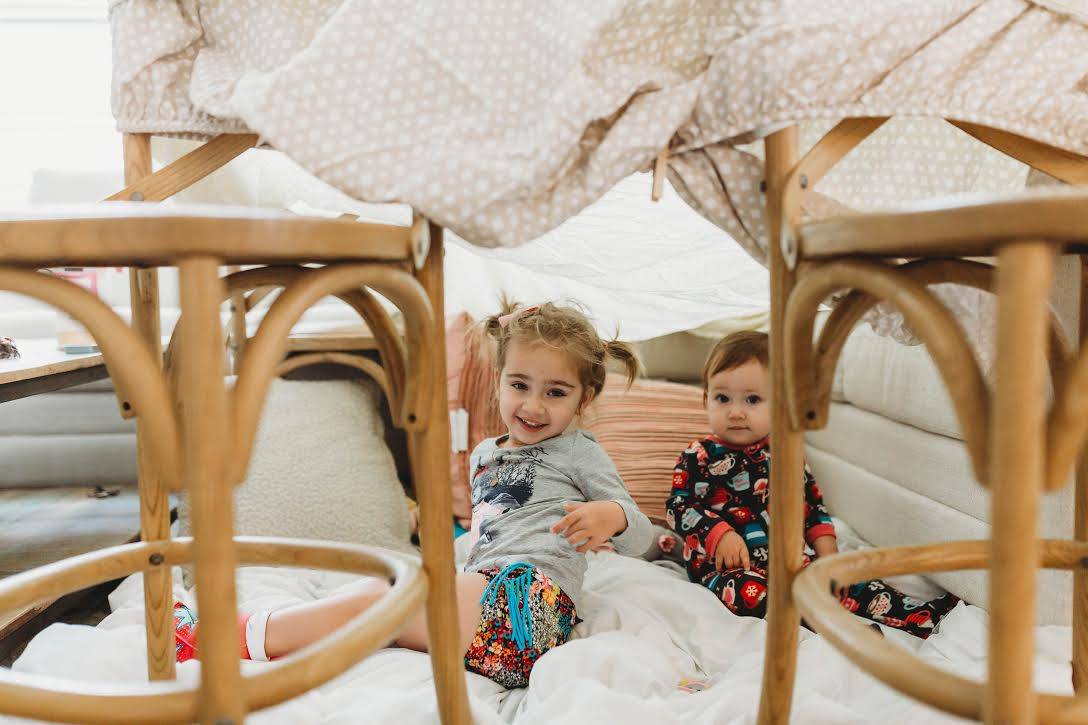 I started making the fort, and these two girls immediately went under to start playing!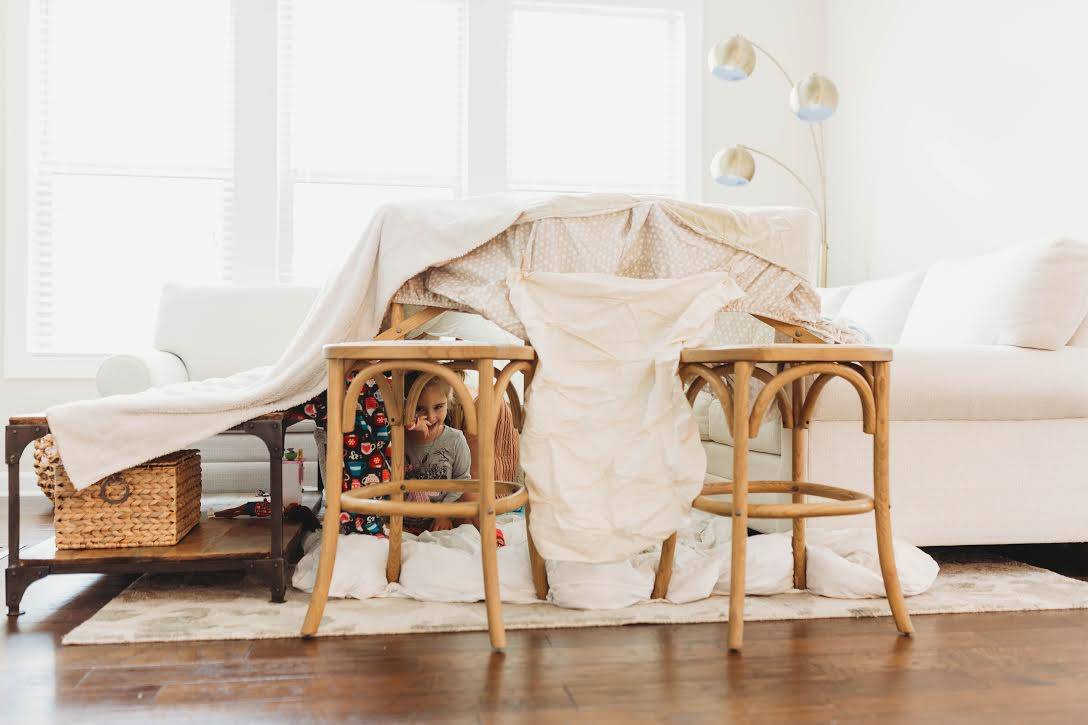 I stretched one more fitted sheet around the chairs, and clothes pinned a pillow case to the front as a little door and draped a blanket on the other side! Voila!
Peekaboo! She loved having the blanket touch her face!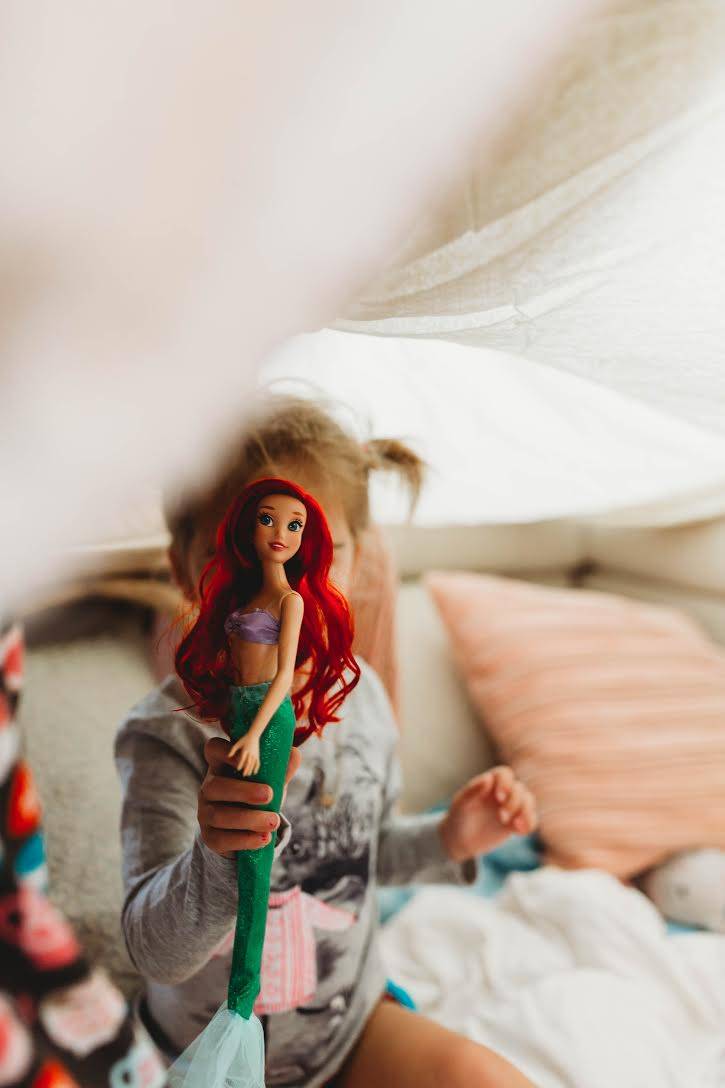 And of course Ariel had to make an appearance in the fort.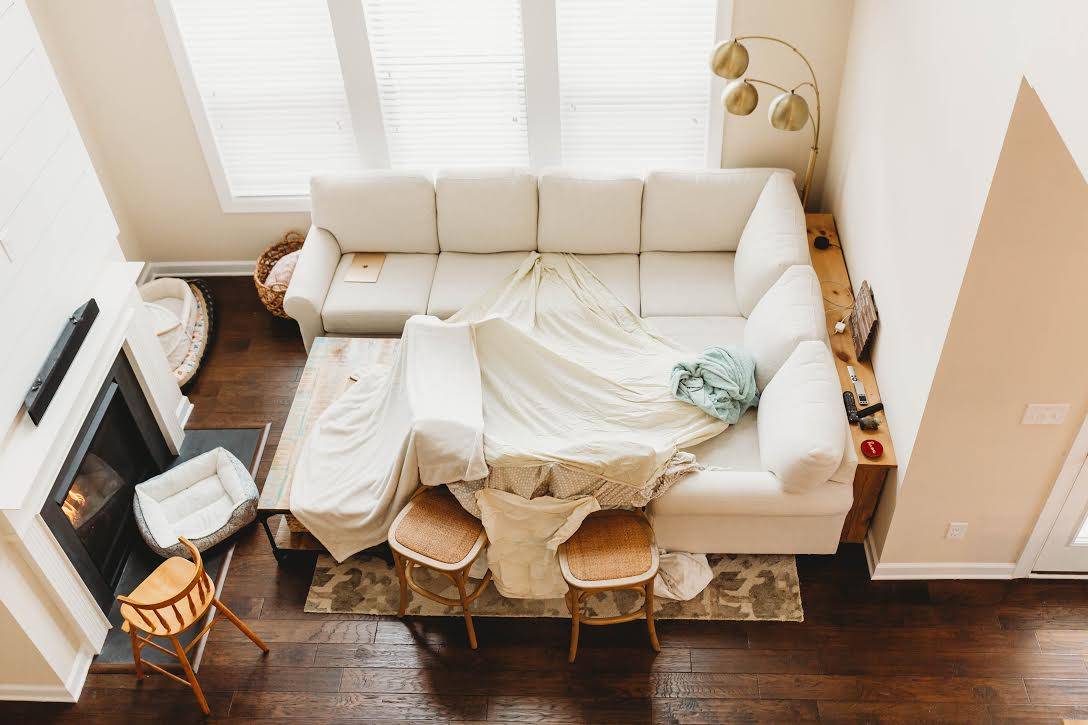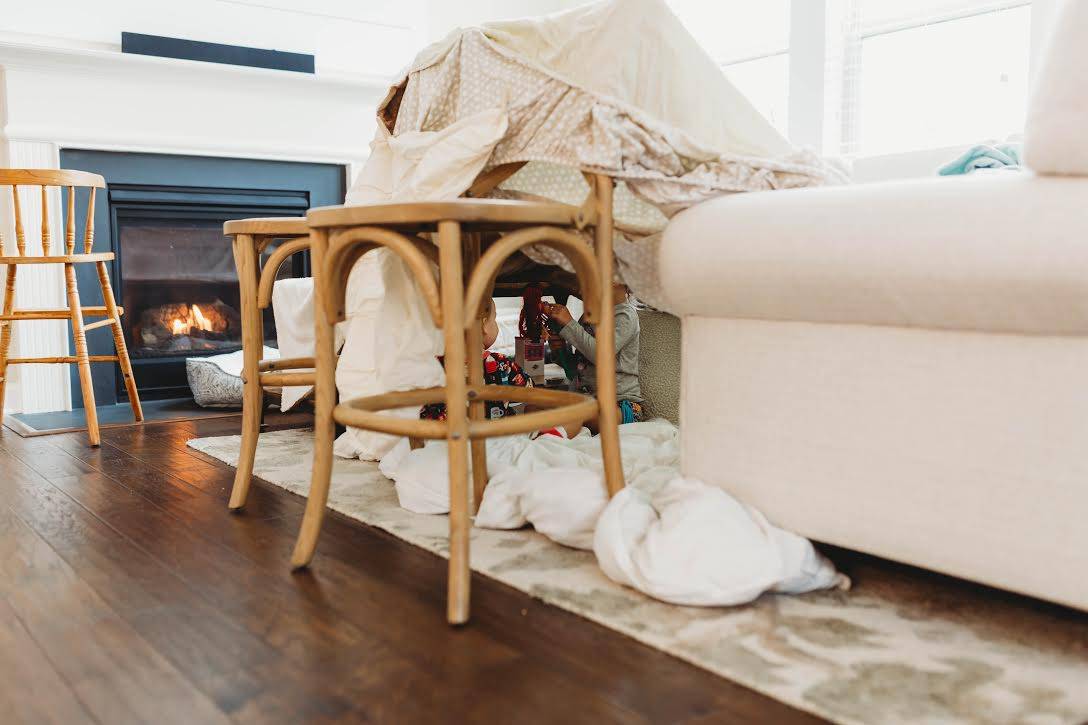 Nothing beats building a fort on a dreary day, and staying in by the fire to play and use your imagination!

► Activity
Make a fort out of bedsheets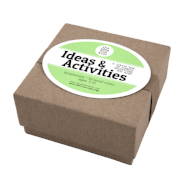 ► Length of time spent on activity (approx.)
10 minutes
► Materials needed/chosen
Bed sheets, a couple blankets, chairs, and clothespins
► Any prep-work? If so, what?
No prep work needed. Just gathering everything up before putting it together.
► Directions / What we did
I grabbed some fitted sheets so that they'd fit around chairs well and then a few clothes pins for anything that needed to be attached. We just scooted our coffee table away, set some chairs in place so that there were enough "posts" to be wrapped around. And then I just placed the sheets on top. I also tucked part of one sheet into the couch cushion. It really only took two sheets for the top of the fort. Then I draped some blankets on the sides for the coverings or "doors."
► Possible ways to expand on the activity
You could bring activities inside. Read a book about forts or camping. Hang twinkle lights. You could put twinkle lights inside a mason jar for "fireflies" on your "camping trip."
► What would you do differently next time?
I'd ask my oldest what she wanted in her fort instead of me bringing everything. I'd let her help me gather all the materials.
► What my child was able to do by themselves
She was good at placing the first end of the sheet around the chair, and then I needed to stretch the sheets out.
► What my child needed help with
Opening the clothespins and spreading the sheets
► My child's thoughts about the activity
She loved it! She said it's "so cool." And she's currently in it watching a movie!
► Any other thoughts or info about the activity?
It's super fun. Especially on a gloomy day when you're looking for indoor activities that don't need any extra materials other than what's lying around the house.
---
Kristina is photographer and lifestyle blogger located in Charlotte, NC with her husband and two little girls. She runs on coffee and loves to capture life's little moments that you just want to bottle up. In her "spare time," you'll find her editing photos or folding the last two weeks of laundry!
Sign-up for our newsletter to receive monthly activity ideas & documentation, here. actbox