Looking for a project perfect for a rainy day? This idea from the mini Pirate Box helped the kids explore water, weight and floating concepts. Coloring the boats was fun and a good small art project. We used extra boats to help us explore] scientific PreK-level themes about how boats and water works.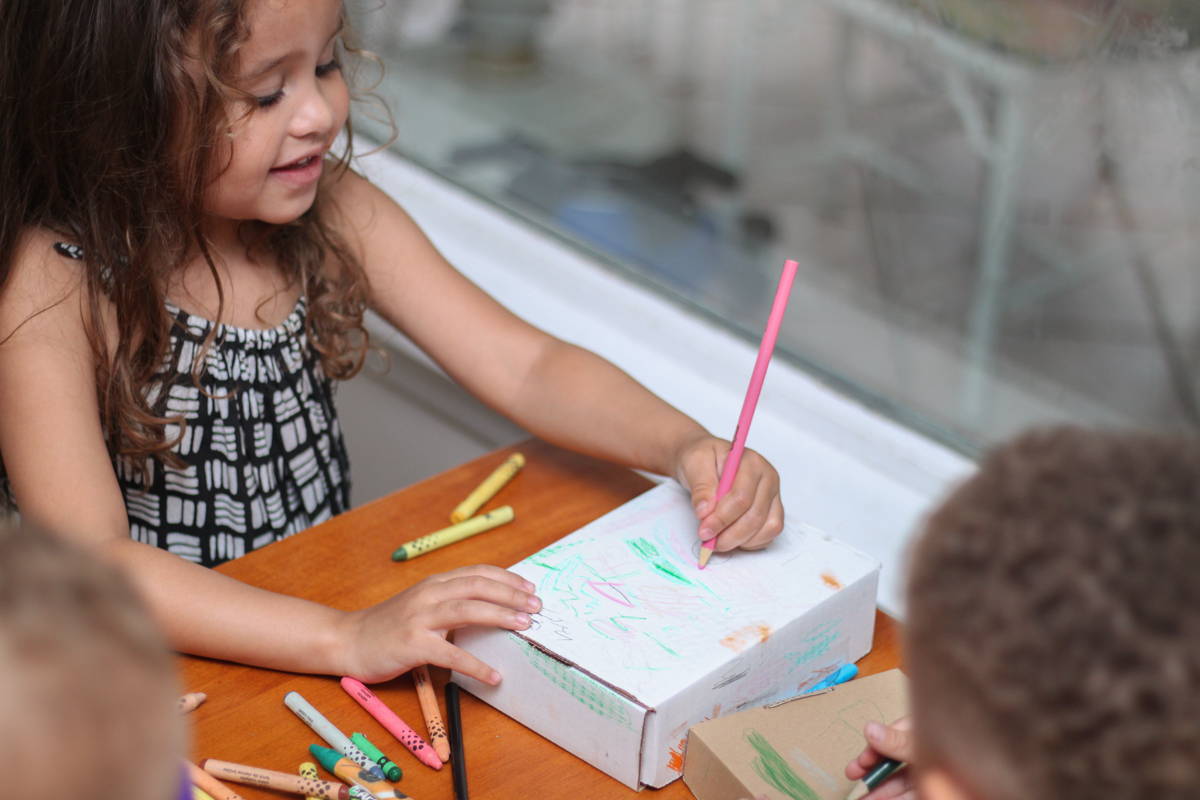 We started out by decorating the boxes. I really didn't give the kids any art instruction at this point, just let them loose with the crayons and pencils.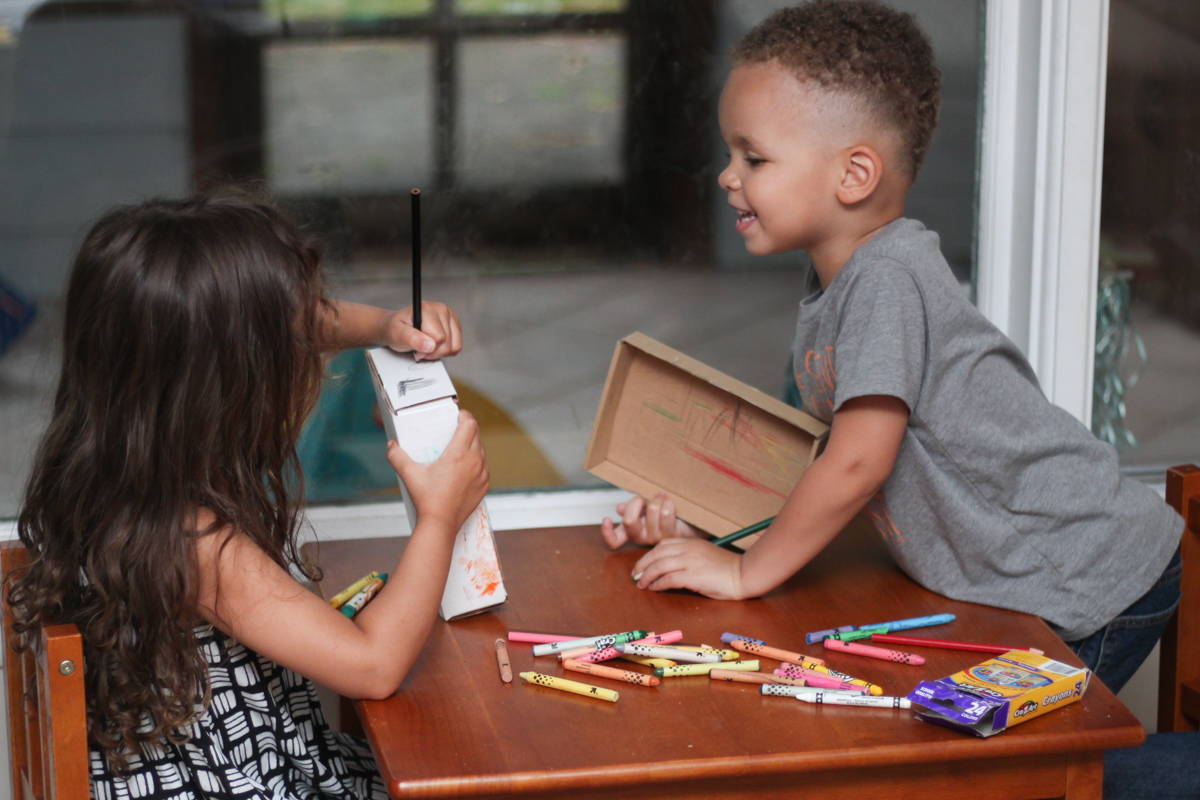 They always have fun with art projects. Drawing on the boxes was a new material which made it even more interesting to them than normal drawing. They stayed pretty focused for at least 20 minutes.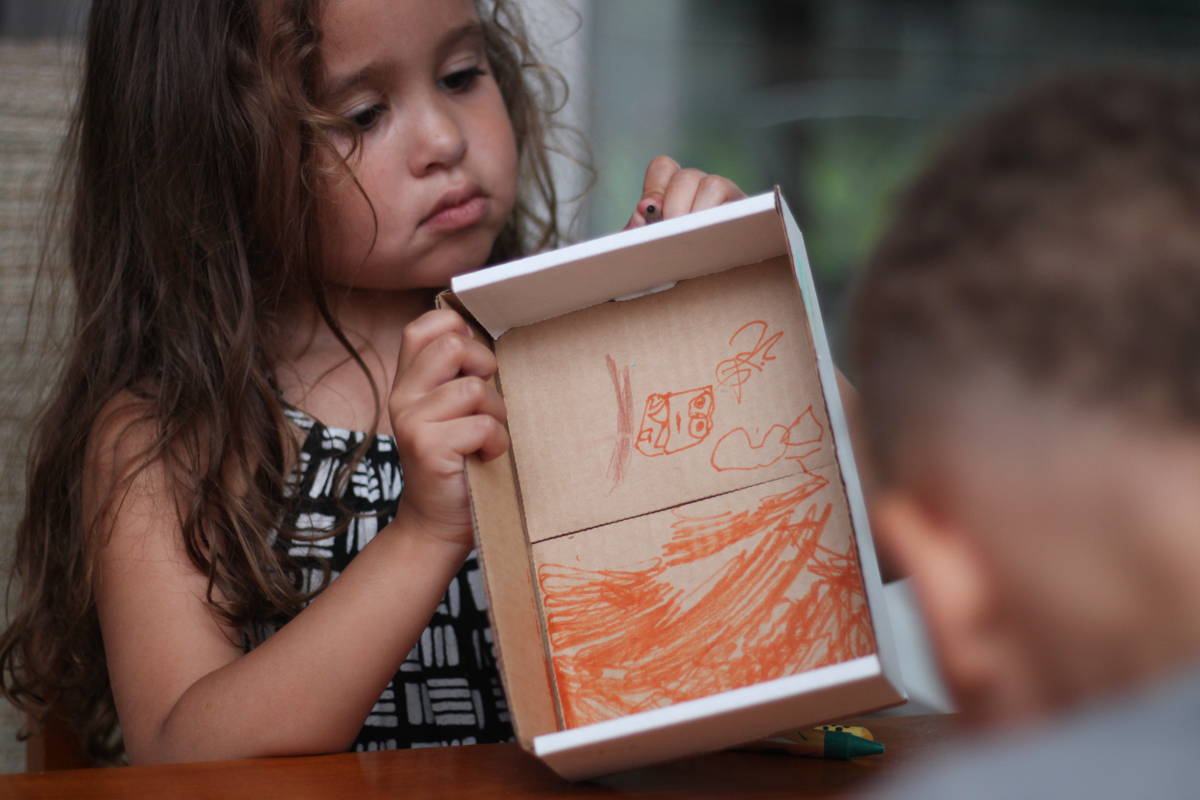 Kniya added pirates inside the ship. Can you spot a little orange pirate face? They turned out so cute.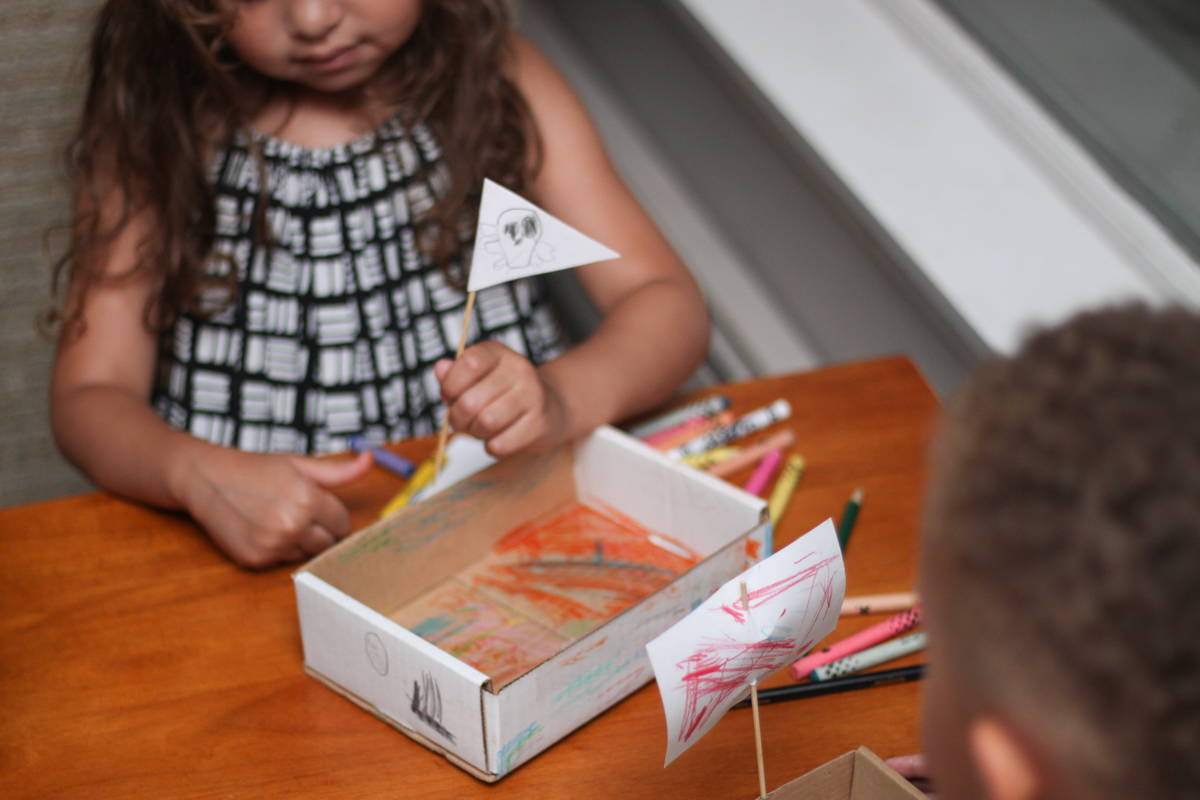 Kniya wanted to make hers a "real pirate ship with a skeleton on the flag," so I drew one up for her. She copied it fairly well and her flag turned out to be a lot of fun. If I had thought about it before hand, I would have read some pirate books to them first. We have a counting pirates book and a couple more. This would have probably helped get their creative juices flowing.
Adding the flags really upgraded these illustrated boxes to ships. The kids got a kick out of decorating their boat's flag. Once the boats were ready to brave the water, I filled up the tub.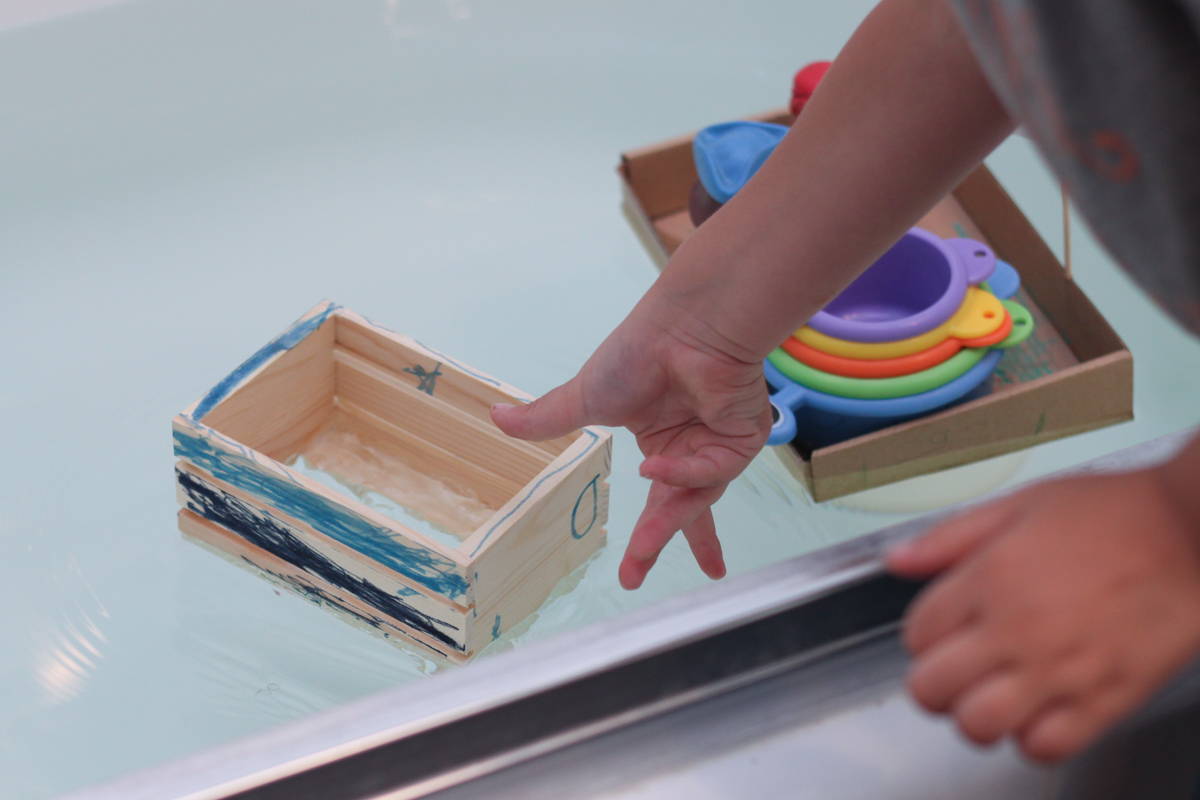 I had several different choices to use for boats. I had the kids pick out another "boat" to see if it would sink or swim. The crate floated pretty well, despite having big slits where water could get right in.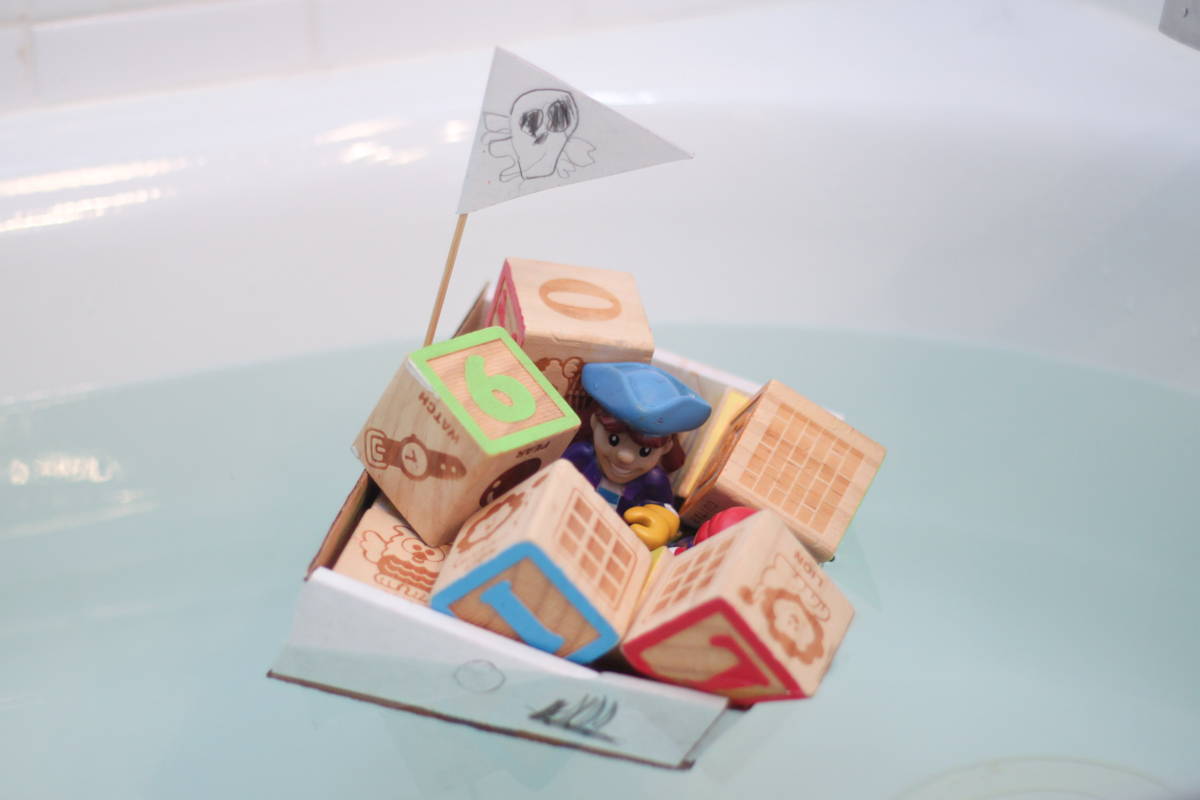 We also added weights ("treasure") to our boats to see how much they would hold. Kniya got very nervous when her boat started tipping with weight. Her boat ended up holding 10 wooden blocks and 2 pirates before one end started letting in water.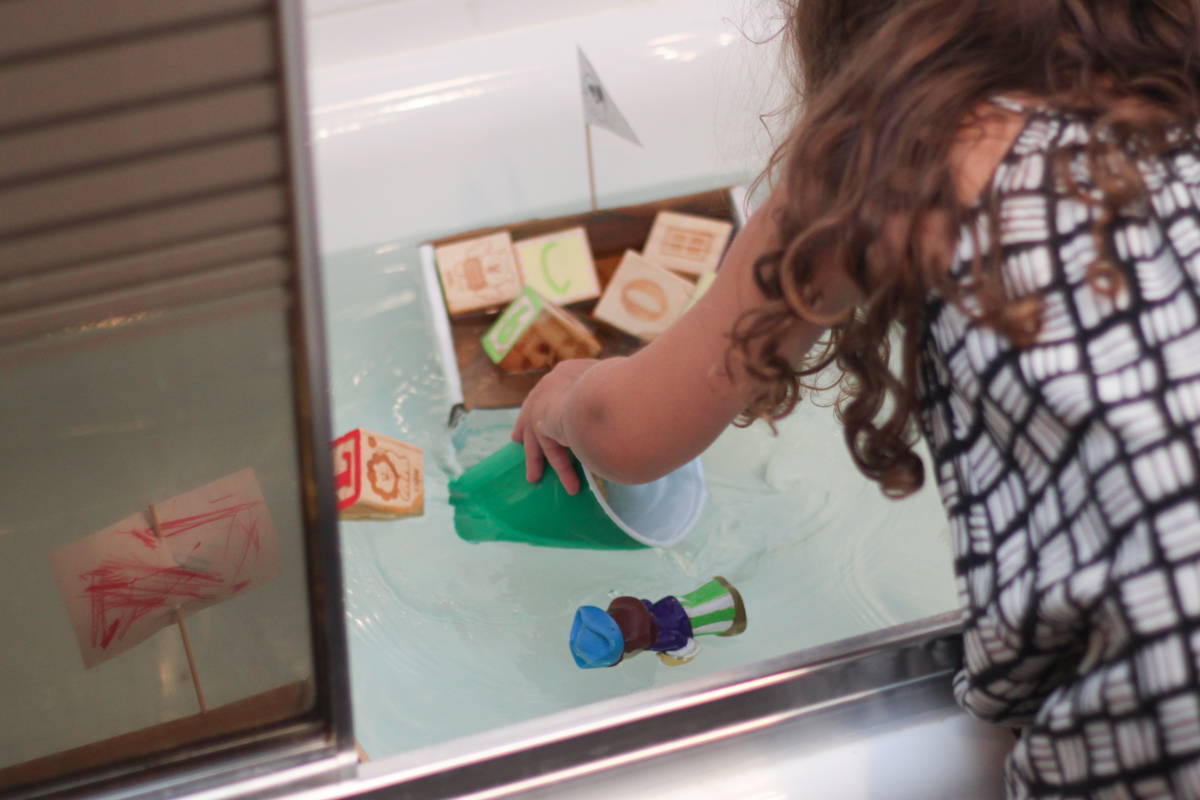 For Kniya's second "boat," she tried the plastic cup. The bottom of the cup was narrow, so no matter how she tried, the cup would tip over. She thought the cup was going to be an easy boat, but it sank faster than the crate did.
Floating boats is fun. The kids loved watching their projects in action. Cardboard soaks up water after a while, so make sure you prepare your child for a ruined boat afterwards. I was glad the kids weren't going to think we should keep them. They were perfect for one evening of entertainment and they don't need to stick along long after that. The kids loved it, so I'm sure we'll be making boats again in the future.

► Activity
Make a boat from a carton/box. Float in tub/sink.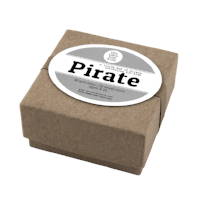 ► Length of time spent on activity (approx.)
45 minutes
► Materials needed/chosen
Cardboard, crayons, colored paper, paper and small wooden skewer.
► Any prep-work? If so, what?
I cut off the tops of the boxes so they were a boat shape.
► Directions / What we did
The kids each took a box and decorated it with crayons, markers and colored pencils. They decorated flags for their ships as well. We filled the tub with water and tried floating them. We added pirates and blocks to see how much they could hold. We also tried floating other "boats" to see what happened.
► Possible ways to expand on the activity
The kids could have worn pirate hats or patches for fun while doing the activity. Older kids could make Play-Doh pirates to sit inside the boat. We also could have read one or two of our pirate-themed picture books before starting.
► What would you do differently next time?
It would have been fun to do in a small outdoor pool where they had more space to see the boats from different angles. The bath tub worked well but was a little crowded.
► What my child was able to do by themselves
Everything except attach the flag.
► What my child needed help with
Attaching the flag to the skewer and then sticking the skewer into the side of the boat.
► My child's thoughts about the activity
They had a lot of fun experimenting with what would float.
► Any other thoughts or info about the activity?
Be careful using markers, since they may bleed into the bath water. We didn't use a lot because I was afraid of that. They did bleed, but were watered down enough that they didn't stain our tub.
---
Alethea is a freelance writer, blogger, art teacher and influencer. Four kids within 5 years has kept her on her toes, but she loves having a family so closely spaced. She takes pictures regularly to document daily life and children's small shop fashions.
Sign-up for our newsletter to receive monthly activity ideas & documentation, here. piratebox