Most toddlers are naturally very selfish individuals and learn to be caring and have empathy over time. As a mother, I look for opportunities to teach my kids how to think about those around them. It makes sense that they don't naturally think about the needs and feelings of others, but it is also a very important skill for them to learn at a young age. This month, we had an opportunity to dig into the caring box and do an activity that focused their attention on someone else.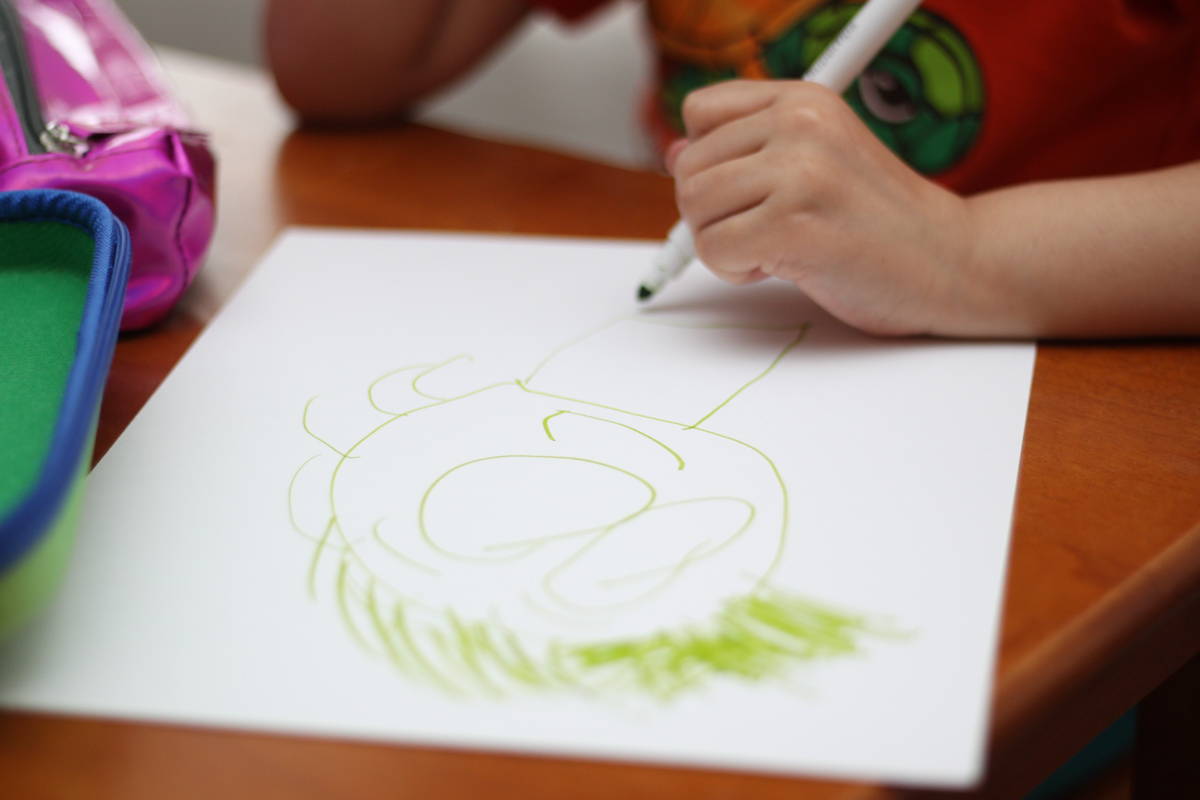 The caring box project was for the kids to draw themselves with someone special and then give their drawings to that person. The kids wanted to use markers, so we got out our big box of markers and some thick cardstock paper. Prep for this project was very easy and required very little effort on my part.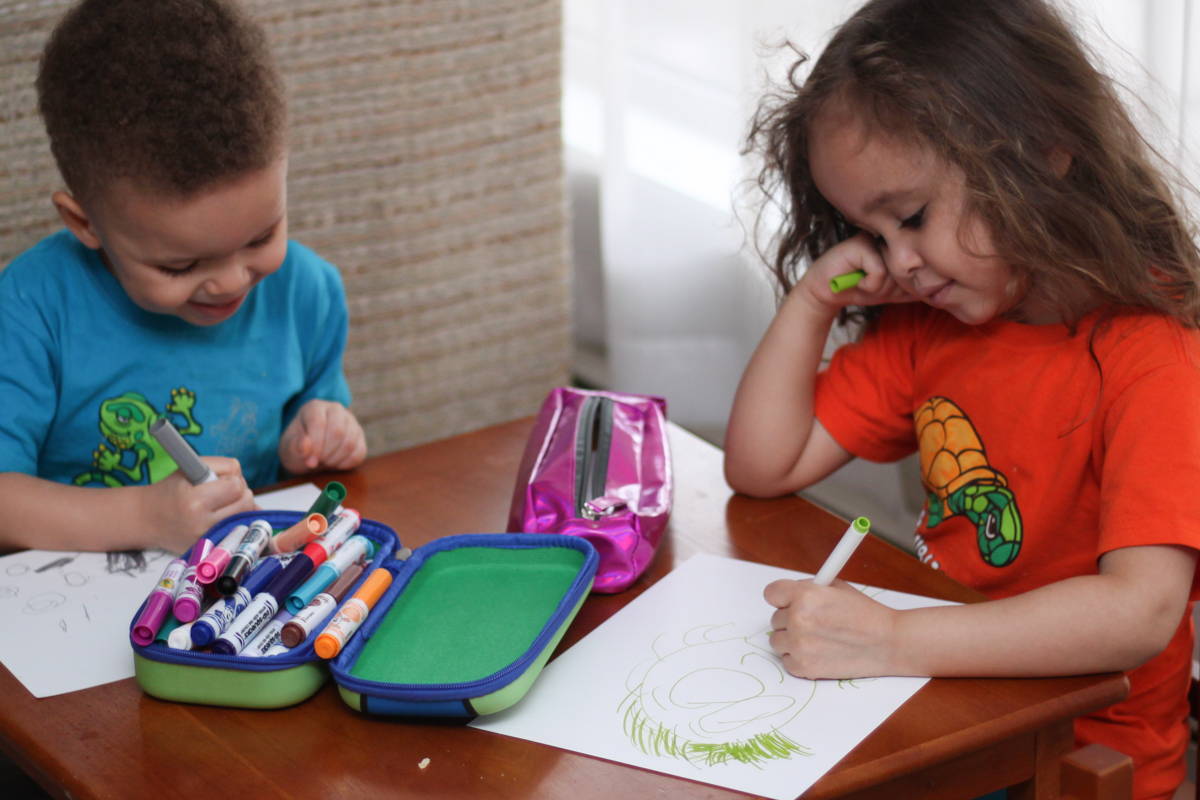 To my surprise, the kids each picked a younger brother to illustrate as their special person. I kind of expected them to choose either me, my husband or a grandparent. Kniya wanted to draw her newest brother Klay, and Kaleb wanted to draw his immediate younger brother Kam. It was so sweet that I didn't have the heart to make them choose someone else. It also worked out well since we've been largely homebound with Klay's very recent birth.
As somewhat of a sidenote, I found it very interesting that Kniya chose to color most of her face decidedly brown. Four-year-olds are notorious for noticing differences, especially in skin. It's something she's brought up quite a bit over the past year. While Kniya is half white and equally half black, she has previously announced to me unsolicited that she is "white." I've maintained that, despite her very pale skin, she is just as much a part of her dad as she is a part of me. But, this color choice was intentional, and I love that about art with young kids.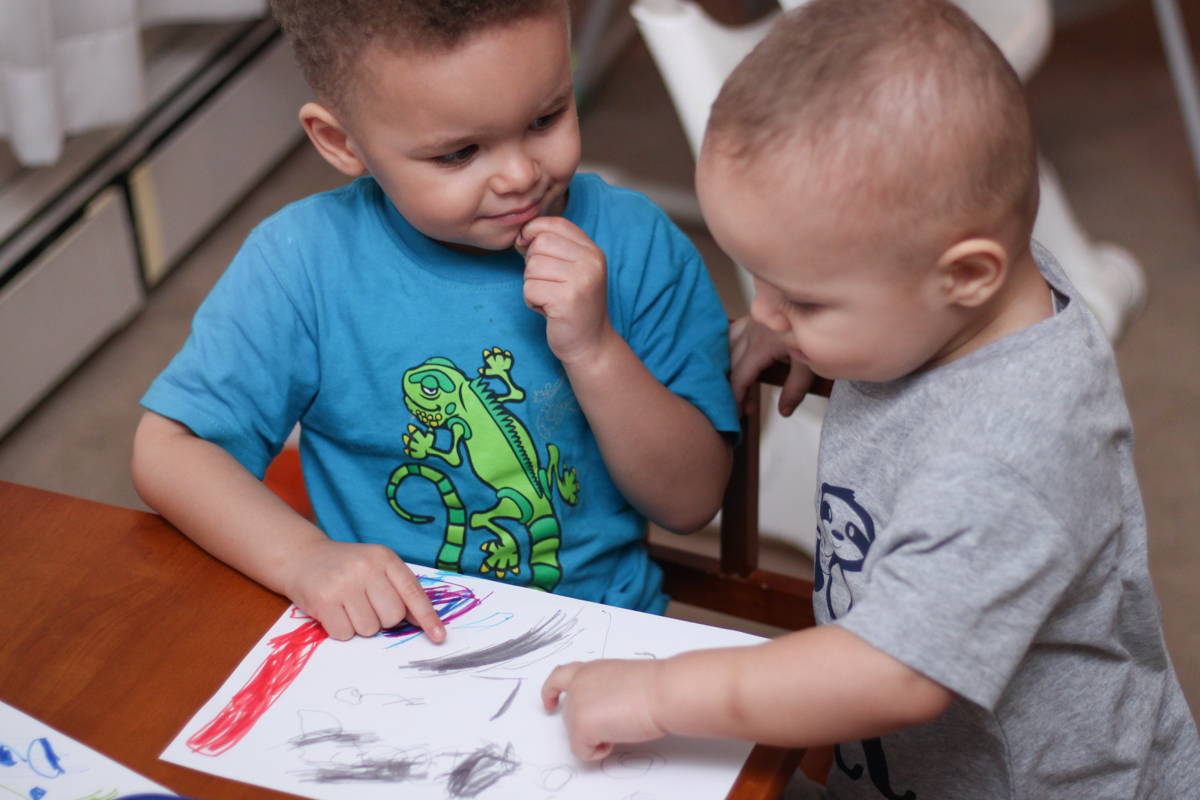 Poor Kamden wasn't invited to join in on this project because he just can't quite handle markers yet unless I'm right there. He colors more off of the paper then on it. I thought he might feel left out, but instead, Kaleb explained to him all about how he was drawing them both as robots. This made Kamden feel included and it was a very good exercise for Kaleb, who doesn't always think about the feelings of his younger brother.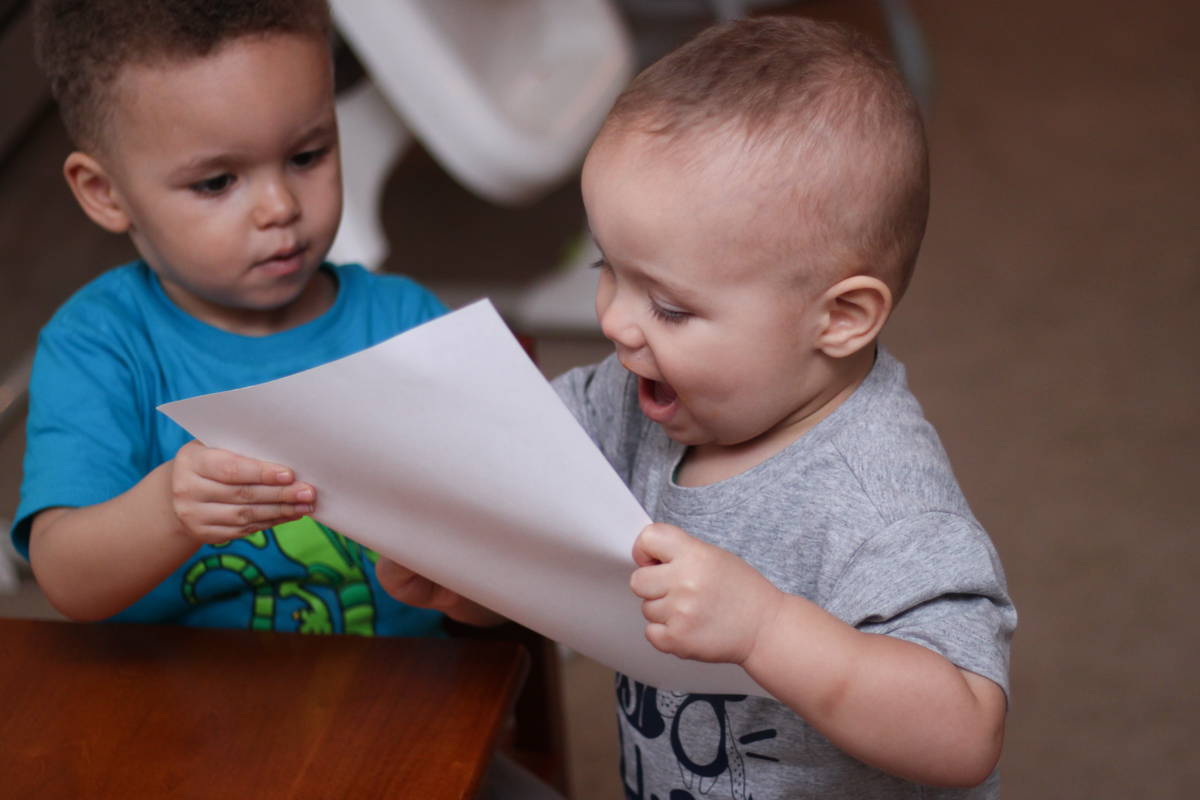 When Kaleb was done, Kam was more than thrilled with the result. Kaleb certainly didn't have the attention span Kniya did for this project. I was still pretty proud of his result, though.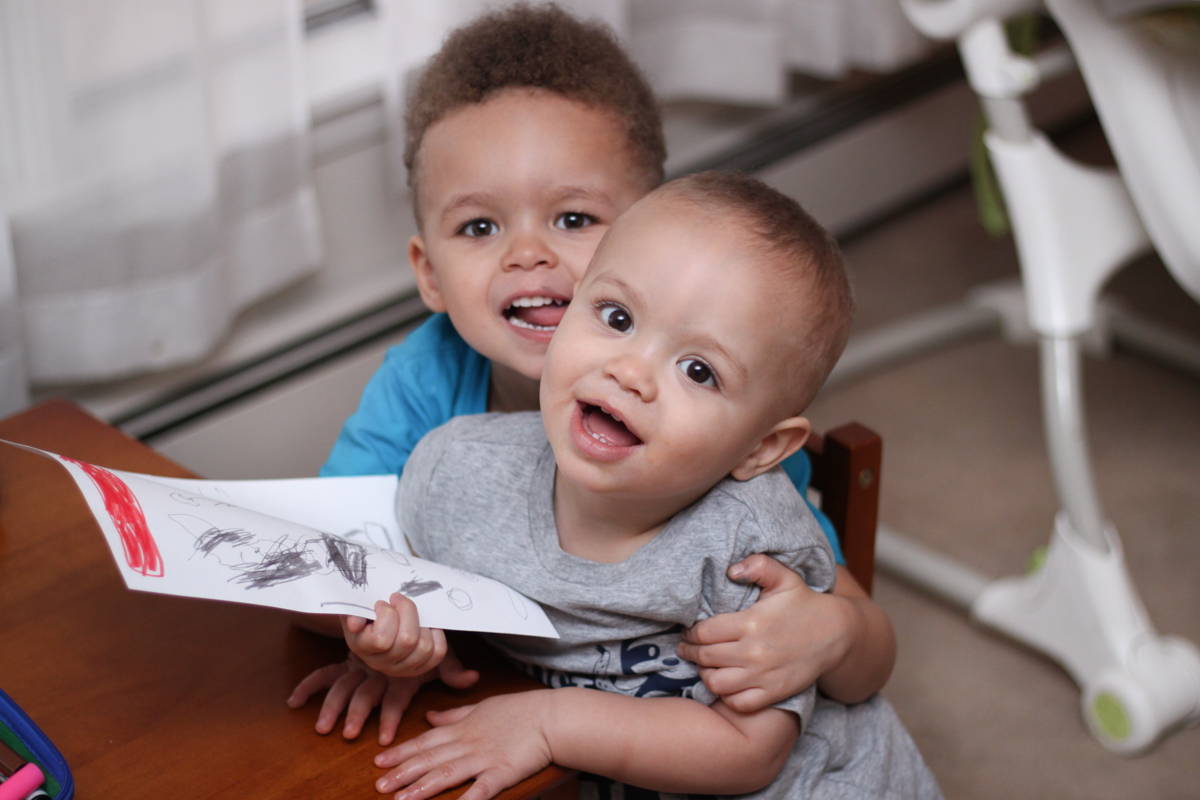 The perfect picture to illustrate their brotherly relationship: Kam is trying to "share" Kaleb's chair, while Kaleb is licking his ear for a reason known to no one. These two are 21 months apart and will always share a special bond.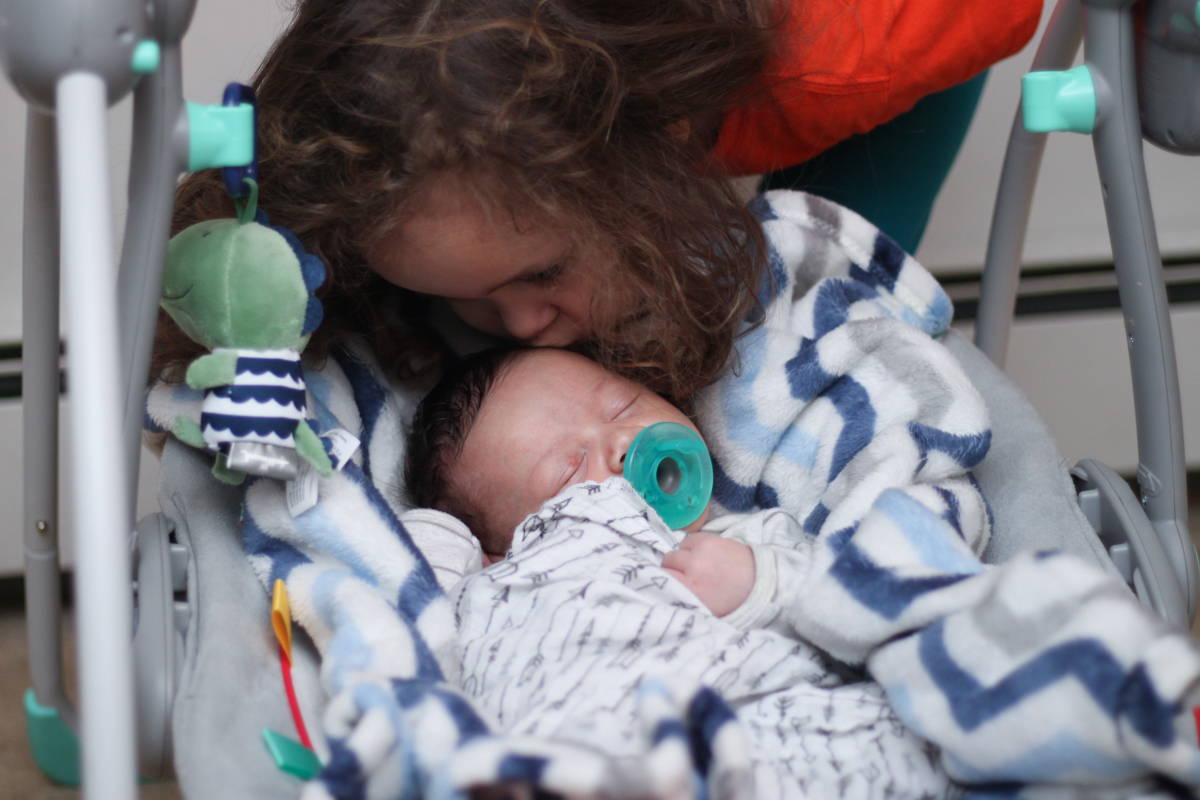 Maybe I should have known that Kniya would pick her baby brother as her special person. She has been long awaiting the newest member of our family and thanks me for him almost daily since he was born. She loves babies in general, but she also has a special connection to her brothers. She helps me with everything from giving him the pacifier to getting a clean diaper when he needs a change.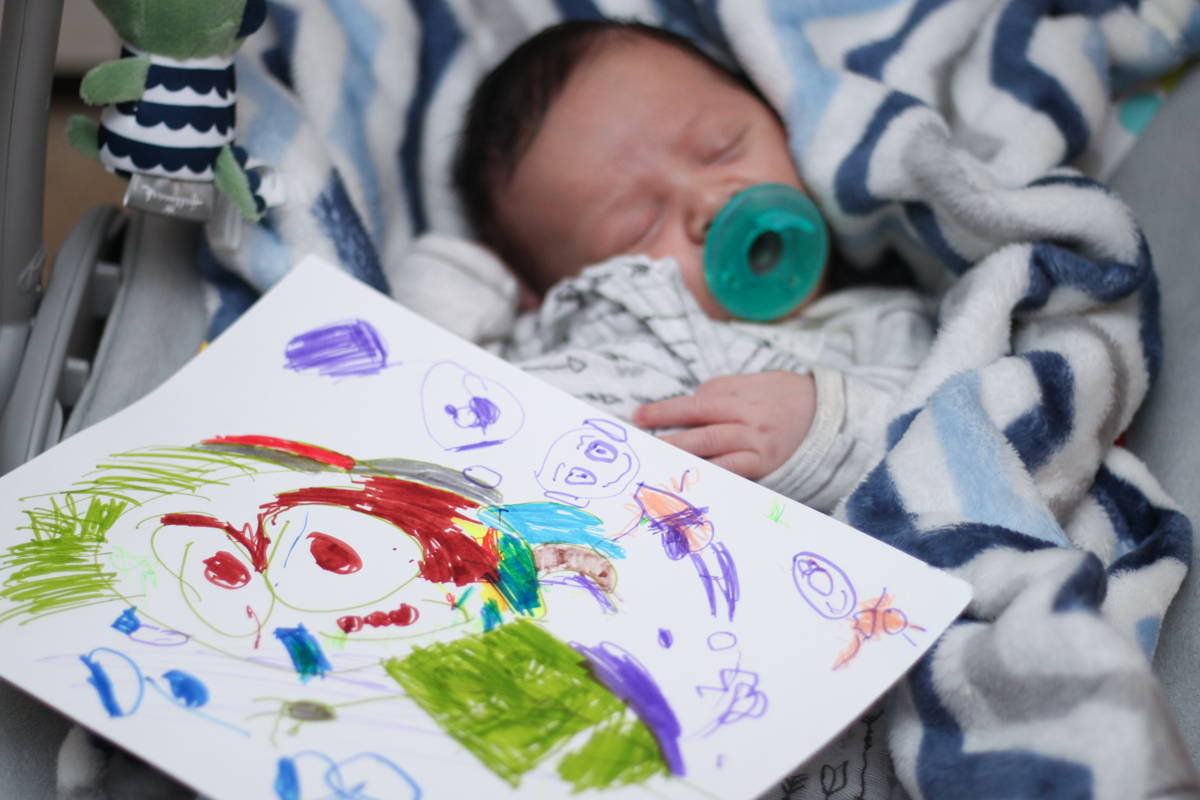 Kniya has always had an artistic ability and love for drawing. However, I've never seen her draw people so well. I was incredibly impressed with her illustration of her little brother. I will treasure this sweet picture in Klay's baby box so he can also appreciate it when he gets old enough to understand.
I really enjoy the bond that my kids have. I love that they picked their younger siblings as their special person. I was amazed at how creative they were with their drawings and how much their artistic skill has evolved recently. I enjoyed this project with my kids and I'm sure we will do it again.

► Activity
Draw a picture of you with someone special. Give it to them.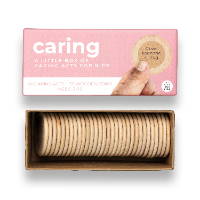 ► Length of time spent on activity (approx.)
30 min (4yo) and 15 min (3yo)
► Materials needed/chosen
Paper and markers
► Any prep-work? If so, what?
None
► Directions / What we did
I told the kids to draw themselves with someone special and that we would give the drawings to that person. I asked the kids what they wanted to use (pencils, crayons, markers) and they chose markers to work with.
► Possible ways to expand on the activity
Paint can be a fun medium, but is a lot more work and is one way to expand this activity. With older kids, we would have incorporated a background and covered more of the paper or focused on more accurate representations of the people they were drawing.
► What would you do differently next time?
I might have instructed them to choose someone not in our immediate family. As adorable as it was that they chose their brothers, other people (namely relatives) would probably have been more excited about receiving their drawings.
► What my child was able to do by themselves
Everything
► What my child needed help with
Nothing
► My child's thoughts about the activity
They both had fun and were proud of their drawings. As soon as they were done, they showed their brothers and then put them up on the fridge.
► Any other thoughts or info about the activity?
It was fun to see them draw people and see who they would pick as their special person. They loved having a project to do.
---
Alethea is a freelance writer, blogger, art teacher and influencer. Four kids within 5 years has kept her on her toes, but she loves having a family so closely spaced. She takes pictures regularly to document daily life and children's small shop fashions.
Sign-up for our newsletter to receive monthly activity ideas & documentation, here. carbox