My kids really love to paint. They love to craft and they love to get messy, so painting is the best of both those worlds. We recently bought them a water color set and have been spending many nights painting away. So when I suggested that we all paint together using fruit and veggies, they were confused. After I answered about a million questions about WHY we would do that (any other parents of 5 year olds know what I'm talking about??) they were finally excited about it.
To set up, I cut the fruit and veggies up and the kids squeezed the paint into paper bowls.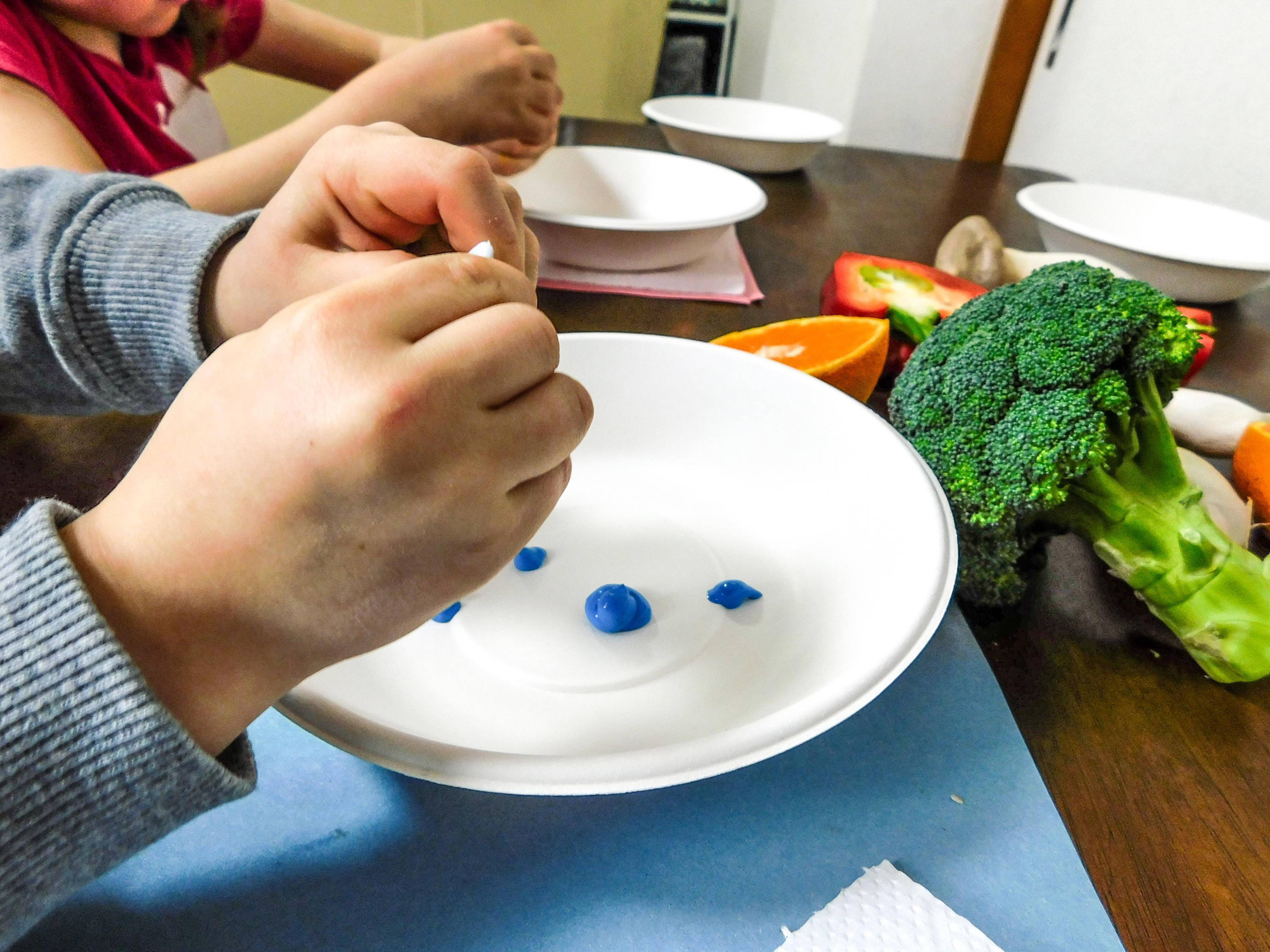 Arrow was proud to squeeze the blue paint out.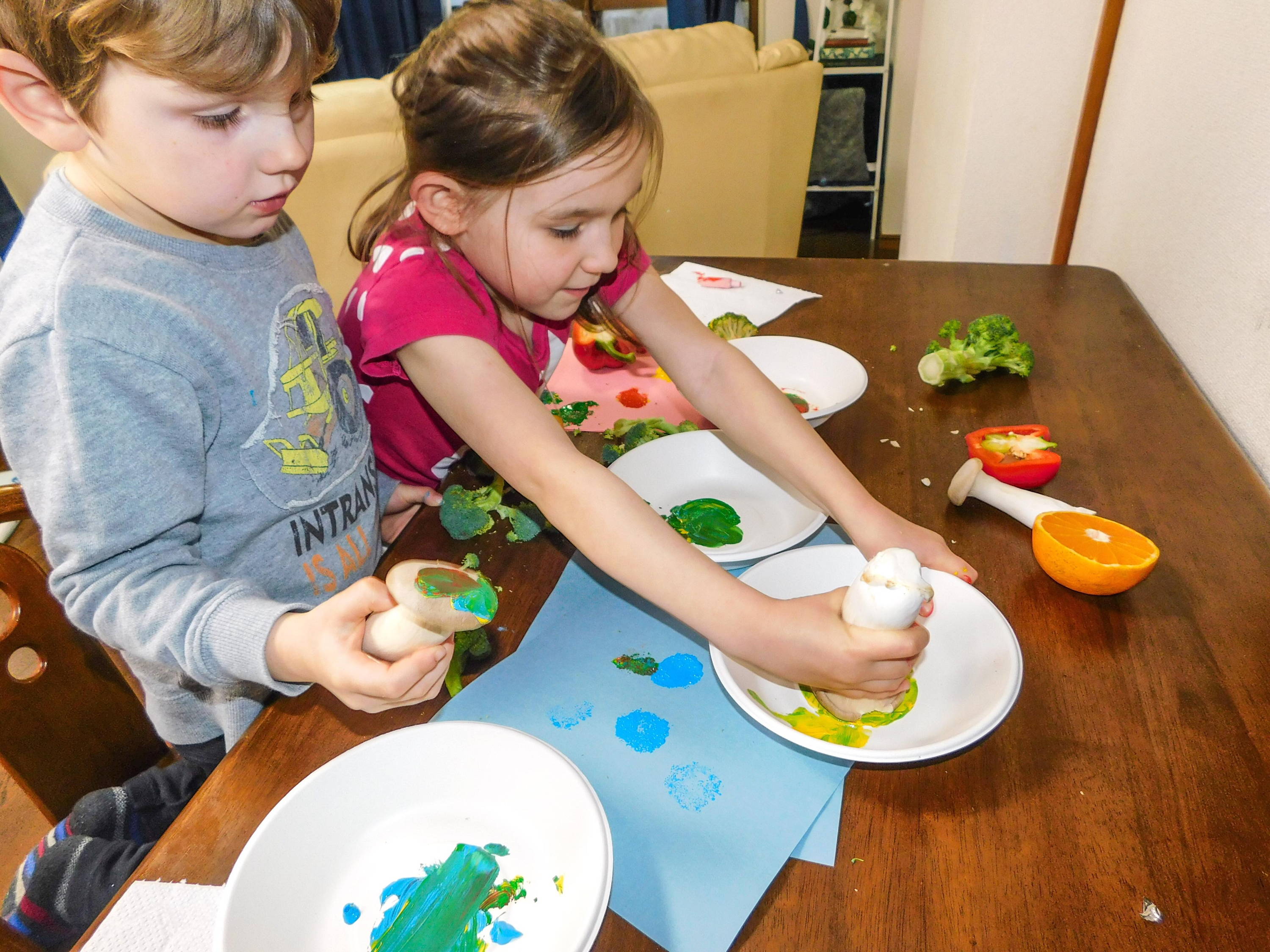 Then they were ready to go! The kids starting dipping and stamping.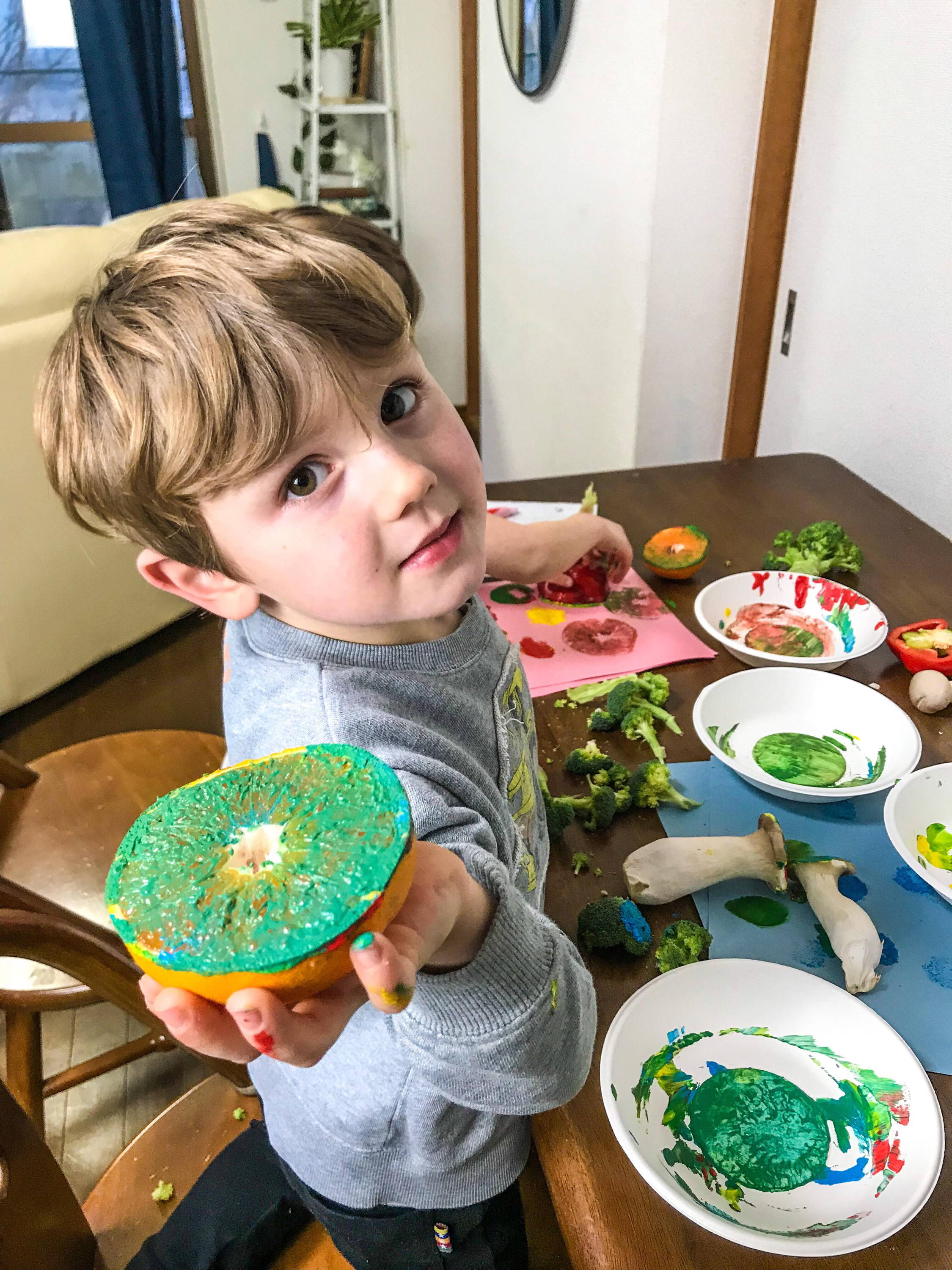 They used all sorts of stamps for their pictures. Arrow really liked the orange!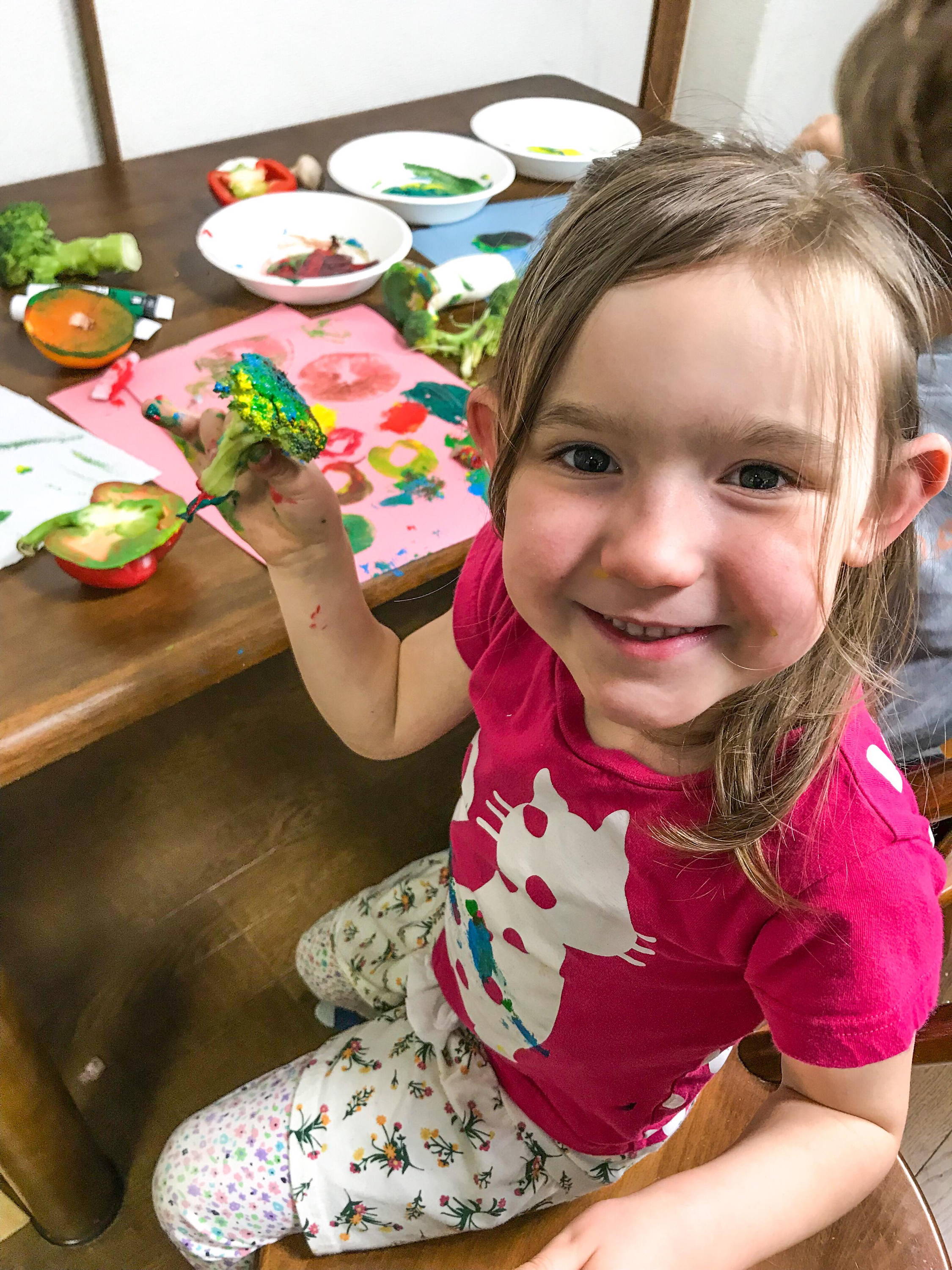 Lisanna liked using the broccoli as her "paint brush."
They spent a lot of time on their first pictures.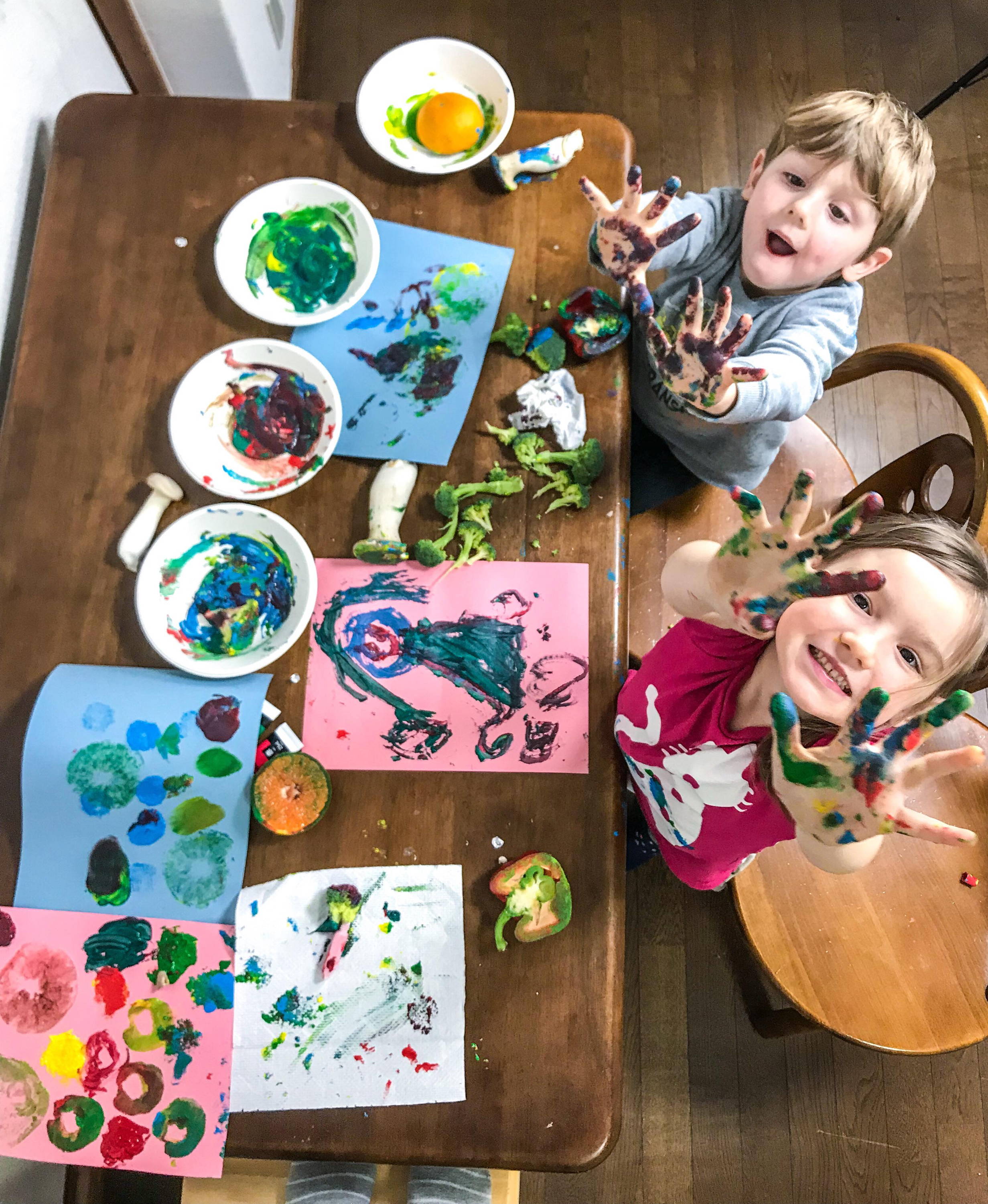 By the time they were done with their second pictures, paint colors were mixed and fingers were messy, but they were having lots of fun.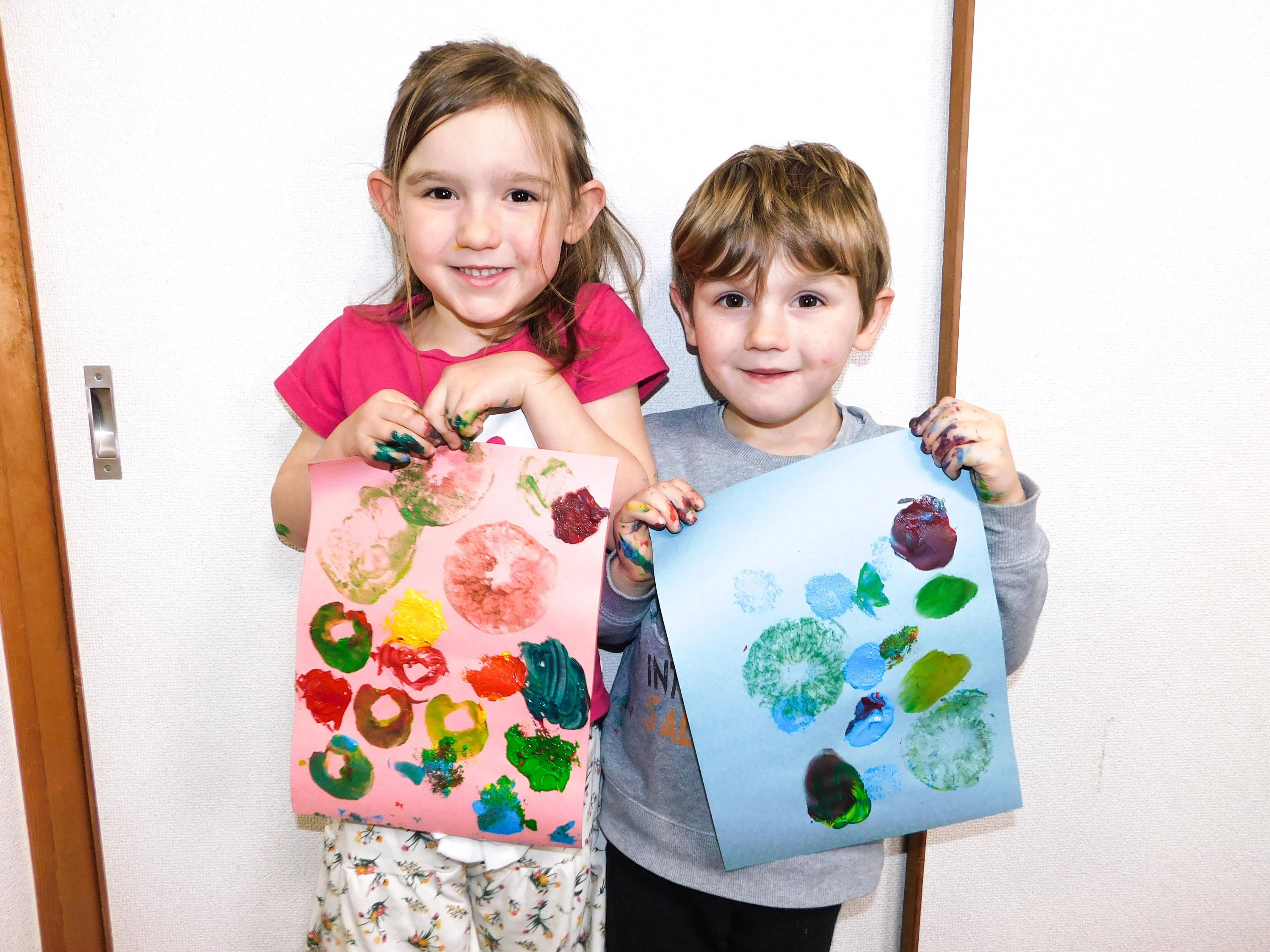 They were really proud of the finished product!
As a working mom, I'm very thankful for fun, low-prep activities like this. I was able to come home from work and spend some quality time with them before dinner. The set-up and monetary investment was very little, and they really had a great time doing this. Lisanna said that it was a great night and Arrow said "today was a fun, messy day." I should also note that, as messy as it looks, the clean-up only took a few minutes. I would definitely suggest using the disposable bowls, because that meant I just piled the wet fruits and veggies in and tossed it all out. Then the paint wiped right off the table and the kids got some good practice at scrubbing their hands. Overall, we gave this activity a sold A+.

► Activity
Fruit & Veggie Prints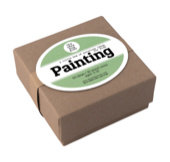 ► Length of time spent on activity (approx.)
30 minutes
► Materials needed/chosen
Acrylic paint, paper, fruit, veggies
► Any prep-work? If so, what?
Cut fruit/veggies in half
► Directions / What we did
Dip the fruit/veggies in paint and press onto paper
► Possible ways to expand on the activity
Use/more different fruits and veggies, stamp in patterns
► What would you do differently next time?
Use different fruits/veggies as stamps
► What my child was able to do by themselves
Tear broccoli, stamp, paint
► What my child needed help with
Cutting fruits/veggies
► My child's thoughts about the activity
It was messy and fun
► Any other thoughts or info about the activity?
No
---
---
Blogger Bio: Hi, I'm Laura! I'm a teacher from the USA currently living in Japan with my husband and three kids. I blog about mom life and living as an expat.
Sign-up for our newsletter to receive activity ideas & documentation, here. paintbox