Today we did a fun quiet time activity that can easily be set up indoors or outdoors. We created pictures with our food!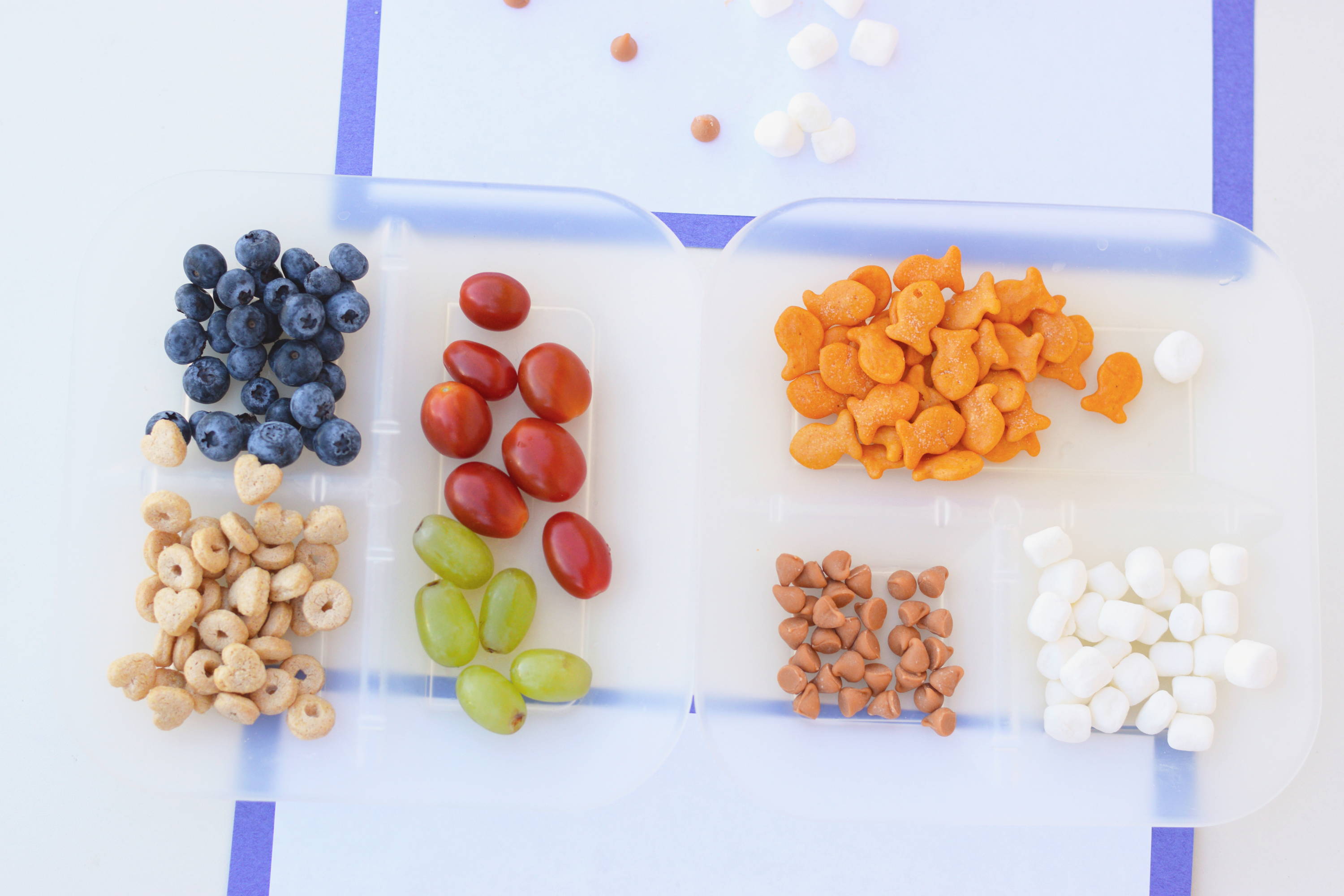 We gathered little snacks and treats from the kitchen. I tried to encourage a mix of healthy and unhealthy options.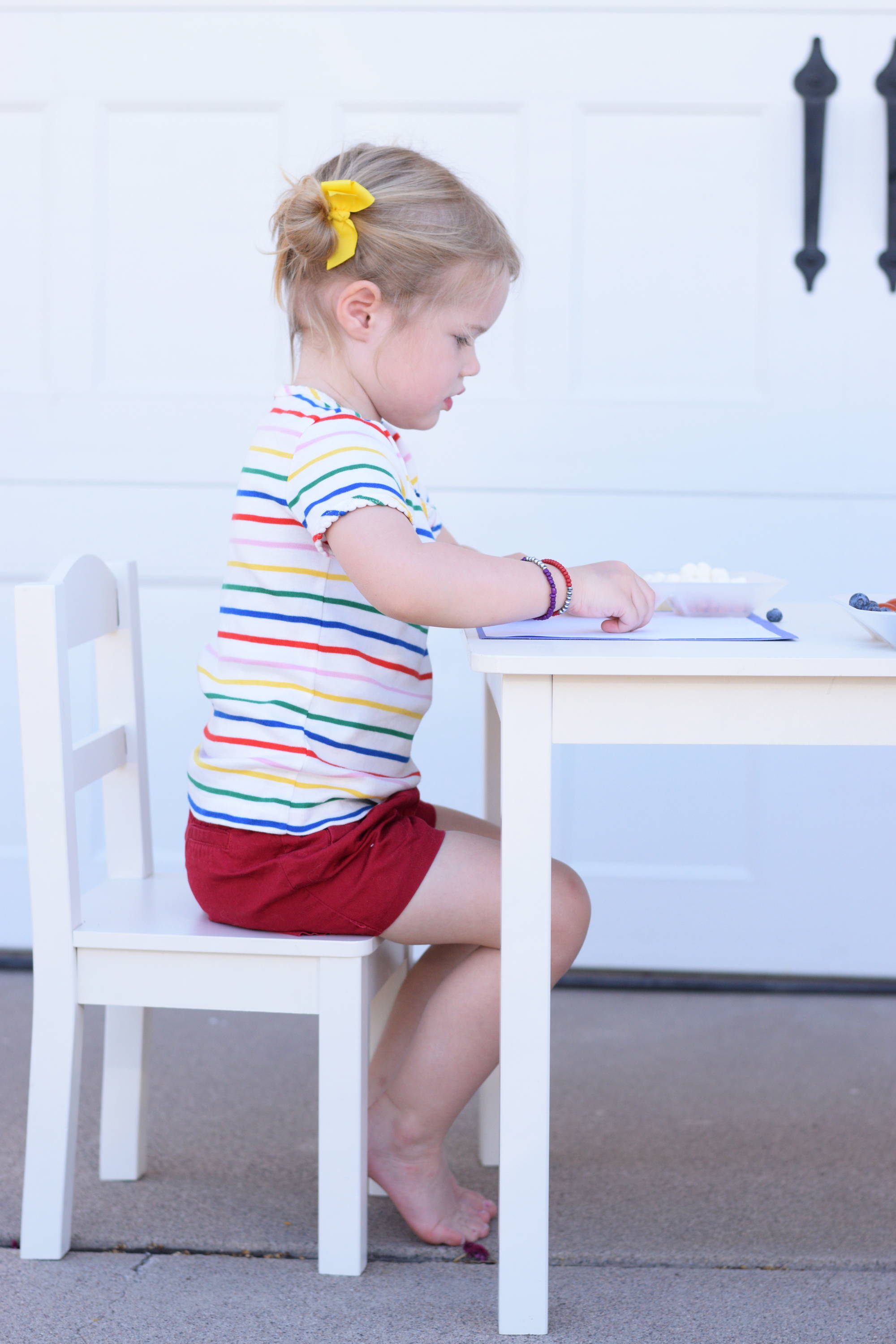 Olivia spent a lot of time trying to decide what she was going make before actually starting. We talked about how she could use certain items for certain objects (ex. marshmallows for clouds).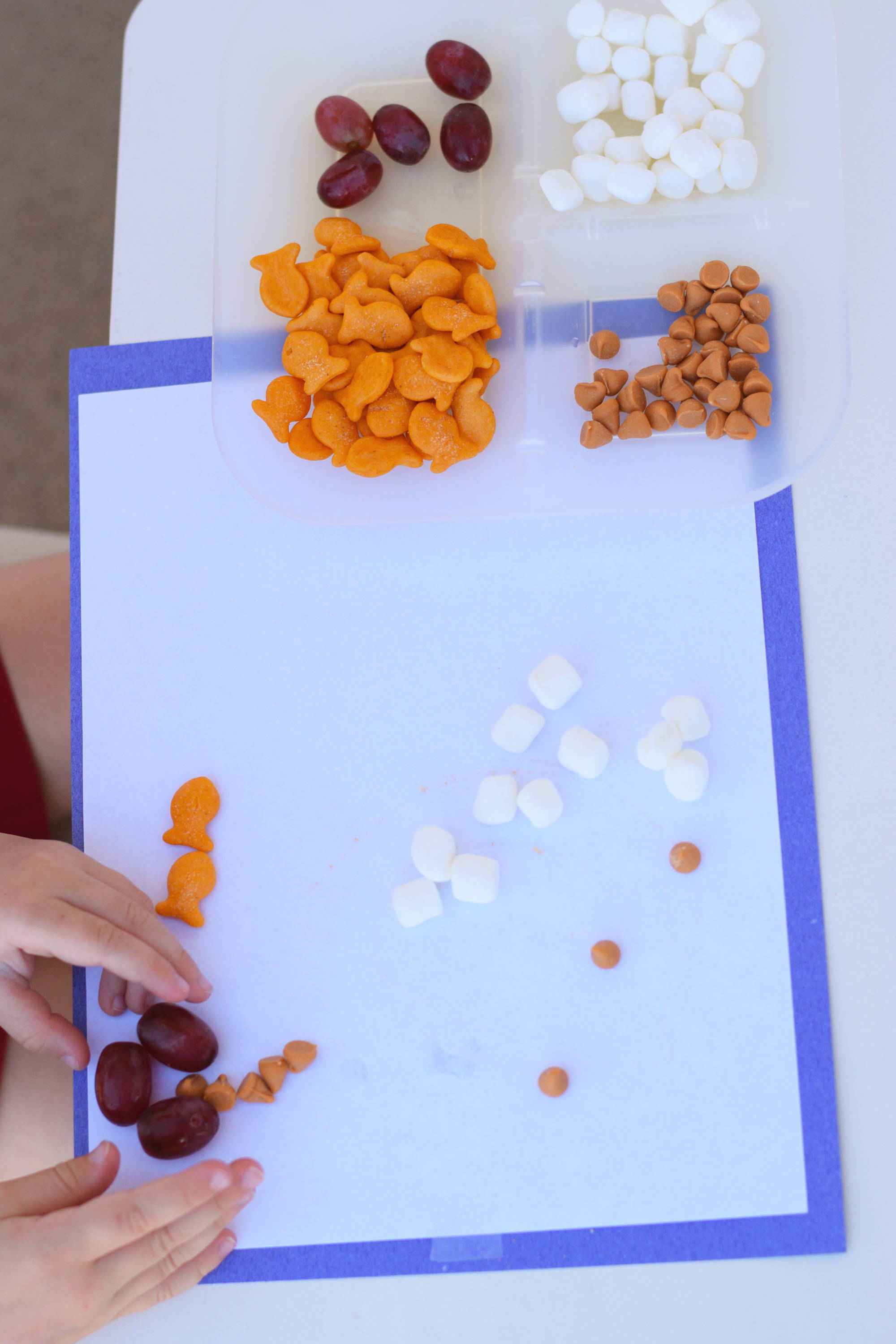 She finally got to work! We had just been at the aquarium a couple days before so she wanted to create an ocean scene. She's using the grapes to make jellyfish.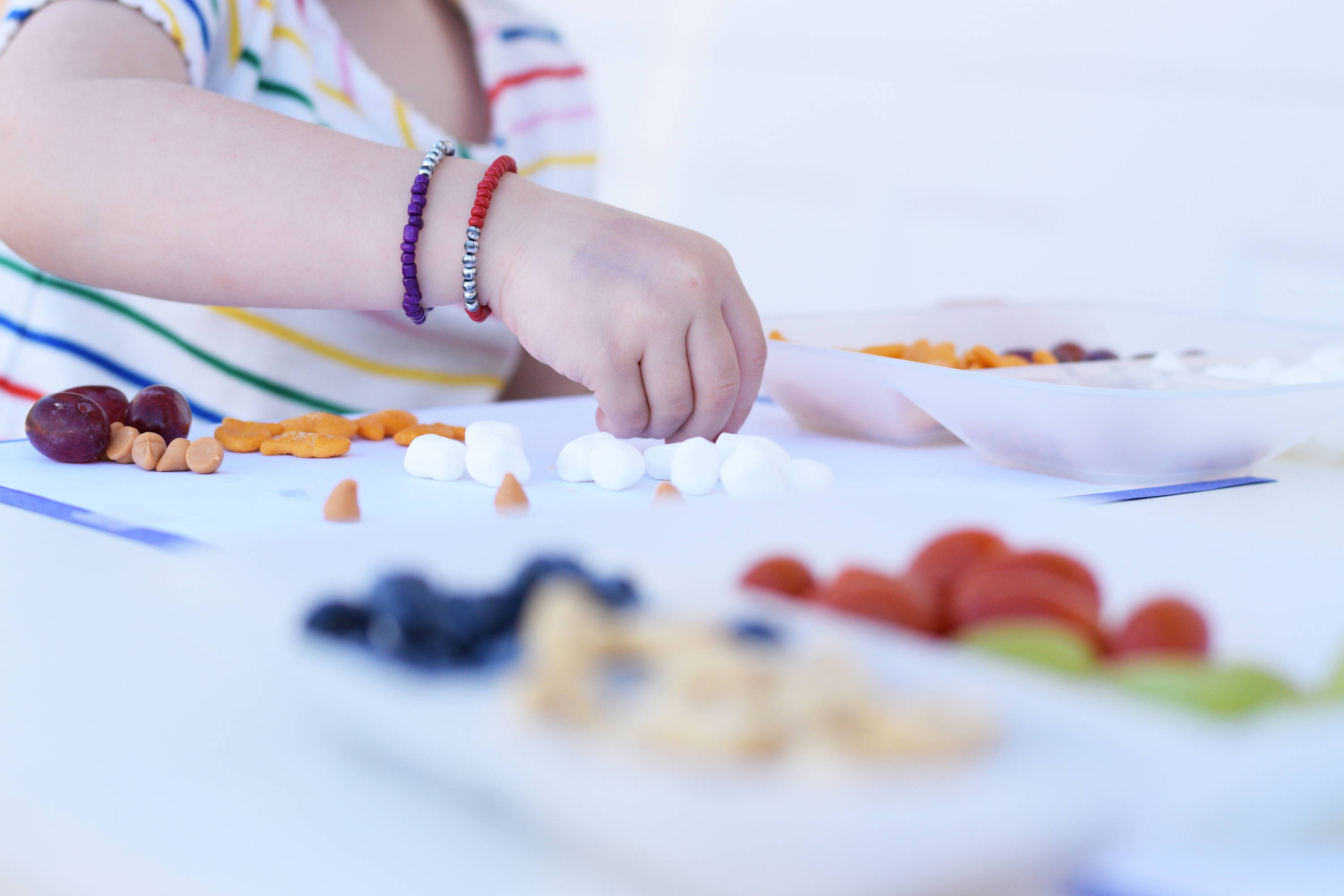 The marshmallows ended up being used to create a big beluga whale right in the center of her paper. I love how this activity encourages creativity and abstract thinking!
Of course little sister couldn't be left out. I worked with her to create a little tree on her paper using cereal and grapes. We had to work quickly but the snacks were being consumed at record speed.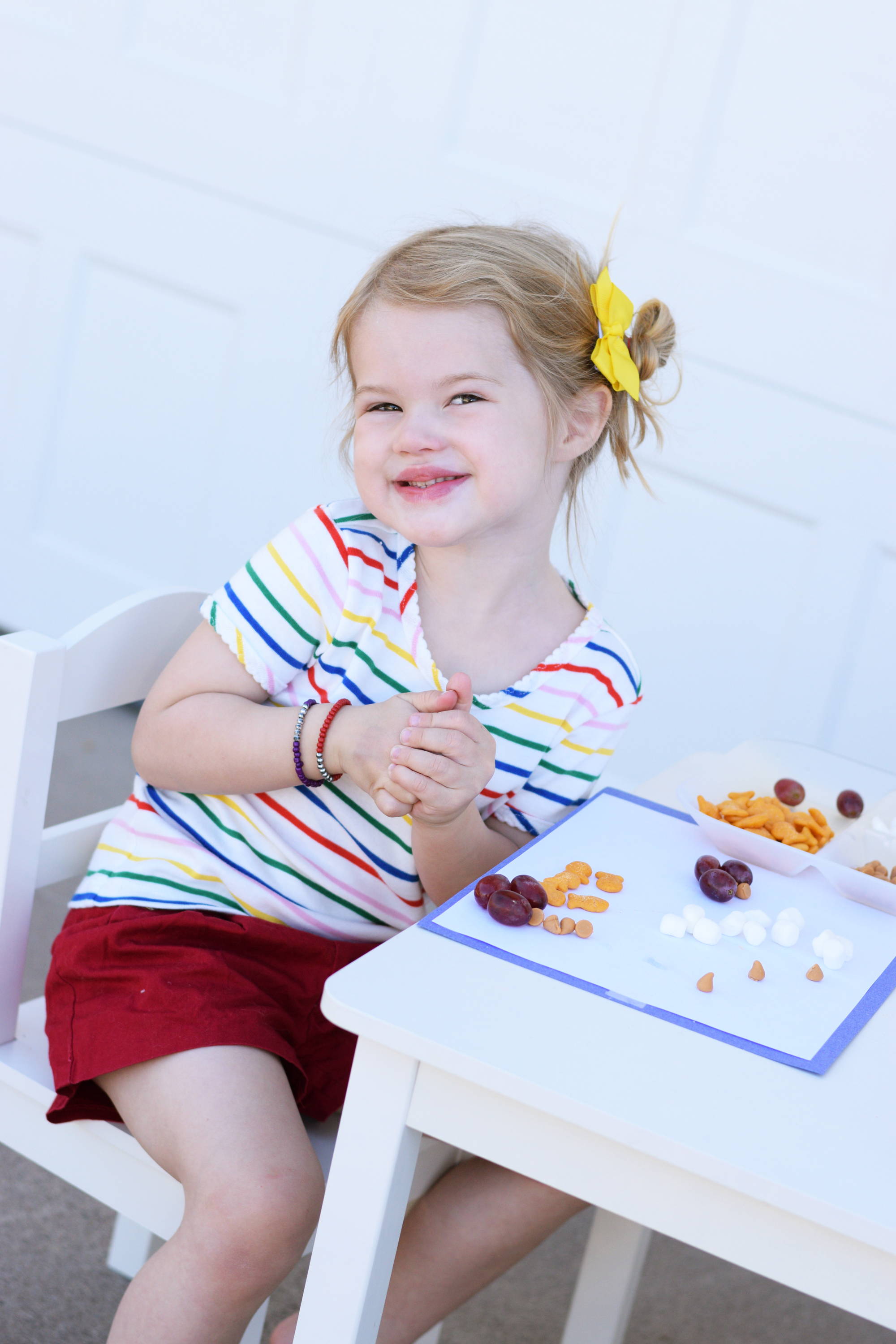 Olivia was so proud of her picture. After finally understanding that she needed to do her art work before eating she really got into it. She spent a good 15 minutes arranging and rearranging her snacks and treats into the perfect picture.
We brought our little table outside since it was such nice weather.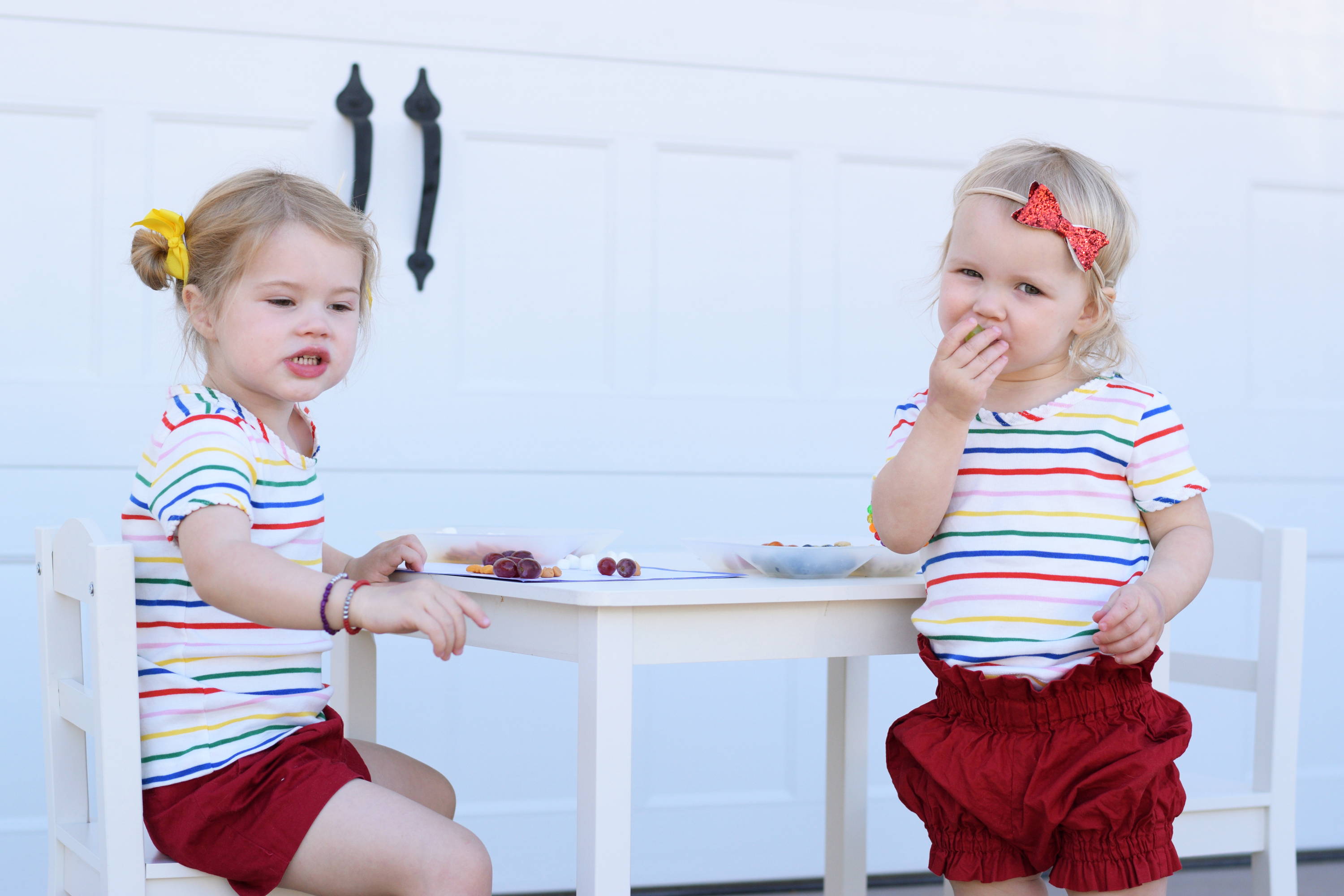 Pictures complete! It's time to eat!
As you can see, the both girls had a blast with this quiet time activity. It brought out their creative side and then turned into a yummy treat. I loved that it was easy to put together and clean up. We'll definitely be doing this again soon!

► Activity
Make a pic w/ marshmallows, cereal, etc. Eat!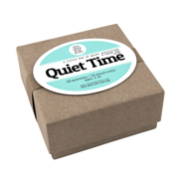 ► Length of time spent on activity (approx.)
20 minutes
► Materials needed/chosen
Construction paper, divided plates, marshmallows, cereal, butterscotch chips, grapes, tomatoes, goldfish, blueberries
► Any prep-work? If so, what?
Gathering small snacks from the kitchen.
► Directions / What we did
I set up a table outside for the girls to work at. We chose some small snacks/treats from the kitchen that would be good for creating a picture. As we gathered the snacks/treats we talked about colors and what we could make with them. The girls used the snacks/treats to create pictures on their papers. Once they were done they were allowed to eat their creations!
► Possible ways to expand on the activity
Ask child to use every item before allowing them to eat. Younger kids could form letters or numbers with items.
► What would you do differently next time?
Next time I'd have a few different sizes of snacks/treats. Maybe celery sticks, red ropes, etc.
► What my child was able to do by themselves
Create pictures and eat them!
► What my child needed help with
Understanding it wasn't just snack time!
► My child's thoughts about the activity
She loved it! Playing with food can be so much fun.
► Any other thoughts or info about the activity?
I think this is an activity that is perfect for children of all ages, and adults too!
---
Parent Blogger: Jana
Sign-up for our newsletter to receive activity ideas & documentation, here. qtbox