My kids are little nature junkies so anytime I ask them if they want to "go exploring," they perk right up! We recently had a stretch of a couple sunny days, so we took full advantage of them by doing this activity. One of the fun parts is that you can complete it all in one day or you can stretch it out over a couple days like we did. Either way, your little artists are guaranteed to have a great time!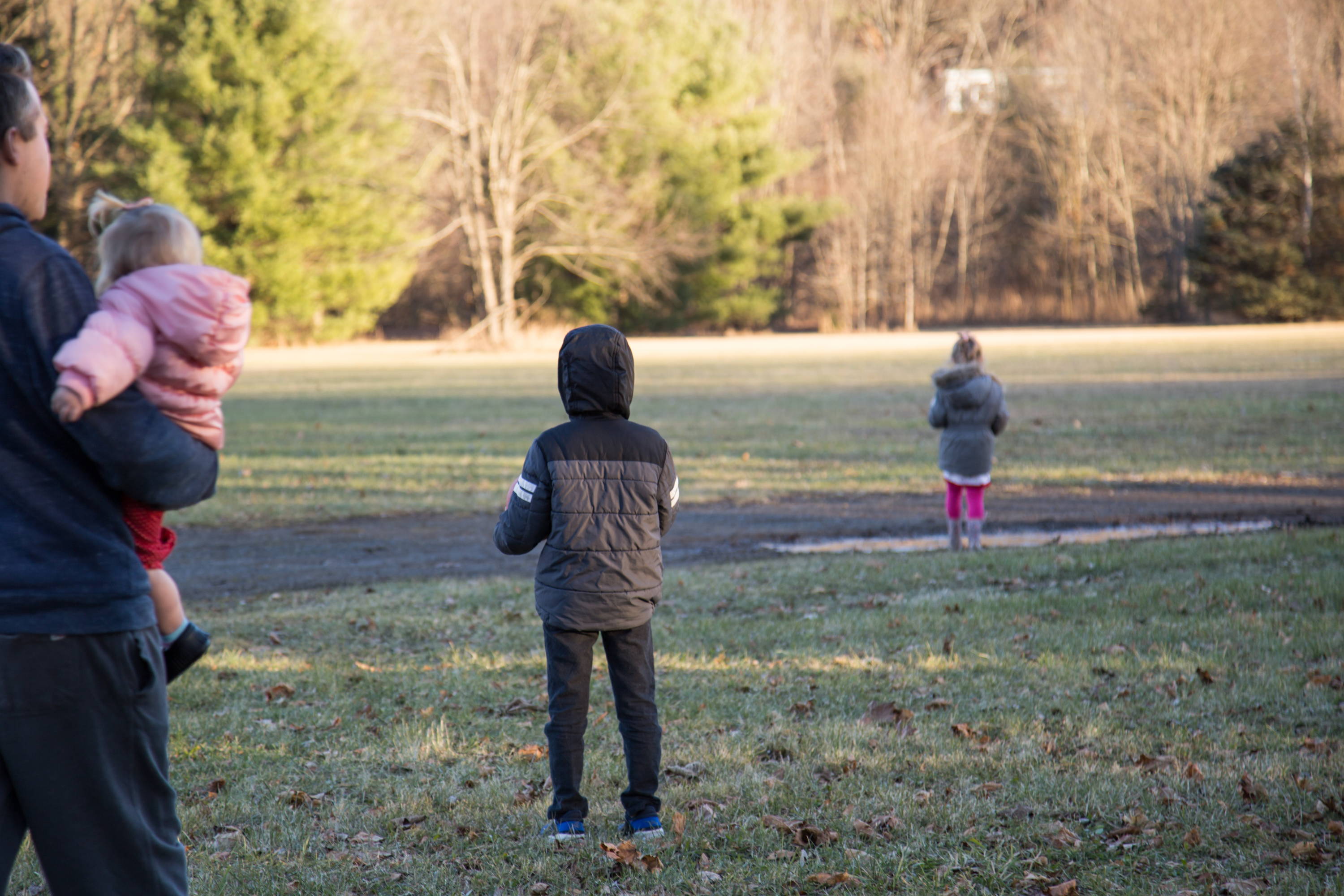 Our first order of business was finding the perfect painting rocks. Since we live near a river, we figured that we could all walk over there and look for some large, smooth rocks. In order to get to the river, we have to cross through a big field where the kids love to run around and play.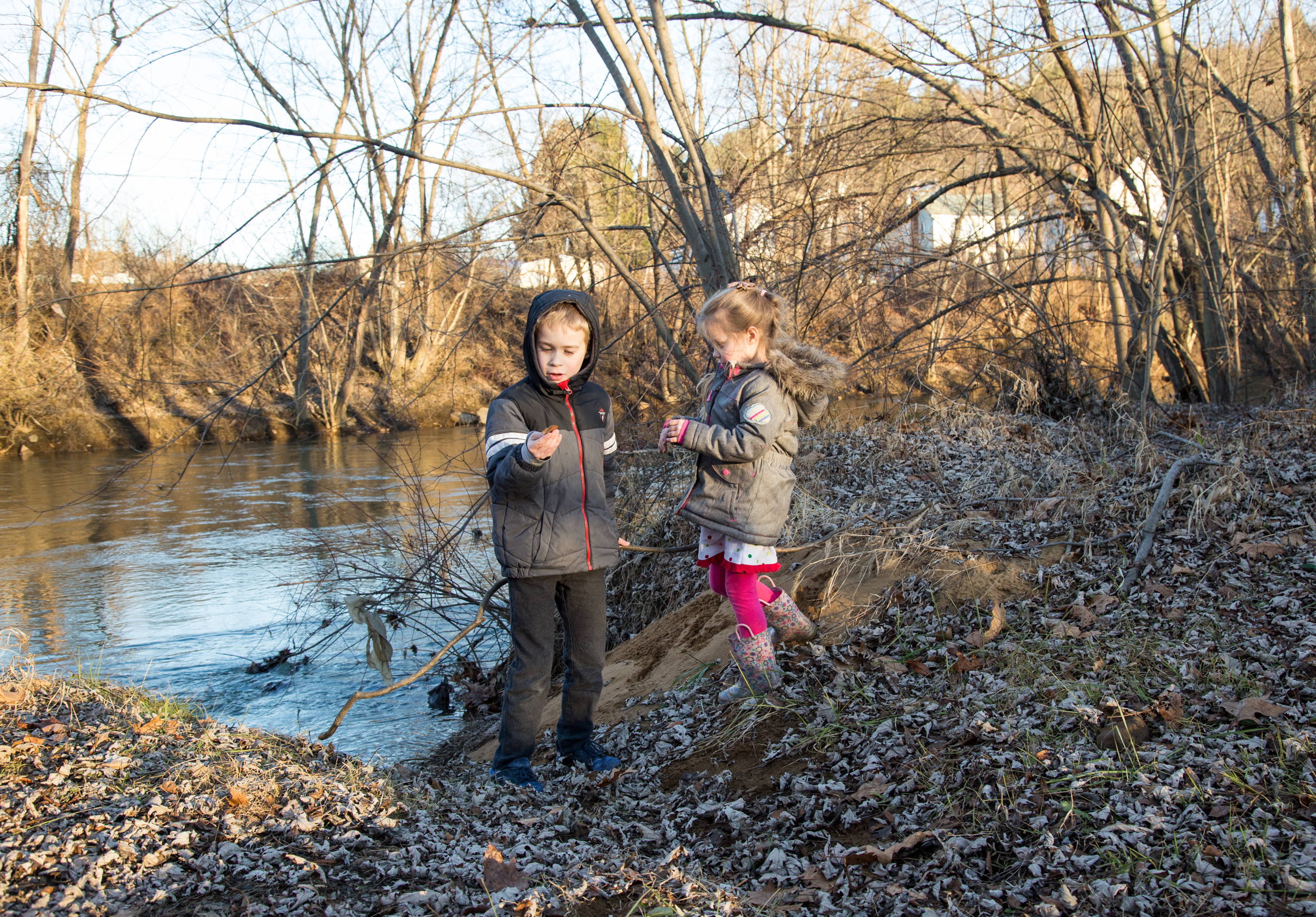 Once we got there, they began their search. One of the reasons they love going to the river is to throw sticks, leaves, and stones in and watch them race. No nature walk is complete without a stick race! When they were finished with that, they both found the perfect rocks to paint.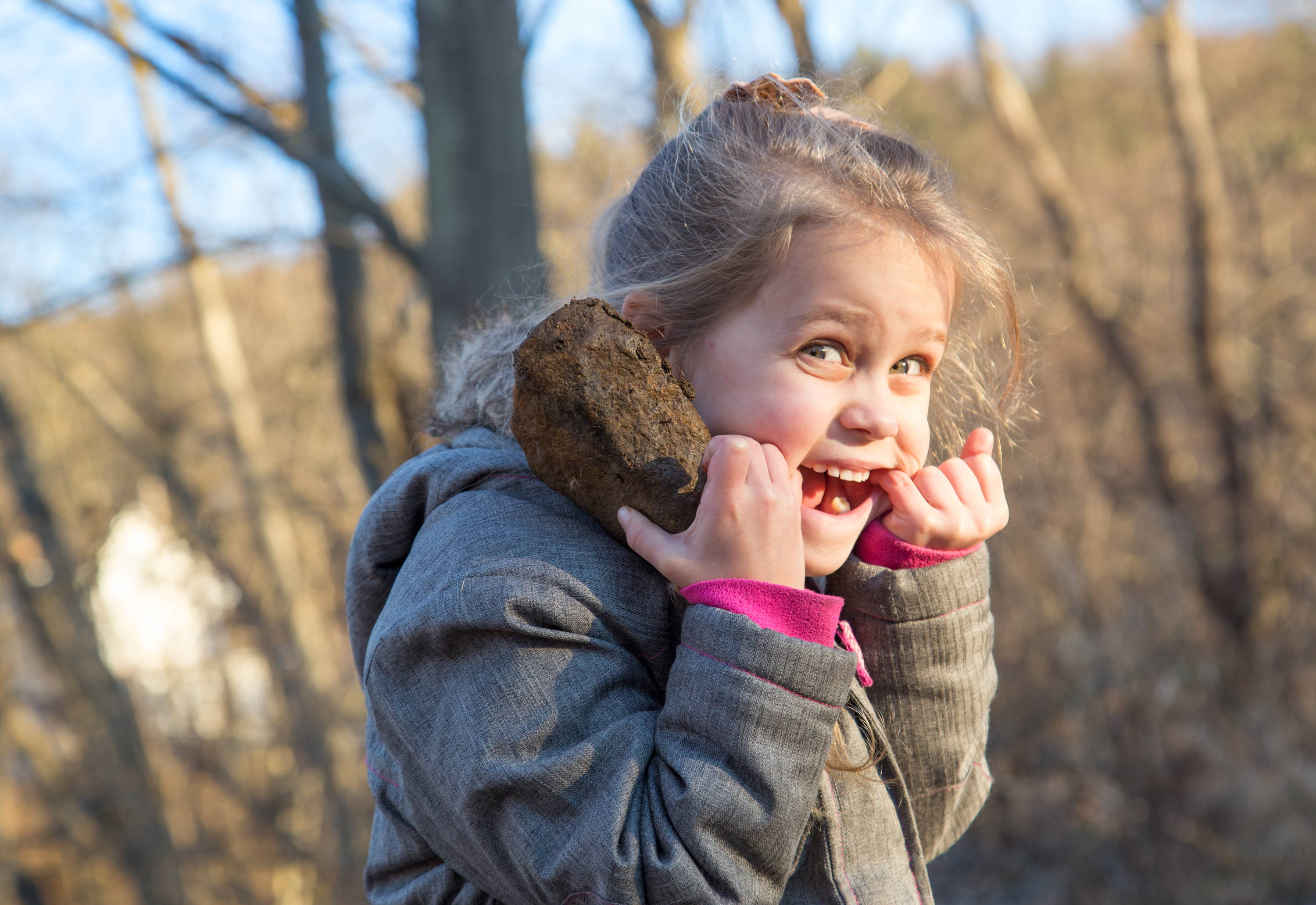 I don't know about your kids, but mine have a chronic case of the sillies. Therefore, no project is complete without goofy faces! When I asked Faithlynne to show me the rock that she picked, this is what I got.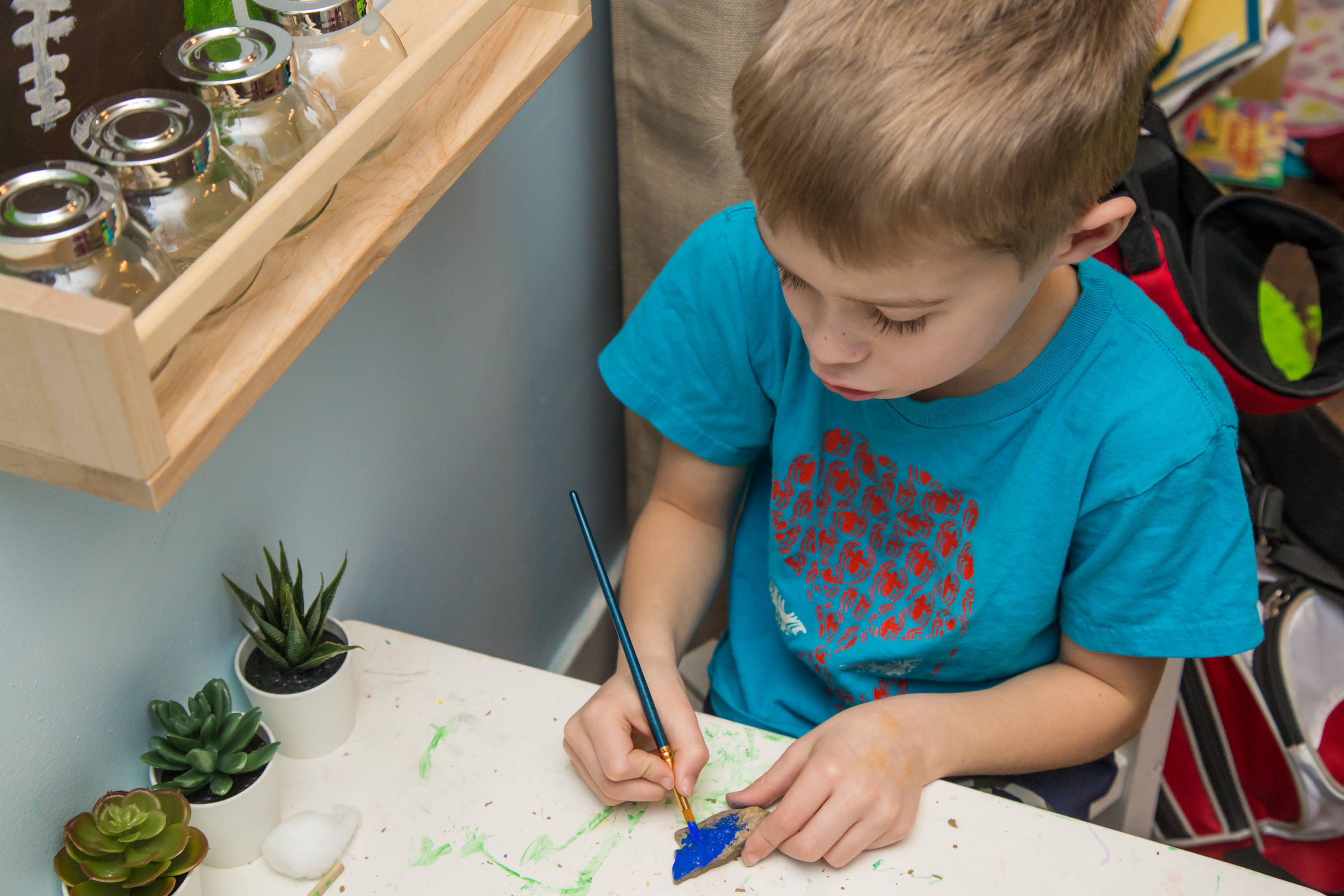 Since the rocks that the kids chose were already pretty wet, we washed them off and let them dry overnight. This worked out perfectly because the next day was cold and rainy so an indoor painting activity was ideal.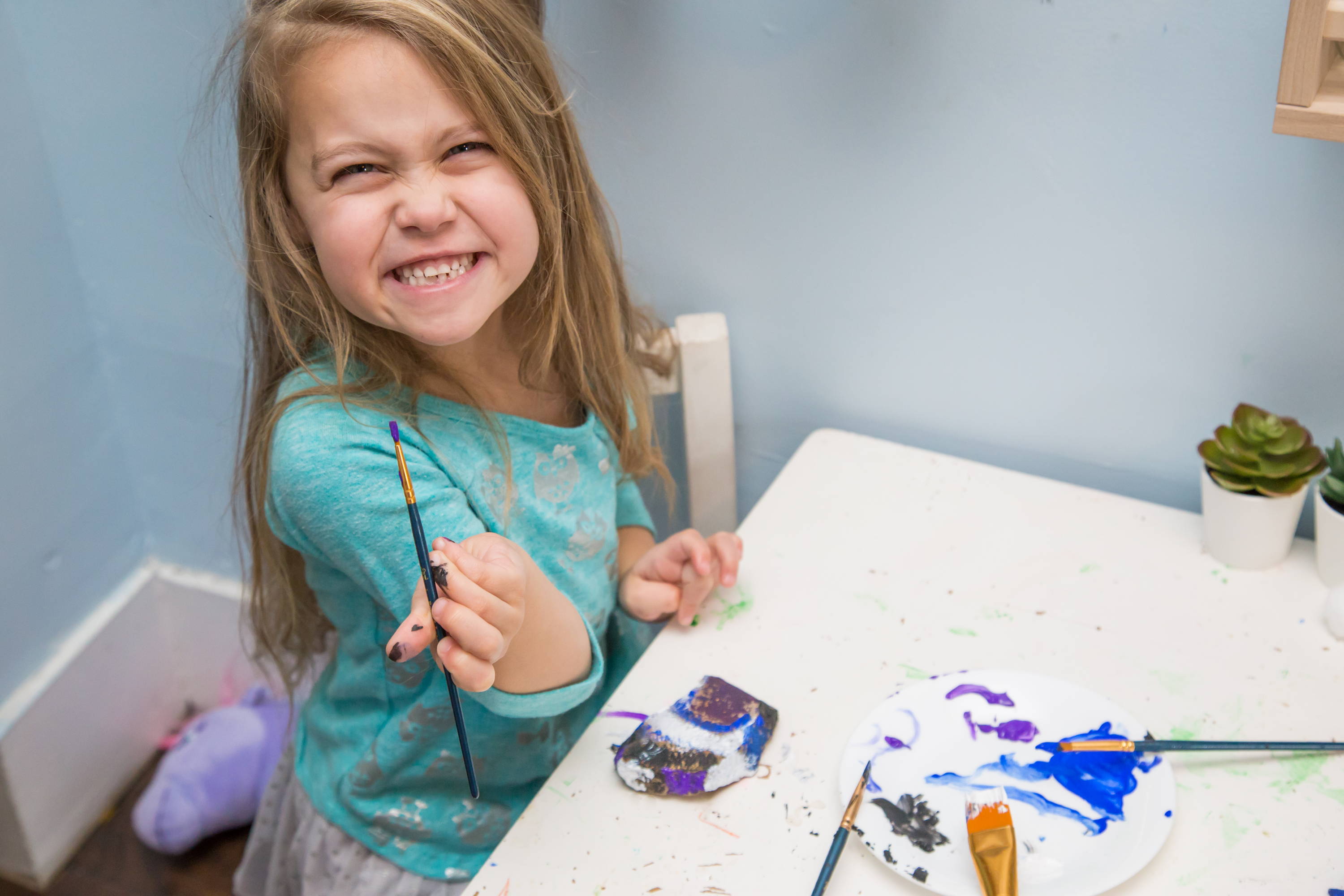 As always, the kids really loved the painting part! They each picked two colors and then shared their paint. It's no secret that Faithlynne loves painting anything she can get her hands on.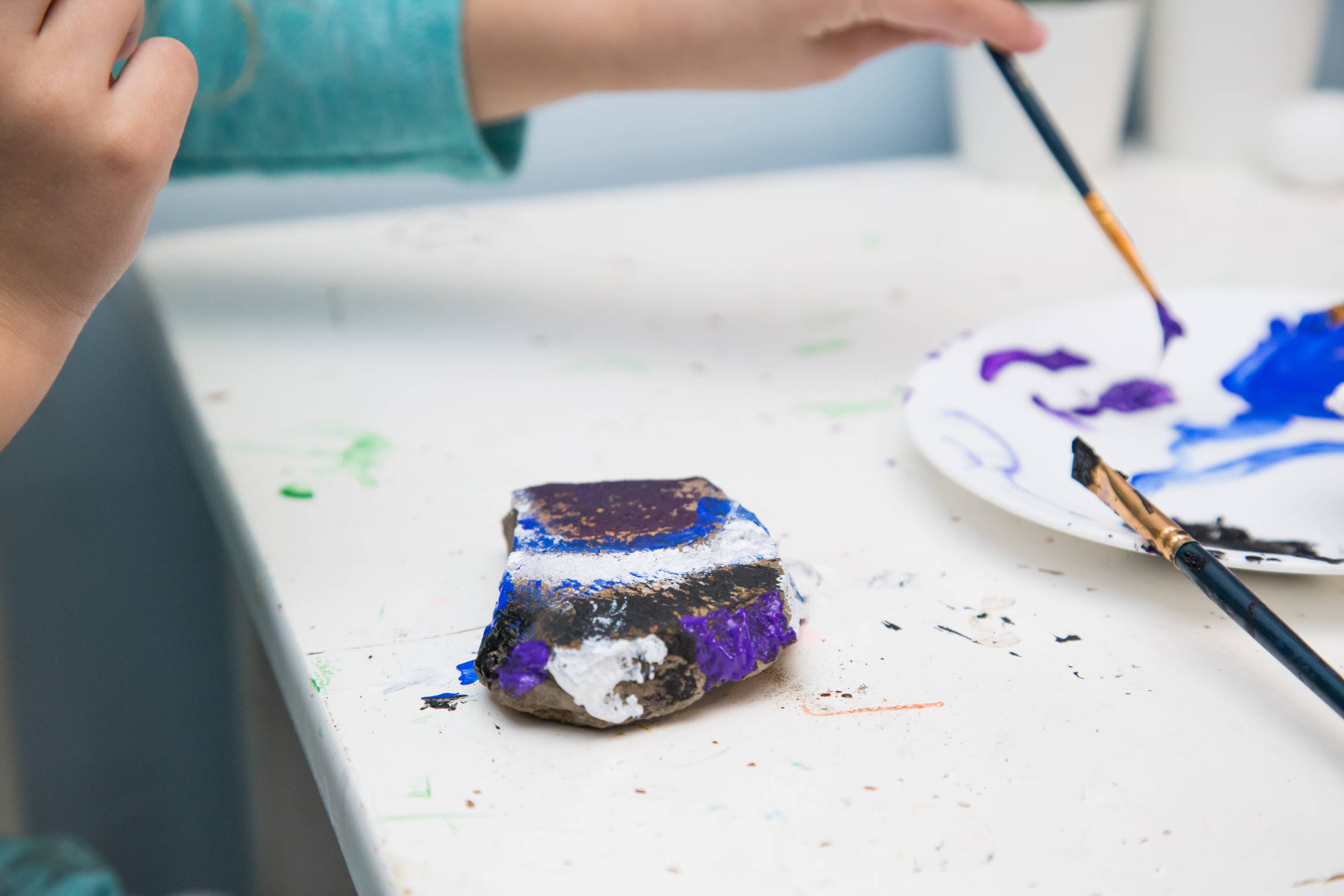 It was interesting to watch and see how they approached this part differently. Stephen had a few different rocks and he painted each one a solid color. Faithlynne had one big rock that she painted all four colors. Since they ended up using a good bit of paint, we chose to let them dry overnight again.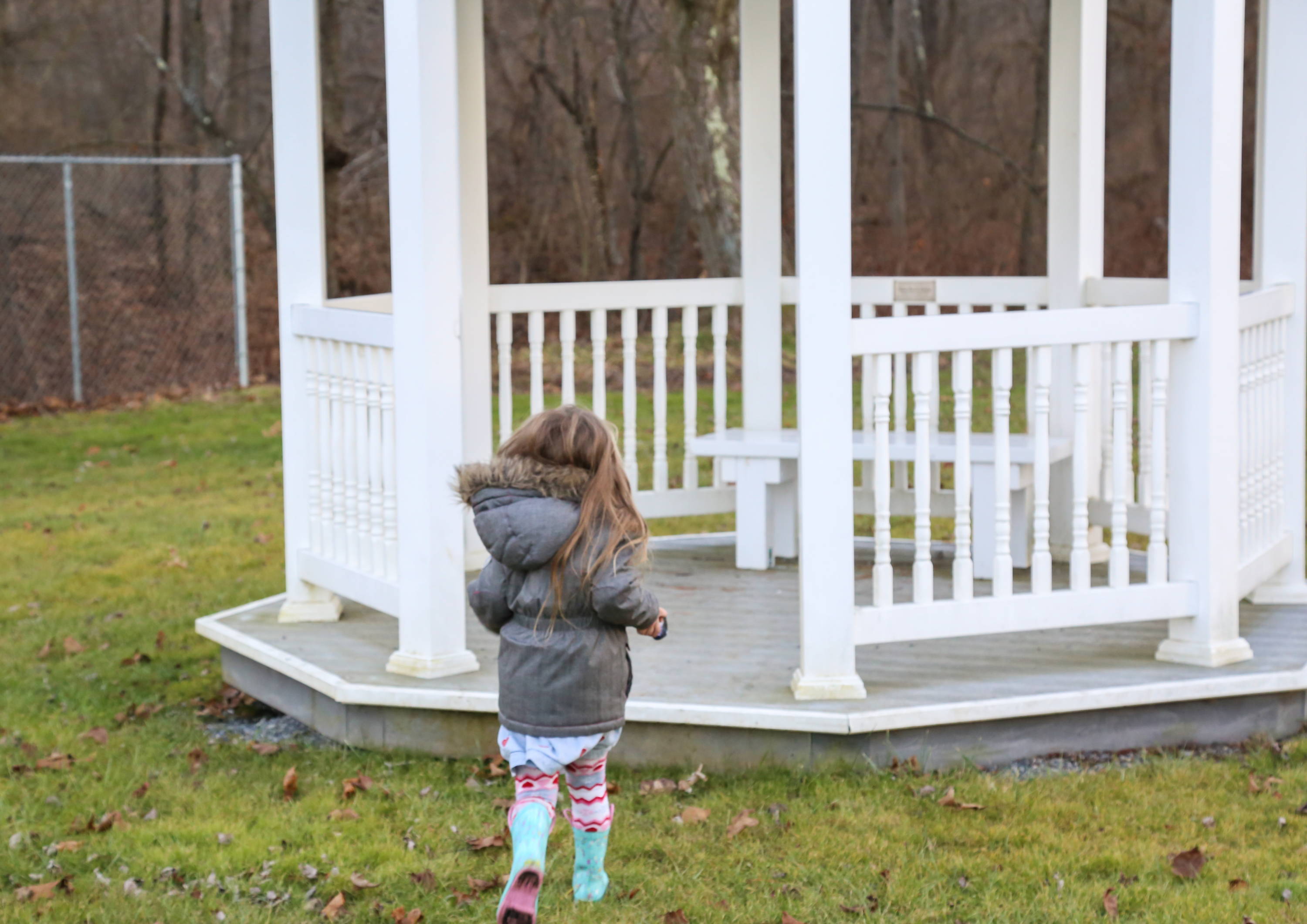 After some deliberation about the perfect place to leave their rocks, they decided on the park by our house. By this point, they had become somewhat attached to their rocks. Therefore, they wanted to leave them somewhere close so they can check on them.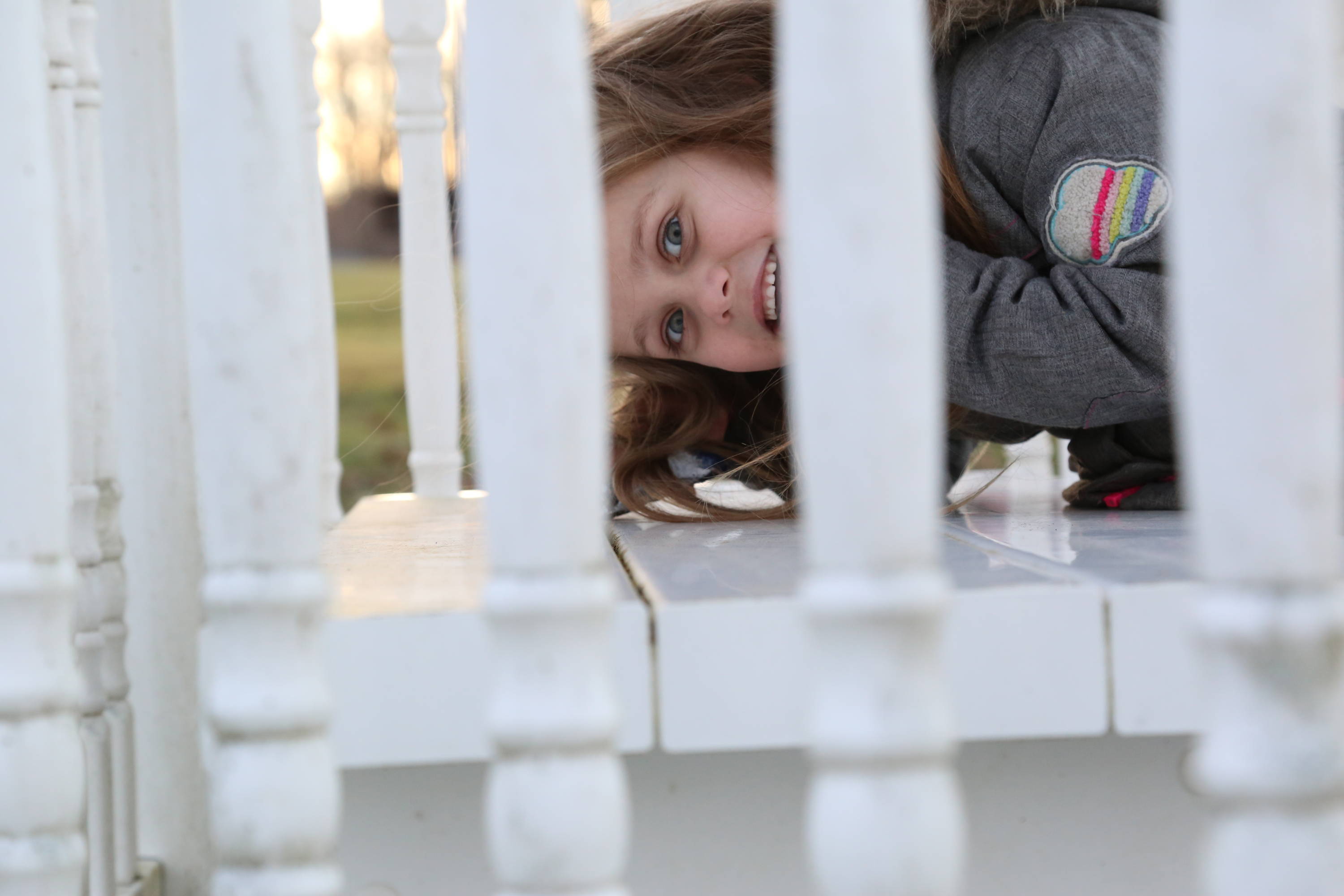 There is a little pavilion at the back of the park where people can sit, relax, and just enjoy nature around them. This seemed like an ideal spot for someone to notice their rocks and smile, which is the reason we did this project.
One of the things I appreciated is that we didn't have to be outside very long in order to do this project. Originally it seemed like something better suited for warmer months, but it was actually great to get out of the house and shake off that cabin fever that comes with these northeast winters. We hope that finding the rocks put a smile on someone's face. I know it sure put a smile on ours.

► Activity
Paint rocks & leave for others to find
► Length of time spent on activity (approx.)
1.5-2 hours
► Materials needed/chosen
Rocks, paint, and paint brushes
► Any prep-work? If so, what?
Gathering up painting supplies
► Directions / What we did
First we went for a walk to find the ideal painting rocks. Once they found them, they brought them back to the house to paint and dry. The next day we went out to hide them for someone else to find.
► Possible ways to expand on the activity
There are so many ways to expand this activity. One of the ways that my kids brought up is to choose a theme. For Valentines Day, you could use pink, red, and white and paint little hearts on them. A few other themes they thought of were princesses, monsters, and superheros.
► What would you do differently next time?
Next time we would probably look for dry rocks so that they could paint them as soon as they got home.
► What my child was able to do by themselves
Everything
► What my child needed help with
They didn't need my help with anything this time.
► My child's thoughts about the activity
They absolutely loved this activity. Each aspect felt like a little mini project (collecting the stones, painting, and then hiding). Once they had the idea of using items they found in nature, they came up with a bunch of other projects. We currently have a whole windowsill full of rocks, sticks, and leaves to paint.
► Any other thoughts or info about the activity?
It really was a lot of fun and a great activity to do together as a family. We got to spend a good amount of time together exploring, creating, and of course laughing with our goofy kids.
---
Parent Blogger: Denae is a doula and photographer. When she isn't editing photos or at a birth, she is trying to keep up with her 3 energetic kids. She is married to her wonderful, adventurous husband who doesn't know how to sit still. This leads to lots of family adventures, but they're always excited to see where each journey will take them.
Sign-up for our newsletter to receive activity ideas & documentation, here. vdaybox