Valentine's Day is such a fun and sweet holiday. I love the color schemes and decorating for it. Creating a paper chain was great for helping the kids work on their fine motor skills, focus and creativity. While we spent a long time on our chain (an hour and a half!), you could easily do a simpler version of this project with your child in 15 minutes and still have something cute to hang up.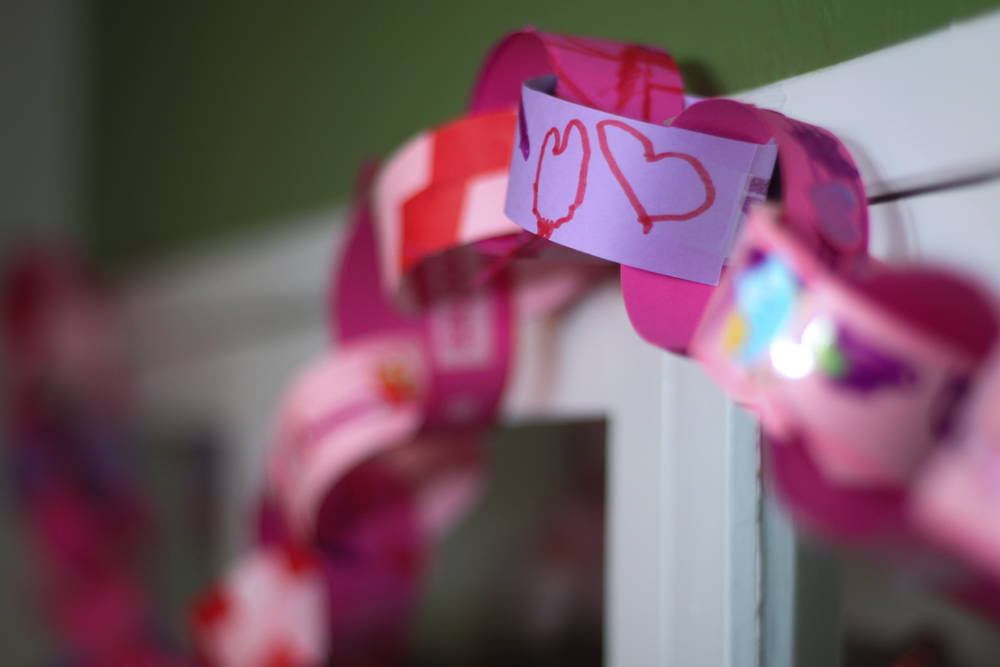 We created a chain with three colors of paper, four colors of marker, two colors of tissue paper and Valentine's stickers. Each kid did a marker drawing on one sheet of paper, glued squares of tissue paper to another sheet and then cut their last sheet into blank strips where they decorated them with markers and stickers. The handmade result turned out so sweet.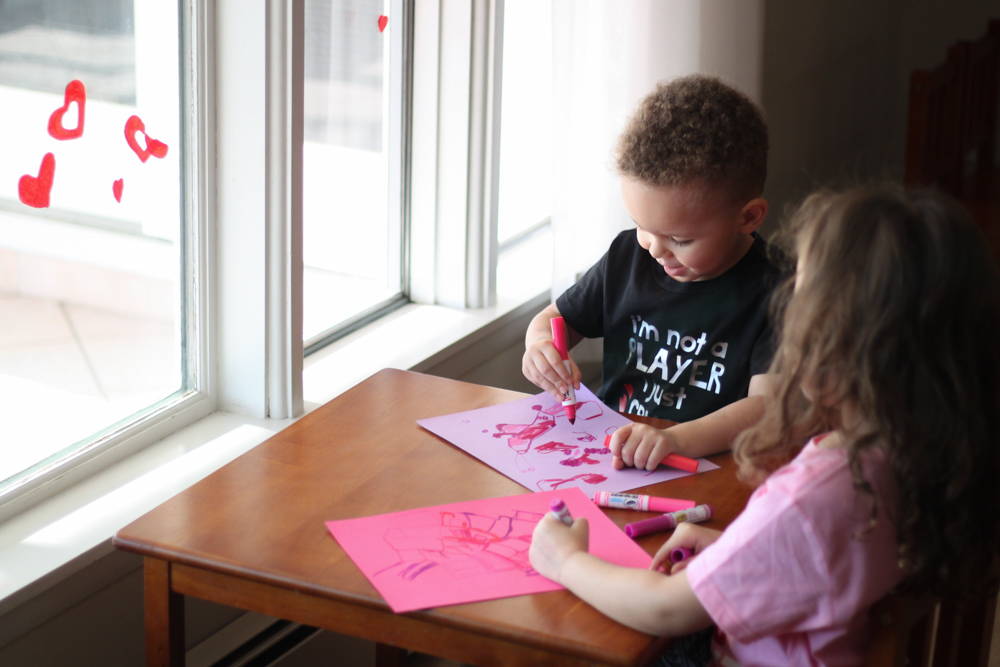 It helped keep their interest by treating each step as it's own project. First they did a marker drawing on a sheet of paper with the understanding that they were going to cut it up later. They did a great job drawing shapes and lines. There was no requirements whatsoever on what they needed to draw, just a limit on the colors they were allowed to use to keep it within a color scheme.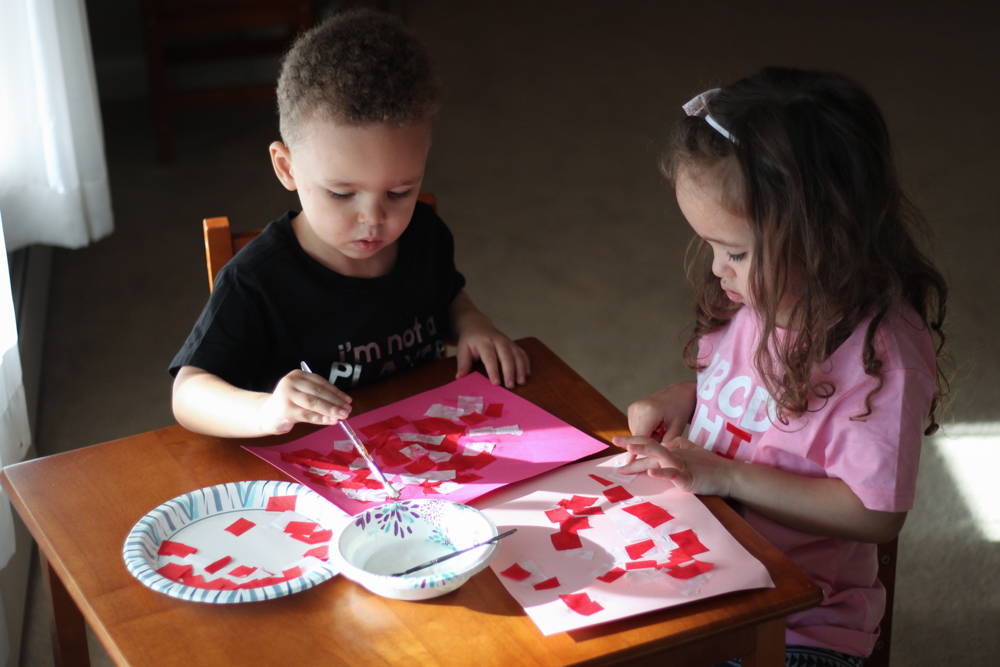 Once the marker drawings were done, we put those materials aside and got out new sheets. For these, I had cut small squares out of the tissue paper (which took about two minutes while they were doing the marker drawing) and put some elmers glue in a bowl. They used paint brushes to paint glue on the paper and then stuck the small tissue squares on. This created a fun texture difference to add something else to our chain and allowed them to explore a fun medium they don't always get access to (glue).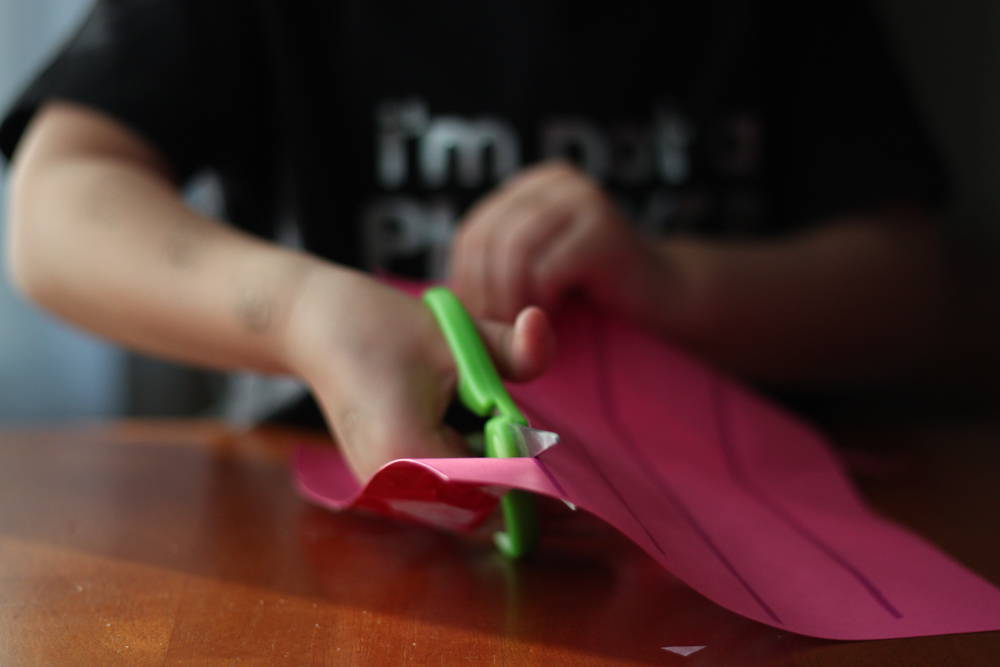 I really had to hold myself back to let them do the cutting on their own. It was painful to watch at first, because preschoolers have to learn a lot of coordination with scissors. My 3-year-old had trouble remembering to keep his thumb up and constantly wanted to start with the scissors upside down.
But, but the third sheet of cutting, I was shocked at how much more control he had. Both of them went from cutting very jagged, uneven strips to cutting along the quick marker lines I had put on the back of each sheet. It was great practice for them and they loved it. The trick was just watching them enough to stop them from cutting the strips too short or completely getting off the lines. As long as the strips were relatively even in width and length, they worked fine for the chain.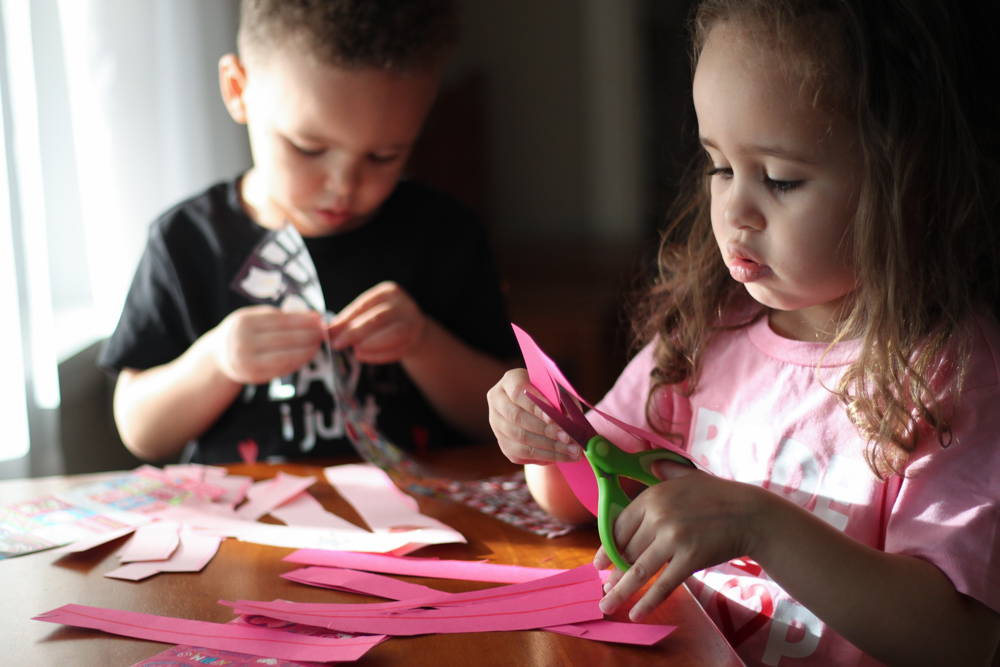 For their third and last sheet of paper, they each cut it into blank strips. They were allowed to pick from Valentine's stickers and decorate each strip with a mix of stickers and markers. I sometimes made them draw specific shapes (like hearts or trying to copy the word LOVE) just to give them something specific to practice, but most of the time they were free to decorate as they pleased.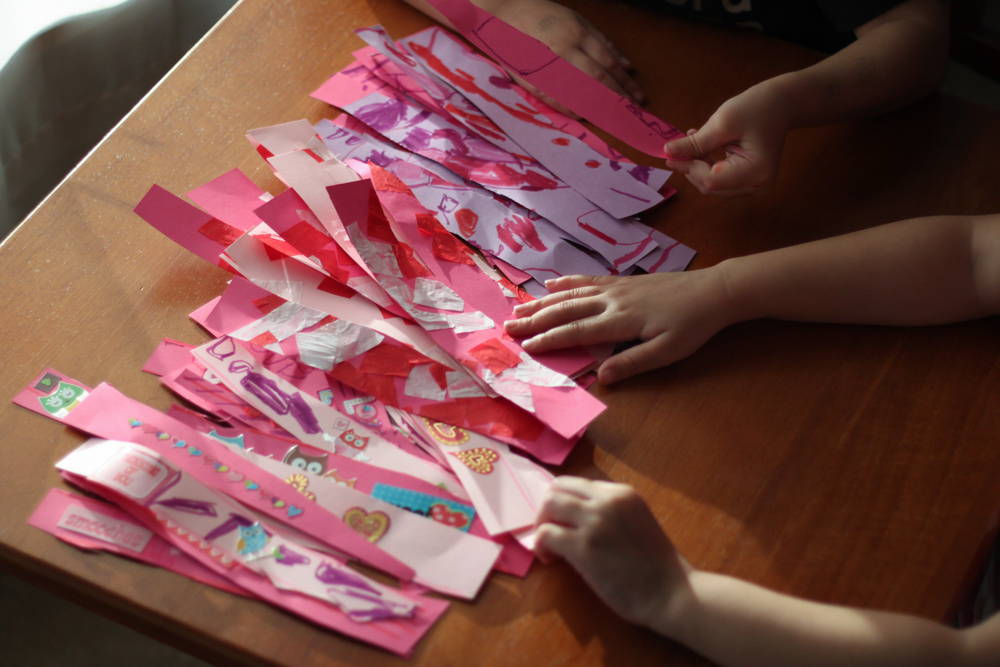 Once we had all the strips decorated, we were ready to make the chain. Doing the first part of the project in separate phases helped give us a variety of coordinating (but different) strips to work with. If you wanted to drastically cut down on the time of this project, you could cut one kind of plain, patterned or textured paper into strips and make a shorter chain (like two sheets instead of six). You could also choose just one type of strip to make (like only making strips with markers). Stickers are fun and easy, but personally I like them only as occasional embellishments because the kids' creative drawings and handiwork are so much more meaningful to me.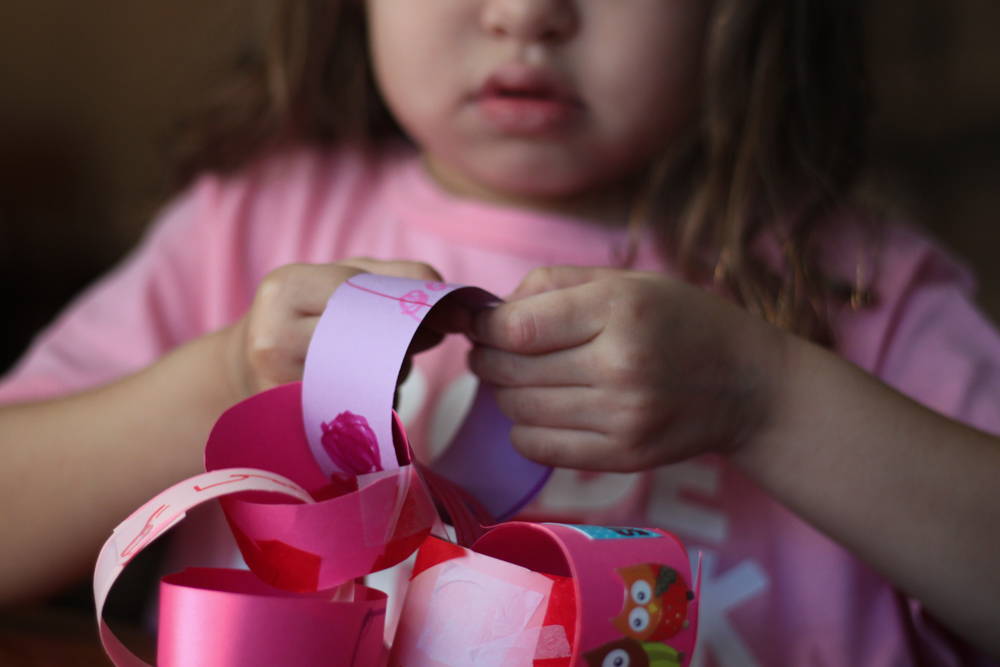 The kids were able to create the paper rings and I gave them pieces of tape to stick the overlapping ends together. Make sure all of the design sides are facing out. I mostly let them do the chain making on their own. They started out with small segments of chain and then I helped them connect those into one large chain.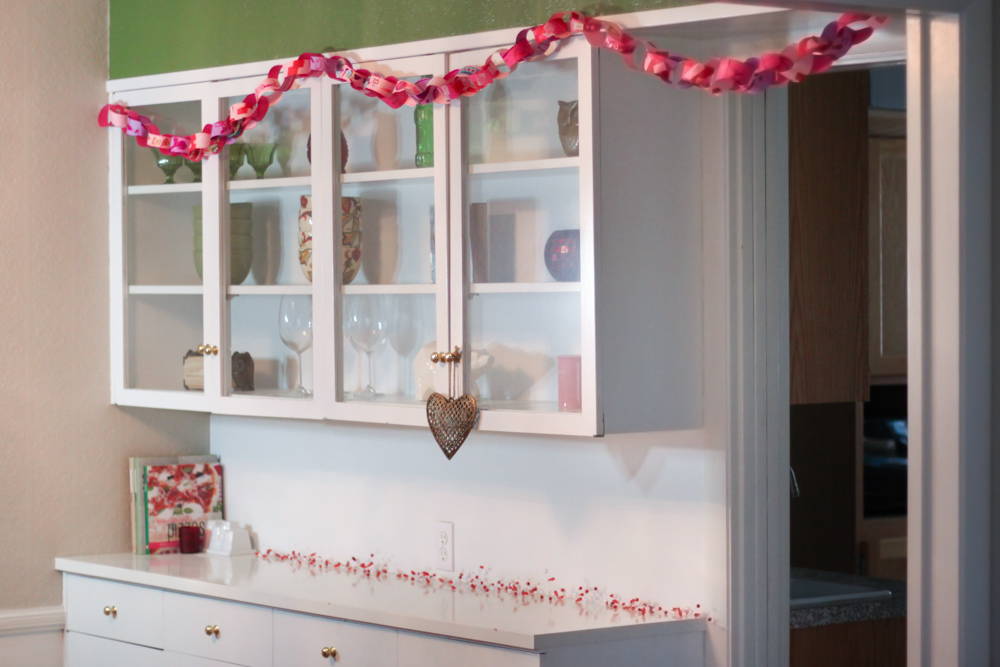 This is the length we got from six sheets of paper cut into strips that averaged about 1.5 inches wide. Growing up, one of my favorite memories was actually making a heart garland and then getting it out to hang up each year. We slaved over that thing and were so proud of the result. I was more than happy to pass the same kind of memory on to my own kids, and it will be such a cute decoration over the years that I can store with my other decorations and hang up over the years. As they get older, it will be fun for them to see projects like this that show how much they've changed. If I do want this project to last, I may need to consider stapling the rings or check to see if my scotch tape was acid free.
Purposeful projects, like décor are some of my favorite crafts to do with the kids. I don't feel like a clutterbug keeping projects that have a dedicated purpose, so I like to really spend time working on them. I originally thought we might split the project into two days, but the kids stayed really focused. The next day, they asked if we could add on to our chain and do more! While I think we are done with the chain for this year, we did have a lot of fun!

► Activity
Make a paper chain using Valentine colors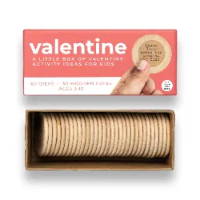 ► Length of time spent on activity (approx.)
1.5 hours
► Materials needed/chosen
Paper, glue, tape, scissors, stickers, markers
► Any prep-work? If so, what?
Gathering supplies
► Directions / What we did
The kids made a chain to hang as a Valentine's Day decoration. Paper was decorated, cut and then taped together into interlocking rings to form a chain.
► Possible ways to expand on the activity
We expanded on the plain paper chain by including marker drawings, stickers and tissue paper. We could have taken it a step further by including glitter, stamps, paint and/or cutting the rings out of some other textures of paper (doilies, basket weave paper, patterned paper, etc.).
► What would you do differently next time?
I might have changed out the tissue paper part of the project for glitter. The kids had a lot of fun painting on the glue, but glitter on select rings might have made the end product more exciting (they were pretty excited about it, though, so I'm not sure).
► What my child was able to do by themselves
Everything
► What my child needed help with
Sometimes they needed help with assembling the rings and interlocking them at the end.
► My child's thoughts about the activity
They had a lot of fun. The next day, they said we probably needed to add on to it.
► Any other thoughts or info about the activity?
It was a great project to work on their creativity, focus and fine motor skills.
---
Alethea is a freelance writer, blogger, art teacher and influencer. Four kids within 5 years has kept her on her toes, but she loves having a family so closely spaced. She takes pictures regularly to document daily life and children's small shop fashions.
Sign-up for our newsletter to receive monthly activity ideas & documentation, here. vdaybox