I scream, you scream, we all scream for.... Popsicles! Okay, that might not be exactly how it goes, but they're just as loved around here as an ice cream cone. When I told the kids that we were going to make ice pops, they were so excited! We've made them before, but we somehow haven't gotten around to it yet this year. Since we're now in those extra hot and humid days of summer, this activity came as a refreshing treat.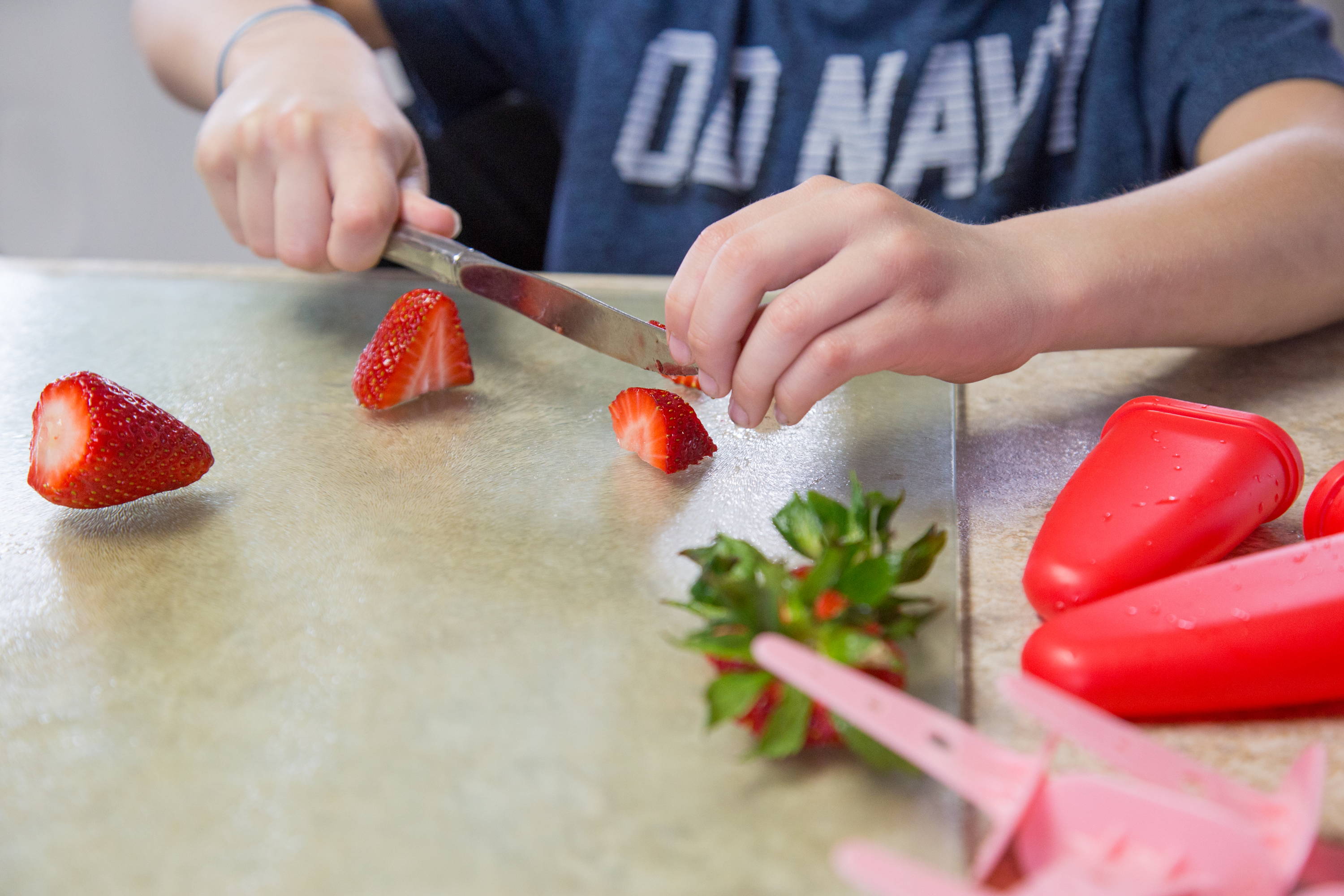 We gathered up our supplies of choice. Instead of just using juice, milk, yogurt, etc., we chose to add some fresh strawberries. My kids love when they are able to chop up their own food and I enjoy teaching them how to safely do so.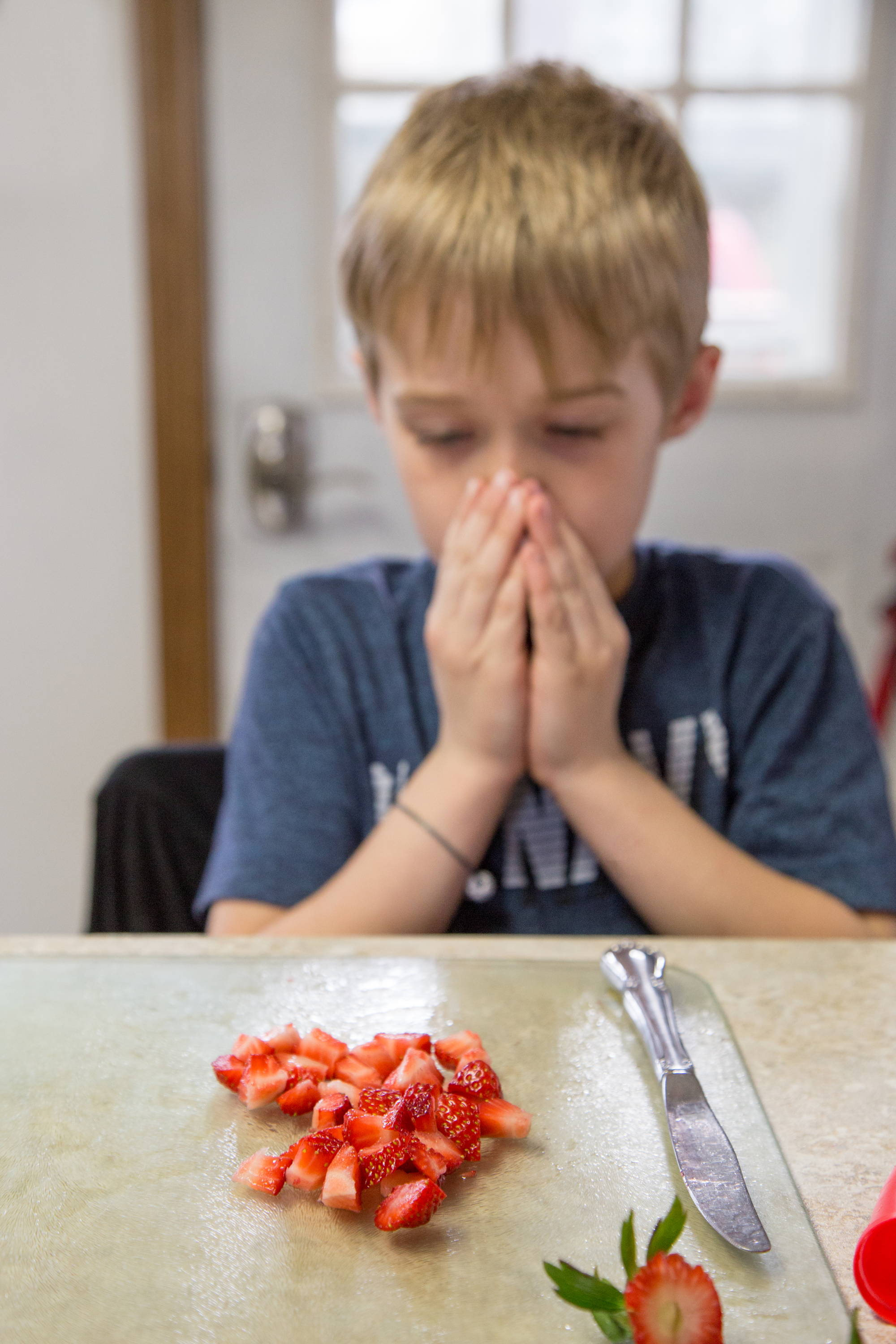 "Oh no, mom... It's hard not to eat them all!" I totally understand where he is coming from.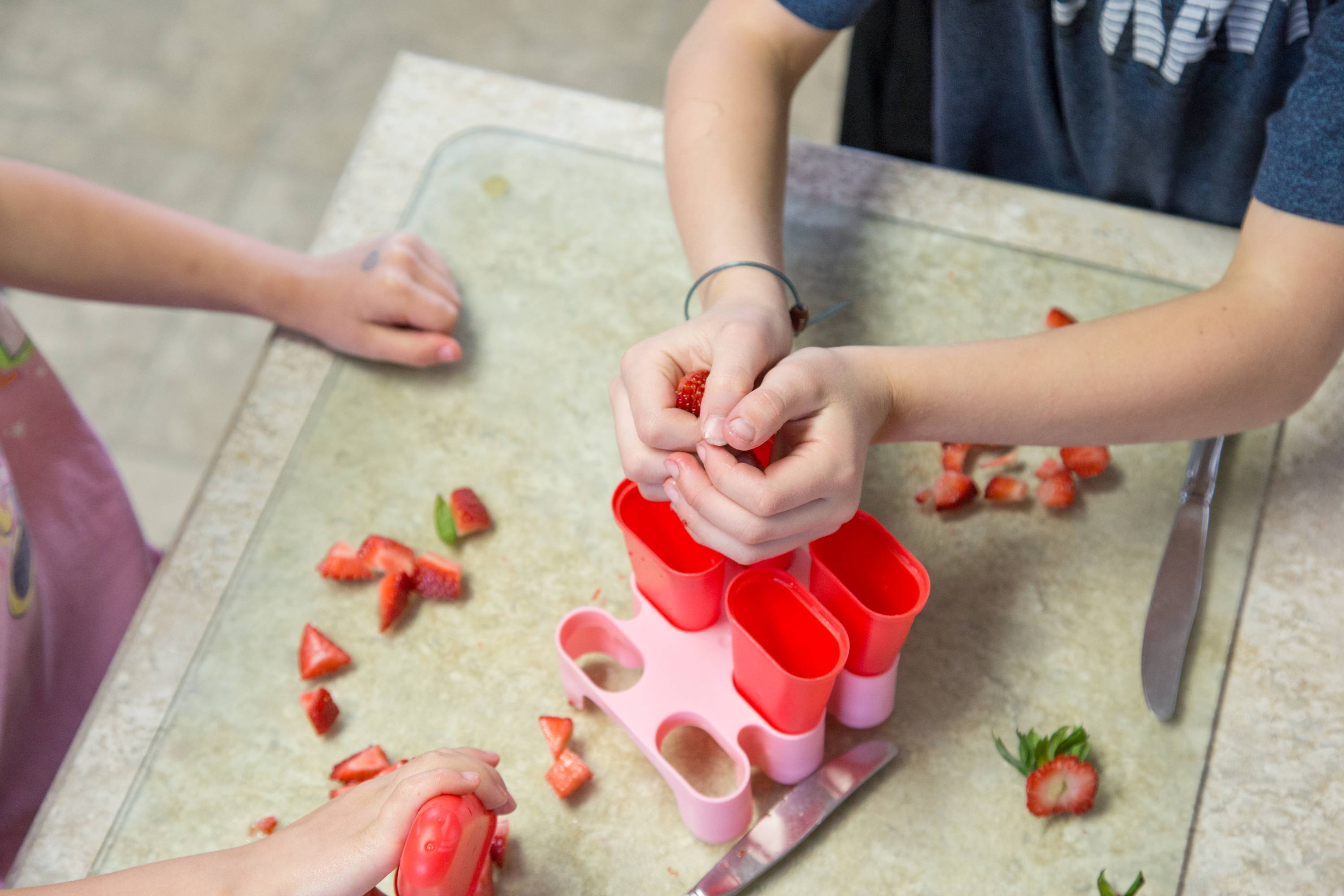 After all of the strawberries were cut into small pieces, they filled the popsicle molds. I believe we used 4 large strawberries and it was the perfect amount.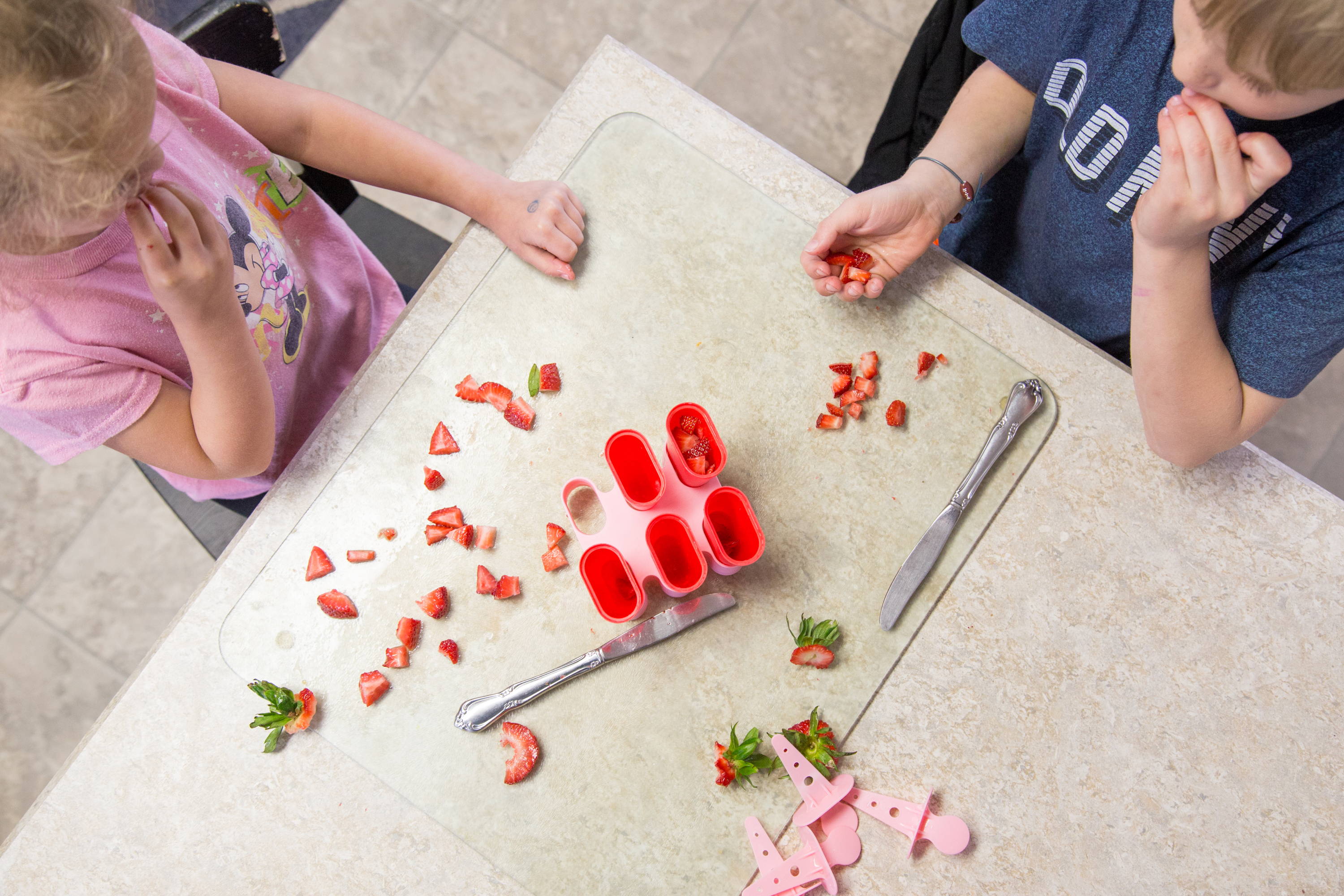 Neither of them could resist the temptation of "taste testing."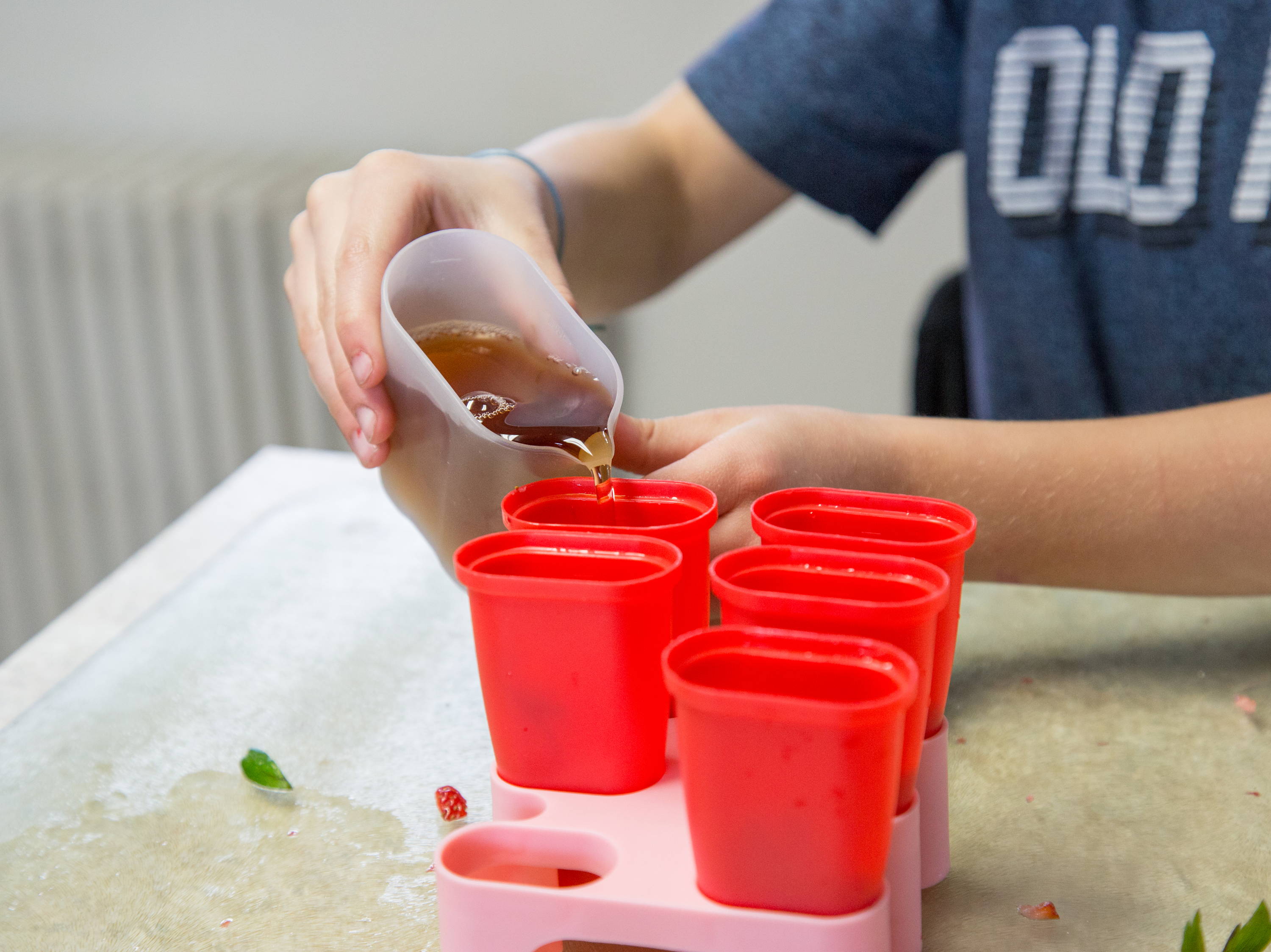 After the strawberries were placed, they took turns filling the molds with juice. We already had strawberry kiwi juice in the fridge and it sounded like the perfect combination. As an added bonus, the kids were able to practice their pouring skills. We used a small measuring cup with a spout to make it a bit easier.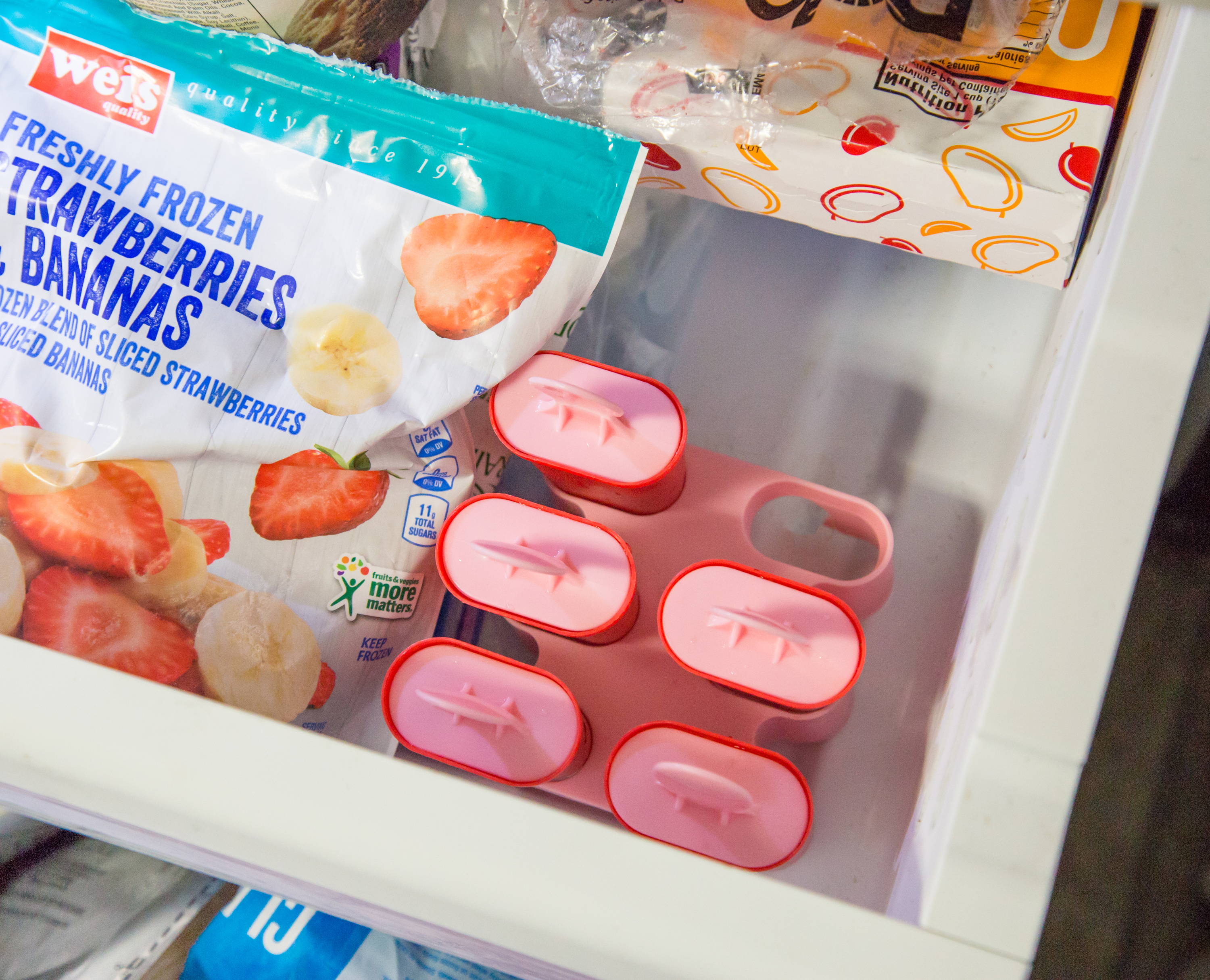 Once they put the stick in, we carefully put them in the freezer overnight. If you don't have molds, you can get creative and use other items such as yogurt containers or dixie cups. Just make sure that they will be okay in the freezer.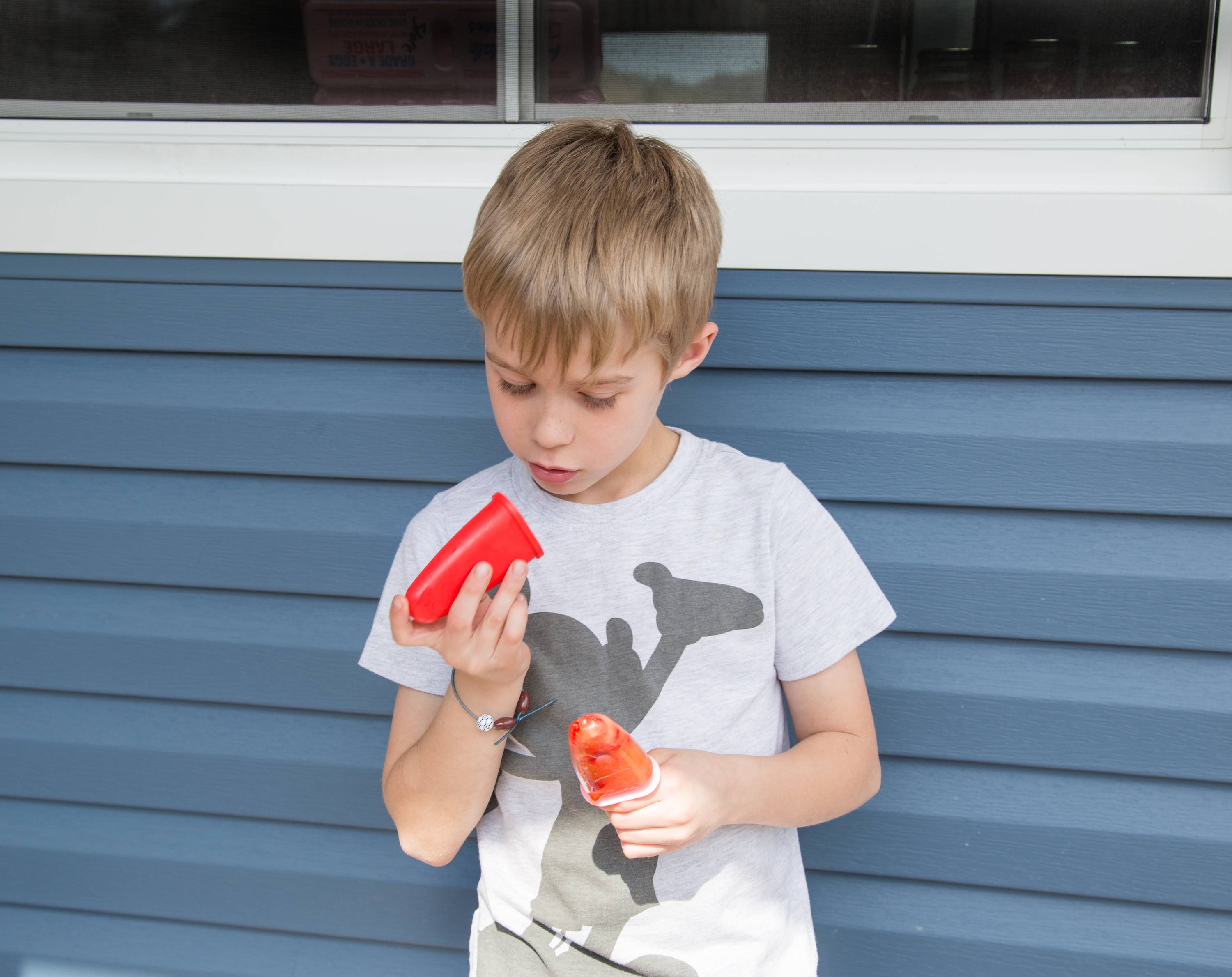 Since it was nice and sunny the next day, we chose to eat our popsicles outside on the porch. Not only was it fun to be outside while enjoying a cool treat, it also helped me by keeping my kitchen floor drip free! Stephen initially thought he broke his popsicle while taking it out of the mold, but thankfully that wasn't the case.
Faithlynne couldn't be happier. She also enjoyed how pretty it looked which is so inline with her artistic character.
Whether you decide to pack your popsicles with candy or make a super healthy version, it's bound to be a hit. There really are endless possibilities and ways to expand on this activity. If you're looking for a fun and sweet way to cool down this summer, give this a try! Just be sure to make one for yourself to enjoy as well.

► Length of time spent on activity (approx.)
20 minutes
► Materials needed/chosen
Popsicle molds, juice, fresh fruit, butter knives and cutting board
► Any prep-work? If so, what?
None. We used food items that we already had in the house.
► Directions / What we did
First, they cut up the strawberries until they were small enough to fit in the mold. Next, they put them in the molds and filled it the rest of the way with juice. After placing the sticks, they put them in the freezer overnight and enjoyed the next day.
► Possible ways to expand on the activity
There are so many different combinations that you can use. Blueberries, strawberries, raspberries, bananas, and blackberries are some of our favorites! You can also use yogurt or milk instead of juice for a different flavor. If you're up for an adventure, you could even go pick your own berries first.
► What would you do differently next time?
I would try some different combinations instead of making all of them the same.
► What my child was able to do by themselves
They were able to do everything themselves. If they were smaller, they would have needed help cutting up the strawberries and pouring the juice.
► What my child needed help with
Nothing. I only reminded them of the right order of events.
► My child's thoughts about the activity
They love making popsicles! It allows them to get creative with their combinations and offers a tasty treat. Such a win-win!
► Any other thoughts or info about the activity?
It's a great indoor activity for those summer days when it's too hot or rainy to play outside.
---
Parent Blogger: Denae is a doula and photographer. When she isn't editing photos or at a birth, she is trying to keep up with her 3 energetic kids. She is married to her wonderful, adventurous husband who doesn't know how to sit still. This leads to lots of family adventures, but they're always excited to see where each journey will take them.
Sign-up for our newsletter to receive activity ideas & documentation, here. summerbox