We have prayed, we have hoped, and we have crossed all of our fingers and toes, but we haven't seen any snow this winter. We actually haven't had a decent snowfall in over 3 years, which means that none of my kids have ever had the chance to actually play in the snow. I know…cue the waterworks! So for that reason, I wish I could have captured the look on their faces when I told them we were going to make snow! They couldn't have been more intrigued, excited, and happy!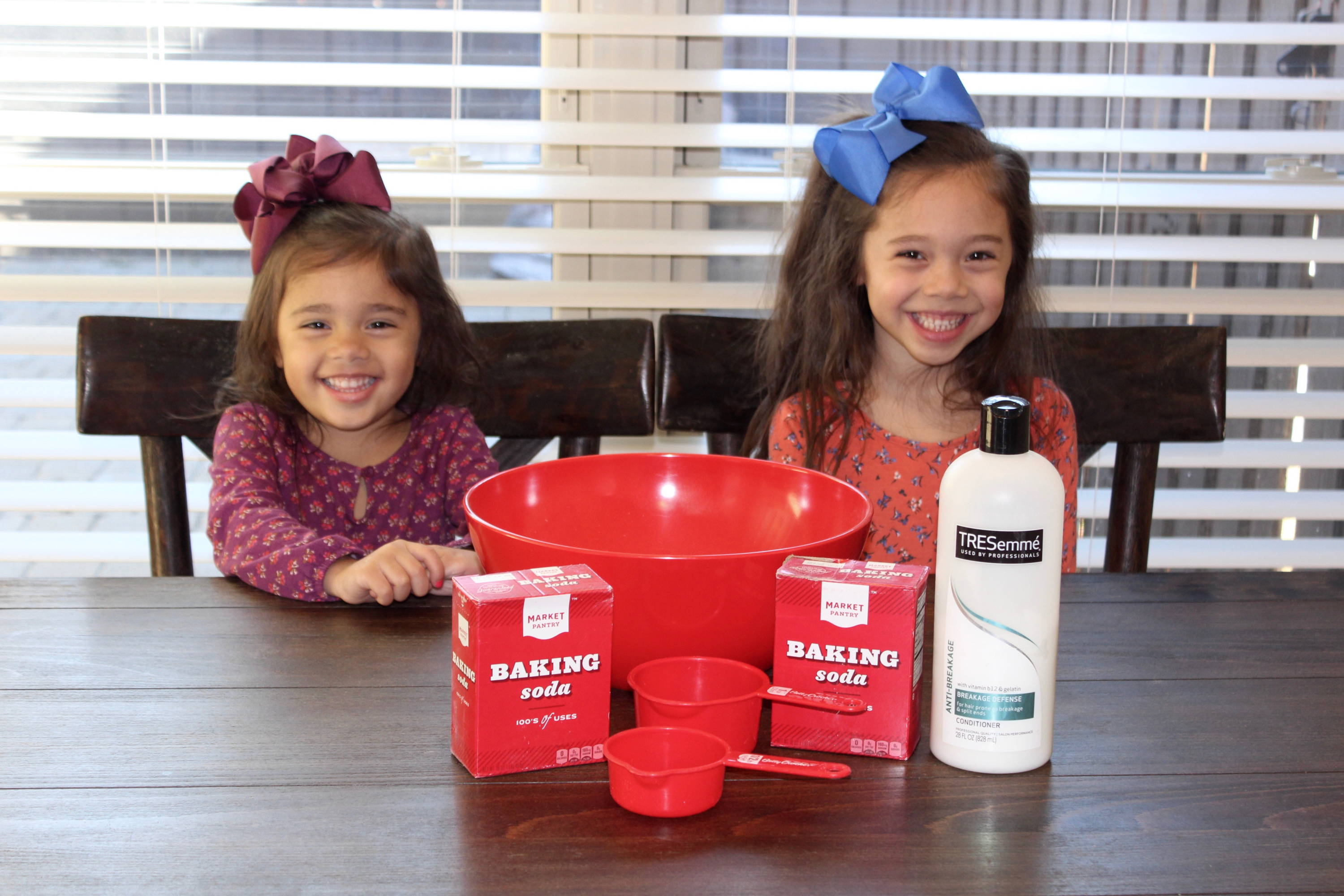 All ready with their supplies! Can you tell that they were super excited to make snow?!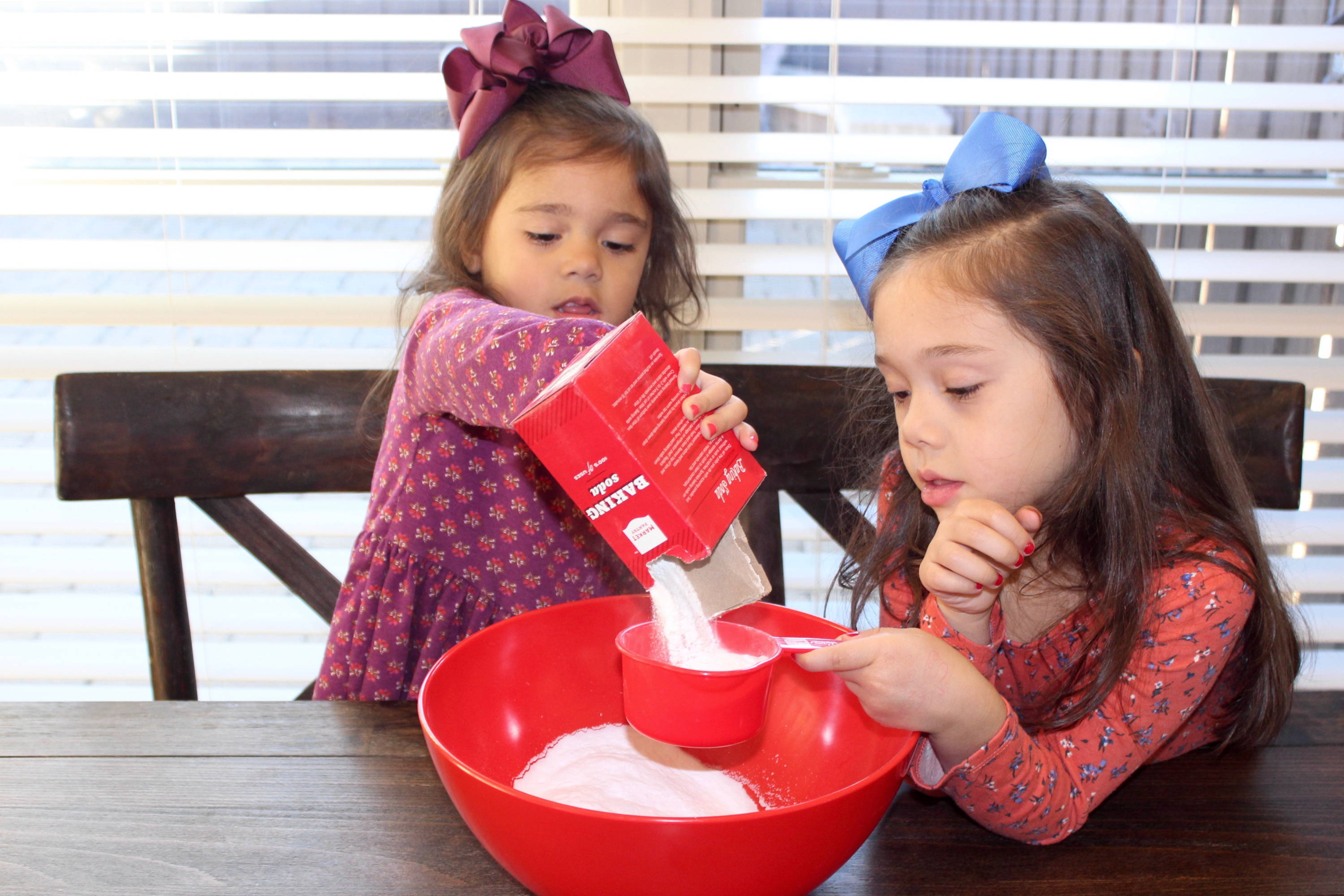 They really enjoyed pouring the baking soda into the measuring cup, and then dumping it into the bowl!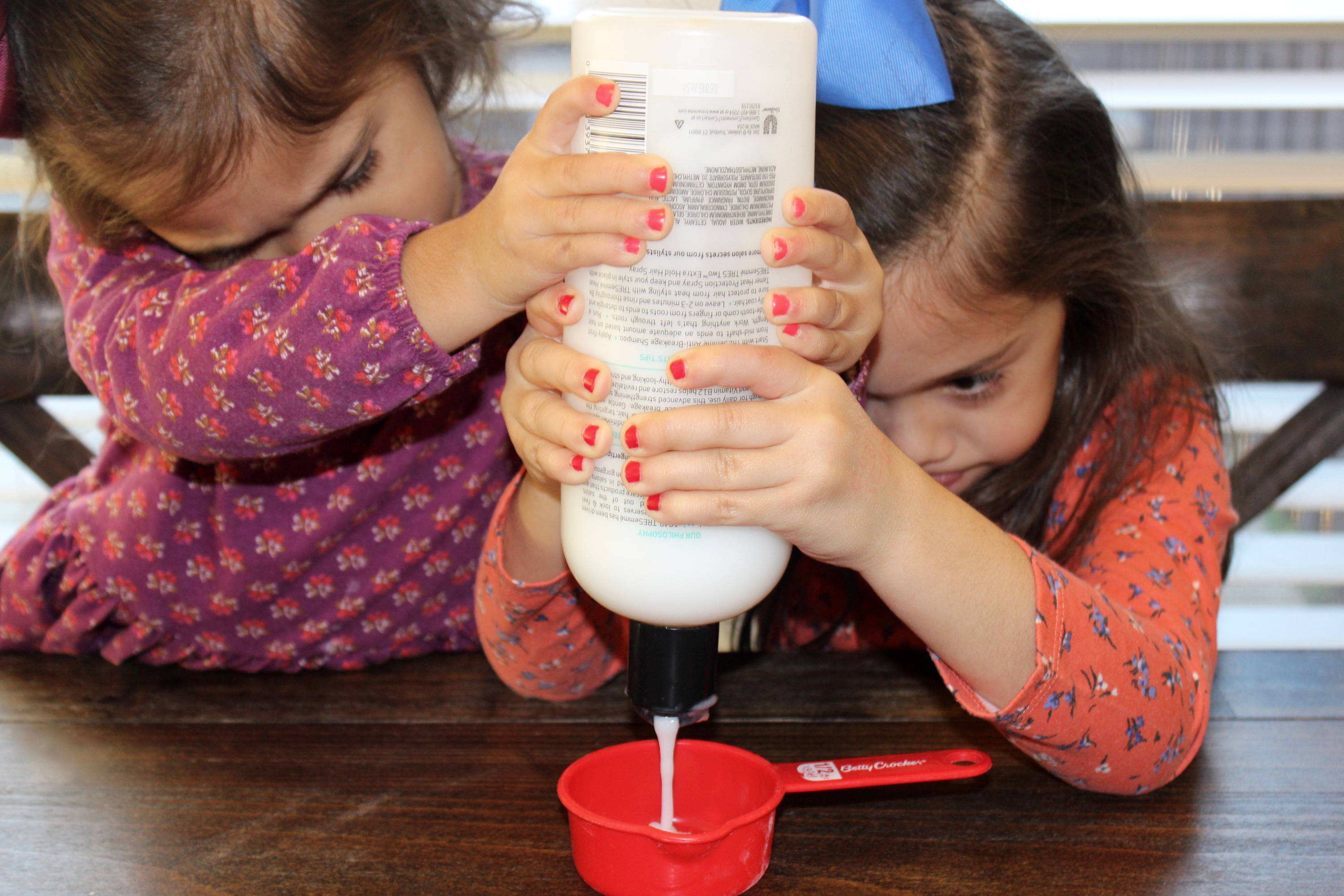 The hair conditioner bottle was a little difficult to squeeze, but they were determined to do it without my help. This was a great lesson in team work! Neither one of them could do it on their own, but together they got the job done!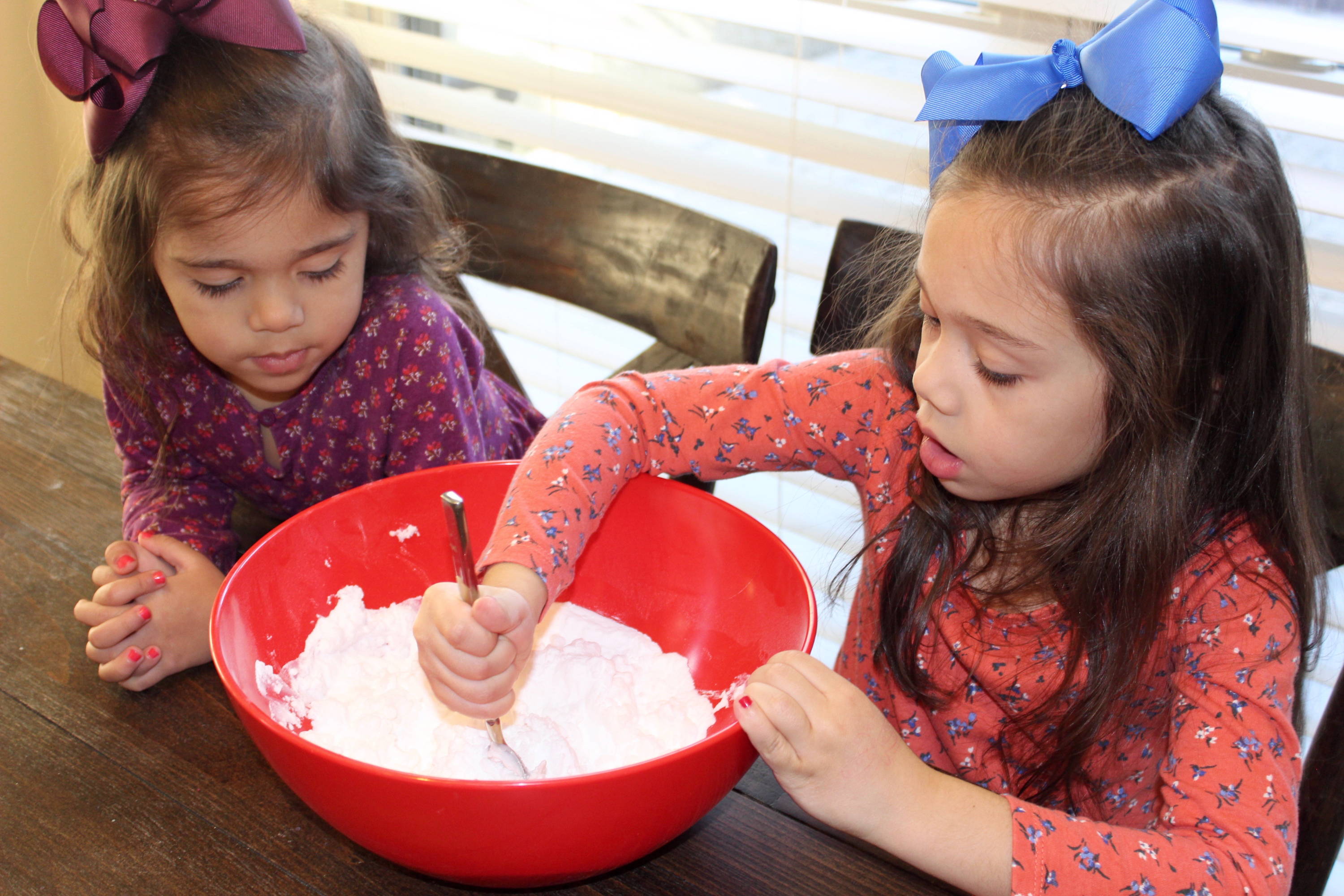 They took turns stirring the ingredients together. Once it started to resemble snow, they got really excited!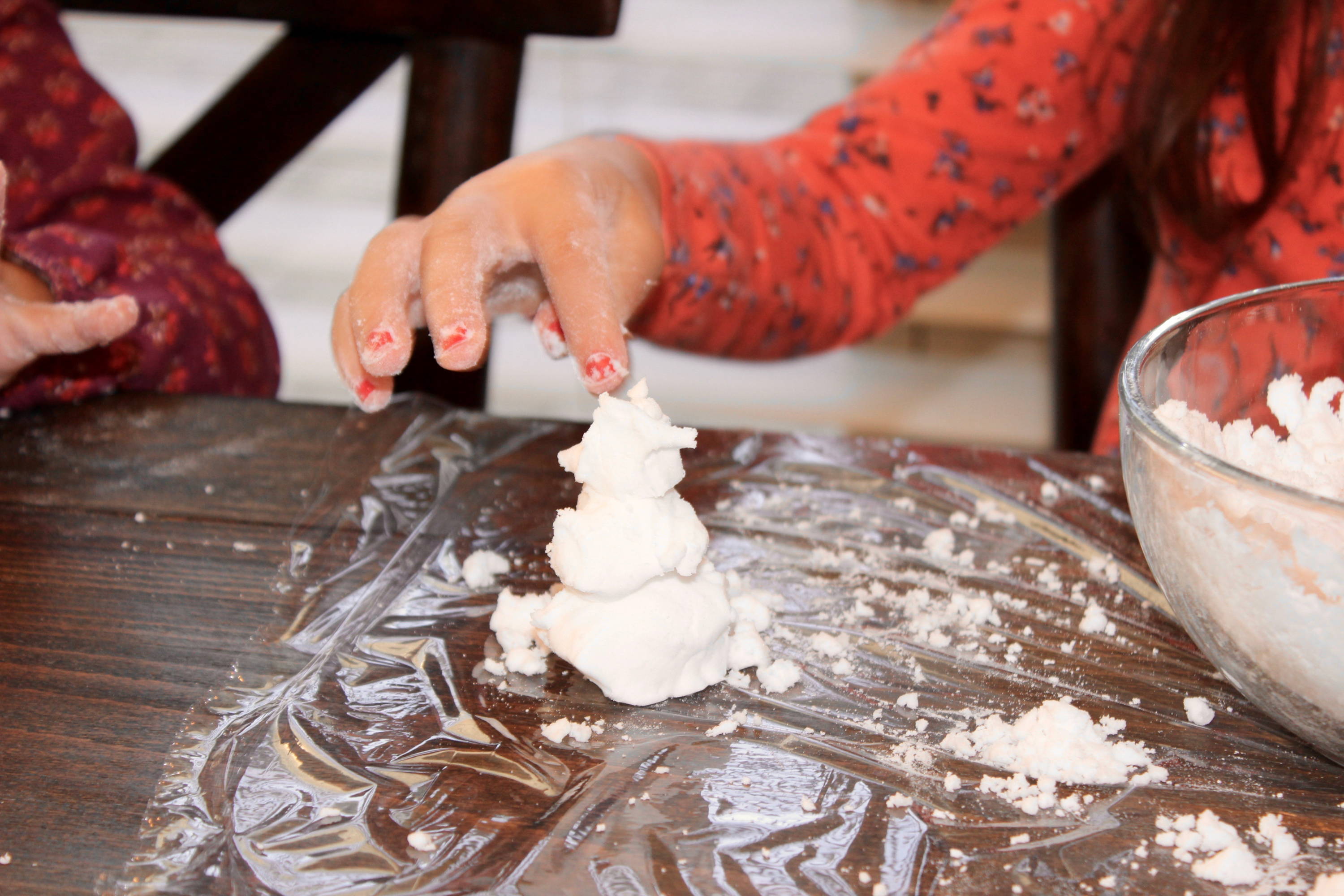 My 5-year-old has been dying to build a snowman, and since we don't have real snow to play with, this did the trick! She was so proud of herself!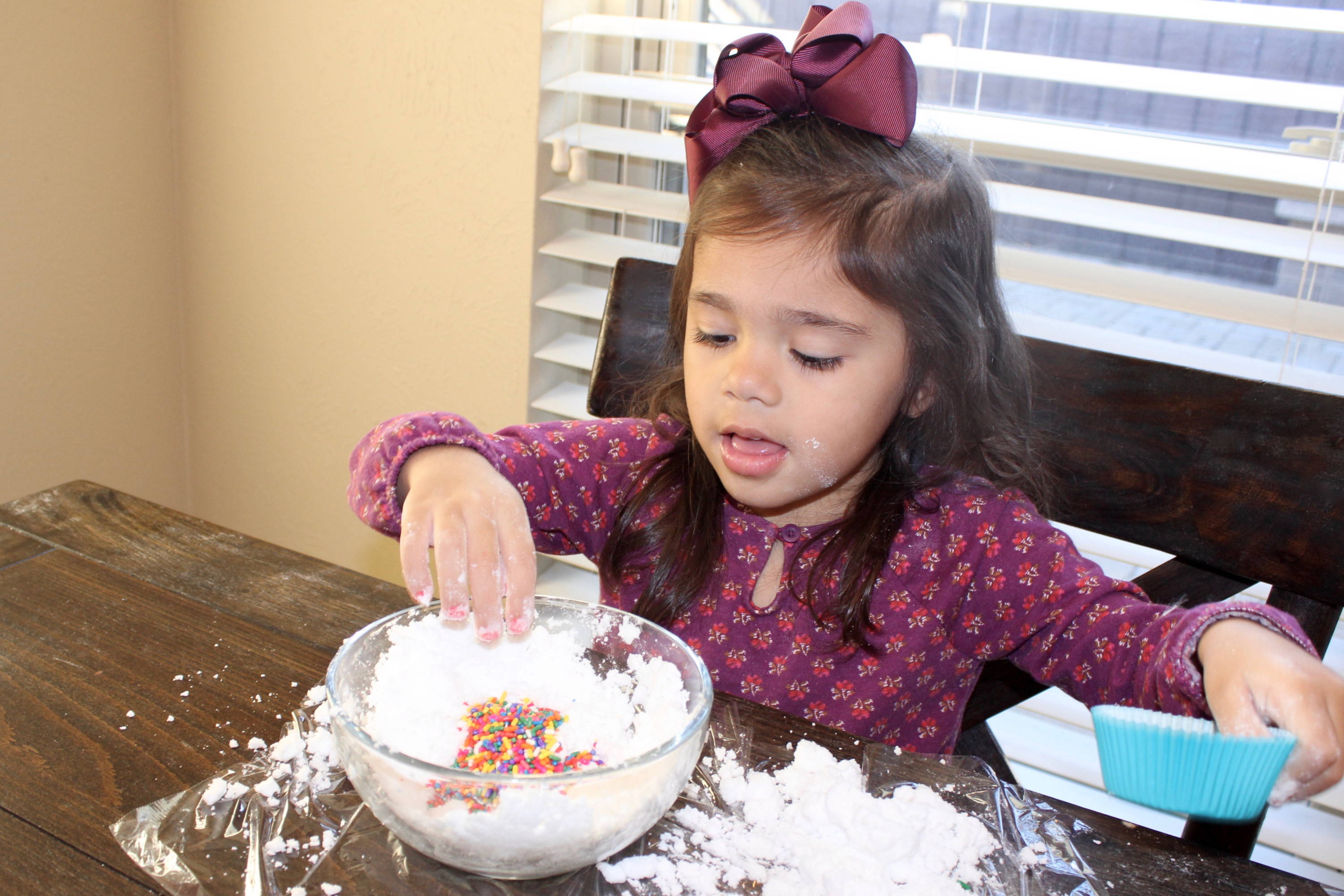 After playing with her snow for about 5 minutes, my 3-year-old asked if she could put some sprinkles in hers. Once she added the sprinkles in, she was content to sit and play with it for at least 30 more minutes. She made pretend cupcakes, cookies, cakes etc.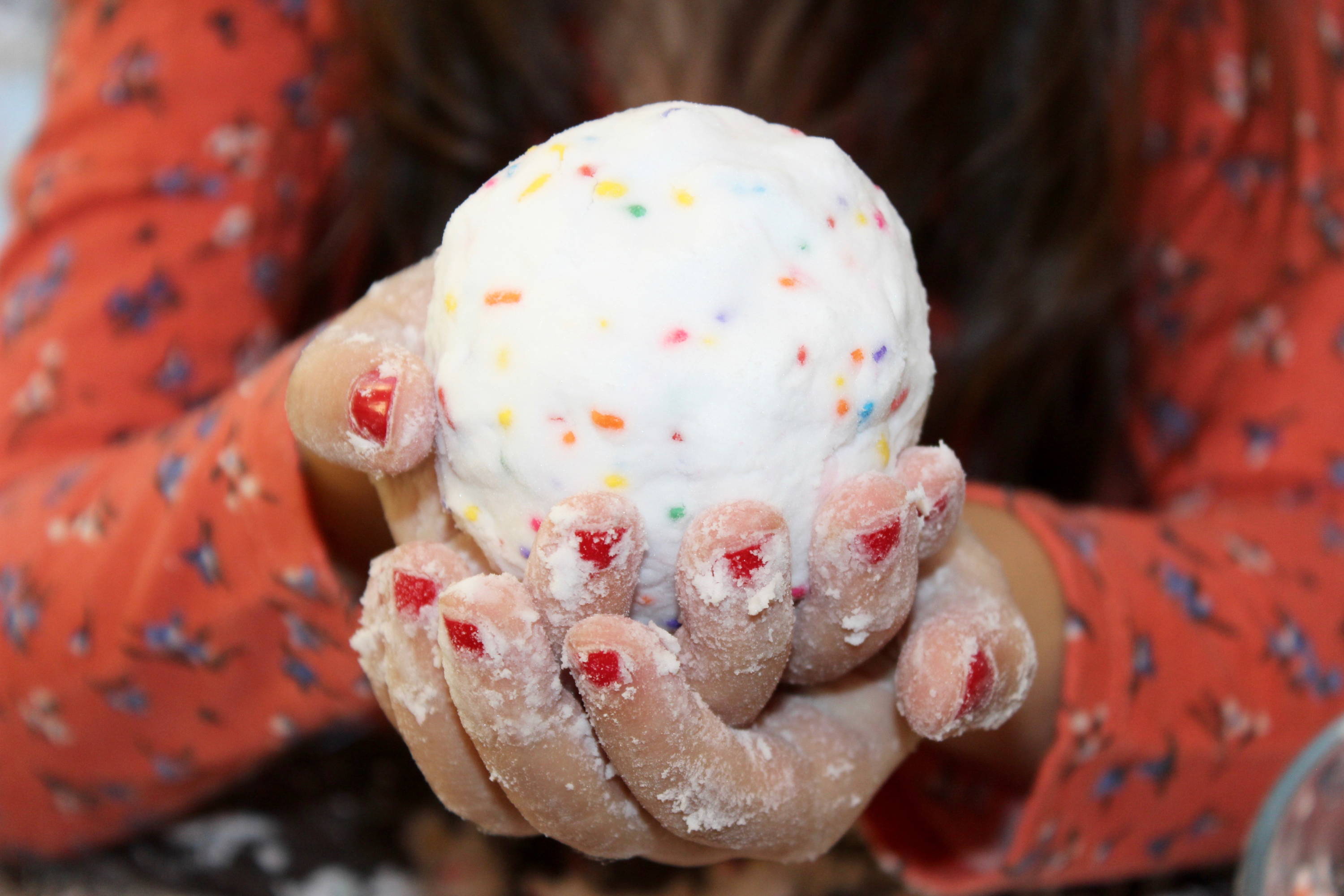 My 5-year-old ended up adding sprinkles to her snow too, and made sprinkle snowballs.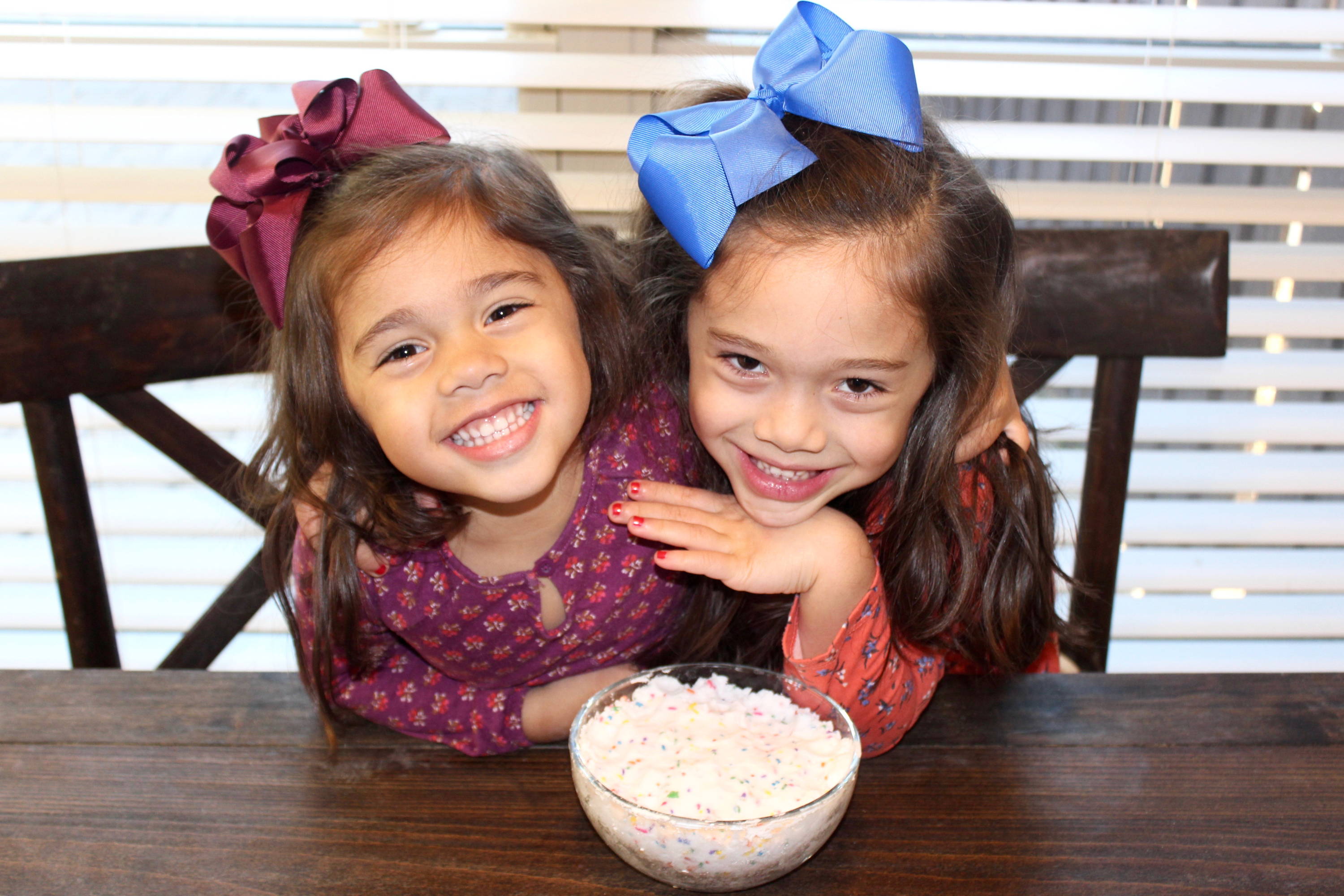 They had a blast making snow and playing with it! I loved seeing how proud they were of all the different things they made with their snow. This is definitely an activity that we will be doing again very soon!
This activity wasn't just fun, it exposed them to something that they have been dying to do – play in the snow! But I should make a sidenote: even if you have had 10 feet of snow dumped on you this winter, this activity is still great for your little ones. They can play quietly in the "snow," while in the warmth of your home! It doesn't get much better than that!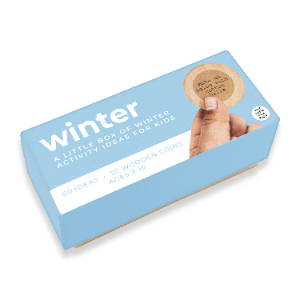 ► Age of child(ren)
3 & 5
► Length of time spent on activity (approx.)
45 minutes
► Materials needed/chosen
Baking soda (3 cups) and white hair conditioner (1/2 cup). We also chose to use sprinkles :)
► Any prep-work? If so, what?
No prep needed besides getting the supplies together.
► Directions / What we did
The girls measured the ingredients (with a little help) and poured them into a large bowl. Then they mixed the ingredients together until it looked like snow! Once it looked like snow, I helped them divide it into two smaller bowls so that they could both play with the snow the way they wanted to.
► Possible ways to expand on the activity
There are so many ways you could expand on this activity! I followed their lead when it came to expanding on this activity, and I was impressed with their creativity. My 5 year old wanted to make a snowman, which ended up being really fun! My 3 year old wanted to put sprinkles in her "snow" and make it into a cupcake. Once my 5 year old saw the sprinkles she had to have some too ha! We ended the activity by making sprinkle snowballs.
Some other ideas that we plan to do next time are: 1. make a snowy scene and play with little plastic toys/figurines in it. 2. take the snowballs outside and have a snowball fight 3. try to make an igloo for their tiny toys 4. use animal toys to make animal tracks in the snow
► What would you do differently next time?
I would probably put a tablecloth down next time. It ended up being a little messier than I thought it would be! Halfway through the activity I grabbed some plastic wrap to put under their bowls to make cleanup a little bit easier.
► What my child was able to do by themselves
They were able to pour the ingredients into the measuring cups, dump the measuring cups into the bowl, and mix the ingredients together. And of course they were able to play in the snow without any help at all!
► What my child needed help with
They needed me to tell them how much of each ingredient to put into the mixing bowl.
► My child's thoughts about the activity
They had fun pouring all of the ingredients into the bowl and mixing it all together, but as soon as it started to actually look like snow the real fun started! And of course they had a BLAST playing with the snow!
► Any other thoughts or info about the activity?
We will definitely be doing this activity again in the near future!
---
Sarah is a full time chef, maid, nurse, and entertainer to the three coolest little girls, who all happen to be under the age of 5. It might not be glamorous, but it's truly her dream job. She's also married to her best friend, Matt, who is likely the most helpful and loving husband in the world…sorry ladies. Sarah has a love for writing, photography, crafts, sarcasm, and Mexican food. In her spare time she likes to…who is she kidding? She has NO spare time. Someday she'll enjoy traveling the world with her husband, but for now they will cherish their family game nights and their weekly date nights.
Sign-up for our newsletter to receive monthly activity ideas & documentation, here. winterbox