Winters in Pennsylvania are cold and dark. Even though the days are finally getting longer and brighter, the cold temperatures keep us looking for fun indoor activities. Thankfully we can always find something to do in one of our Idea Boxes. My kids love to paint, although for very different reasons. Faithlynne is the little artist. She has such a clever mind and I'm always blown away when I watch her create something. Stephen loves to get messy. If he can get his hands all dirty while doing something, he's in! They were both so excited when I told them about today's activity.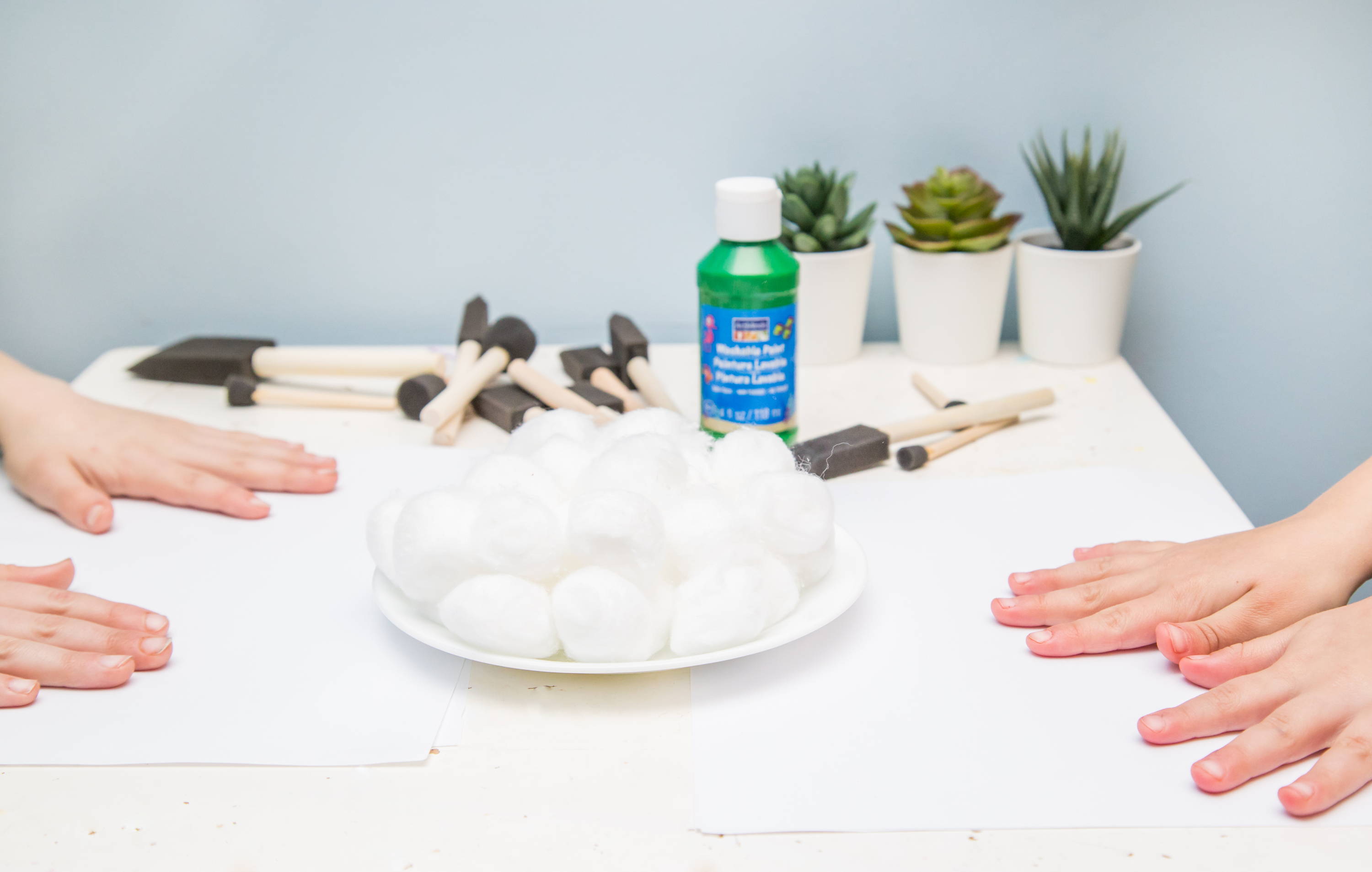 We began by collecting all of our supplies. Since it's almost St. Patrick's Day, they chose some festive green paint. We used sponge paintbrushes and computer paper to hold the cotton balls. They couldn't hardly wait to get started (hence the game show hands)!
Since they wanted to make specific shapes with their cotton balls, they laid them out first. Stephen chose to make a football of course and Faithlynne wanted to make a unicorn. I thought they were just going to glue them on randomly so I was surprised when they had such unique shapes in mind.
There are several different ways that you could attach the cotton balls and they chose hot glue. This seemed like the best option since they wouldn't have to wait until the glue dried to begin painting. Plus, who doesn't like the special treat of being able to use mom's glue gun.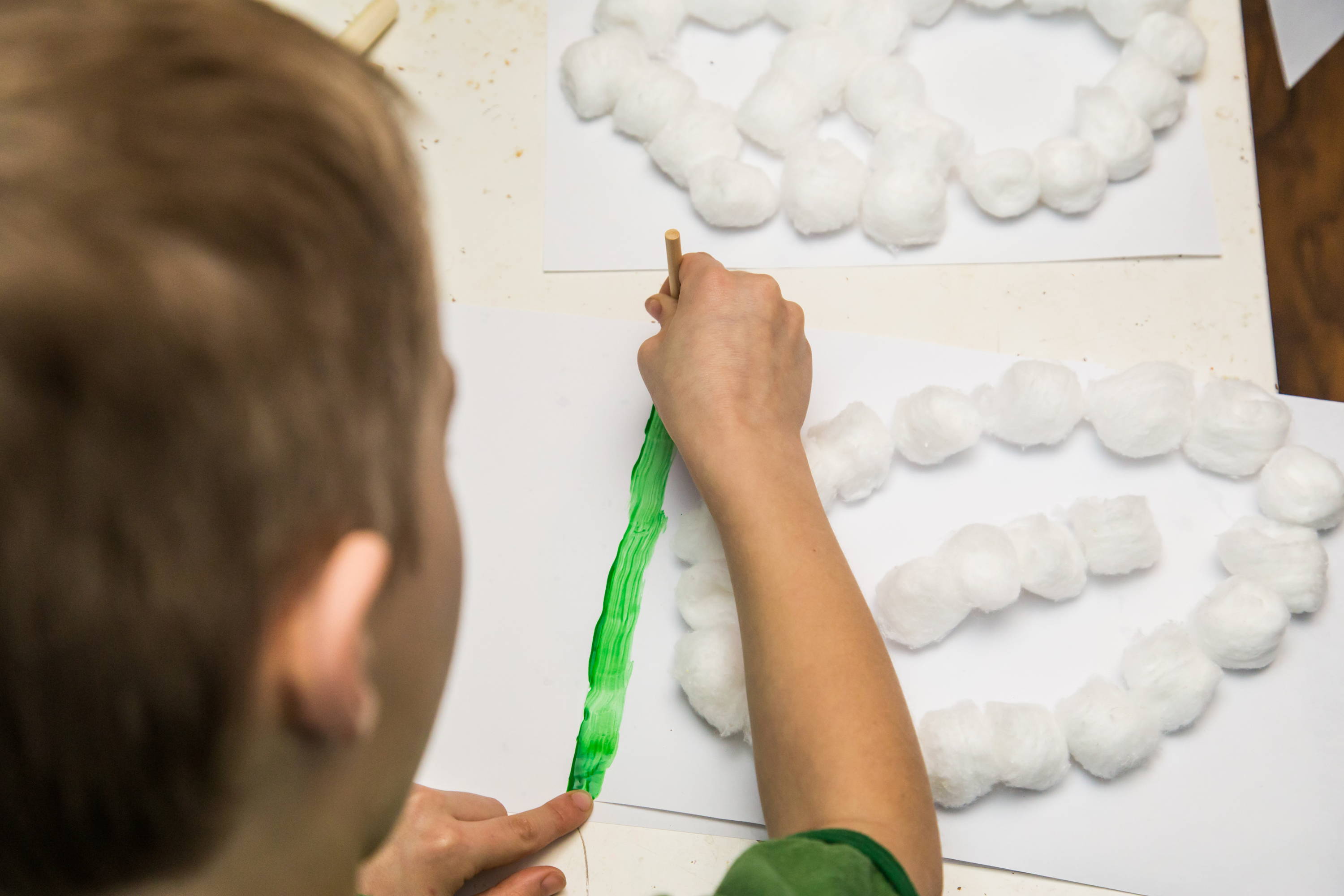 This is the part they couldn't wait for! We brought out an assortment of different sized brushes so they used trial and error to figure out which one was best for each part. True to his nature, Stephen first grabbed the largest brush. He quickly realized that it would also paint the table so he switched to a smaller one.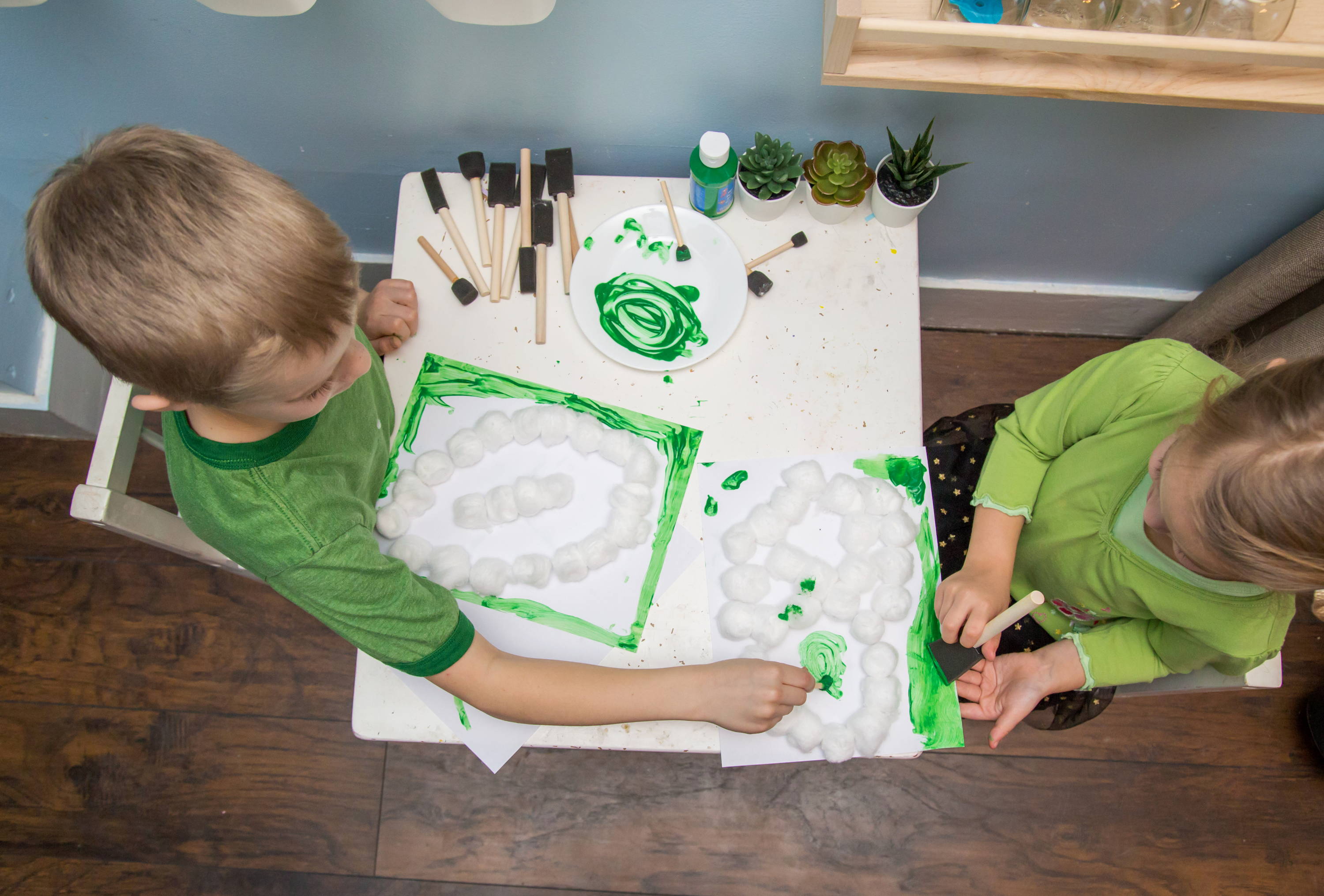 "You need some paint right here."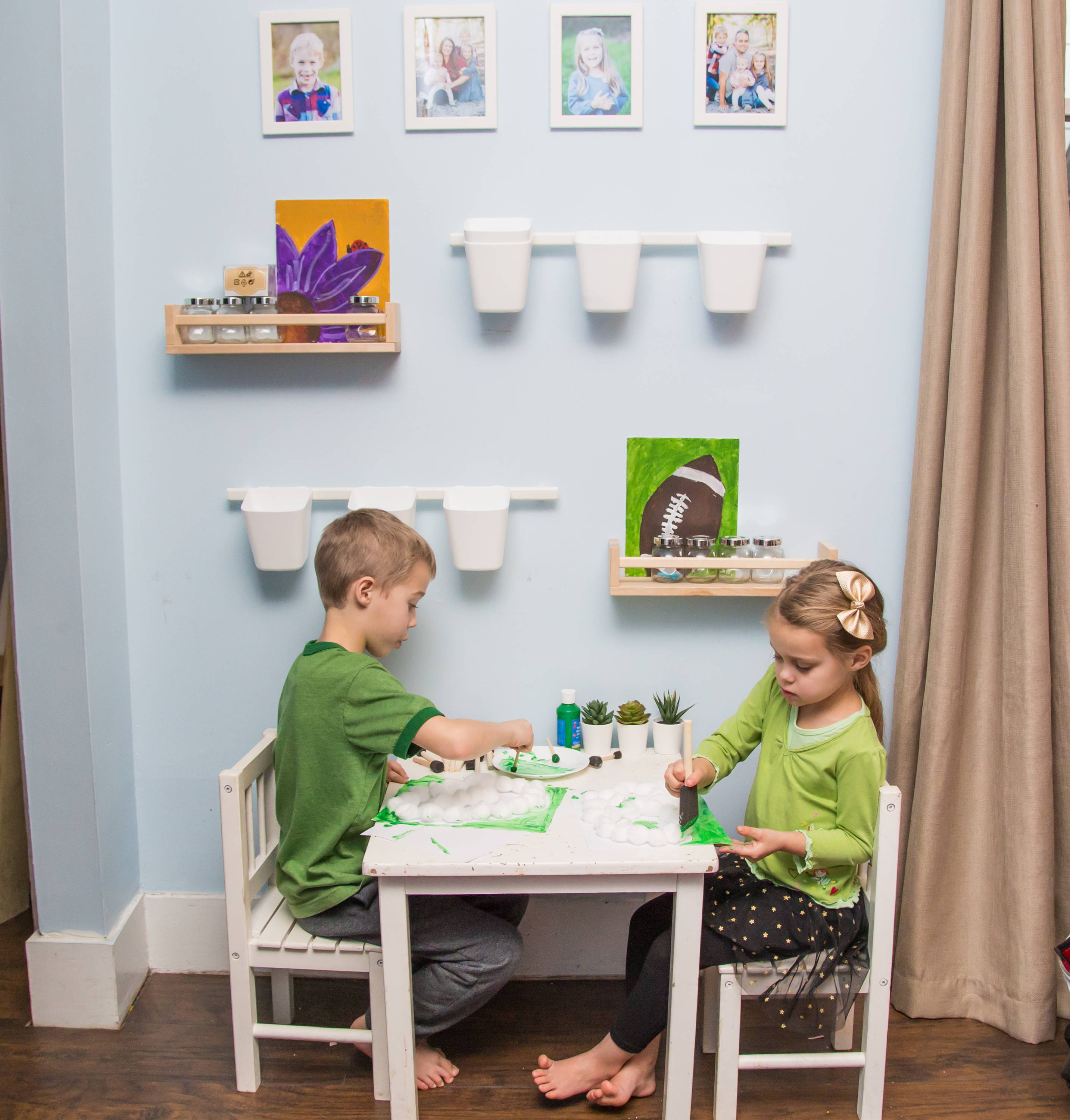 Sometimes they rush through activities and sometimes they are quite meticulous. It's always fun to see how they choose to approach each task. This time they chose to work carefully and paint for quite awhile.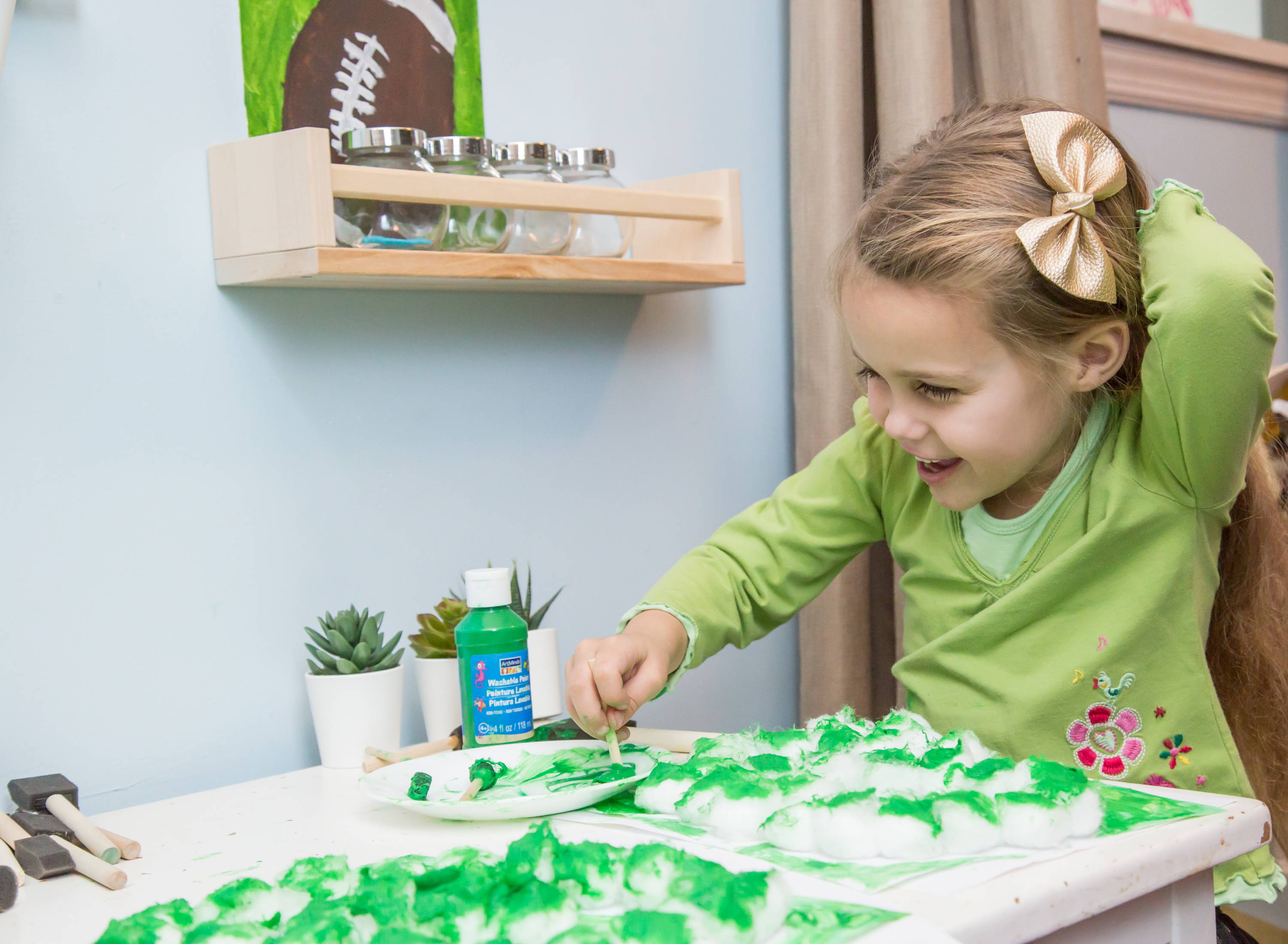 For a brief moment, Faithlynne thougth it would be funny to paint herself green and be a leprechaun. Even though the paint is washable, I'm glad she decided against that one! It sure was a silly thought, though.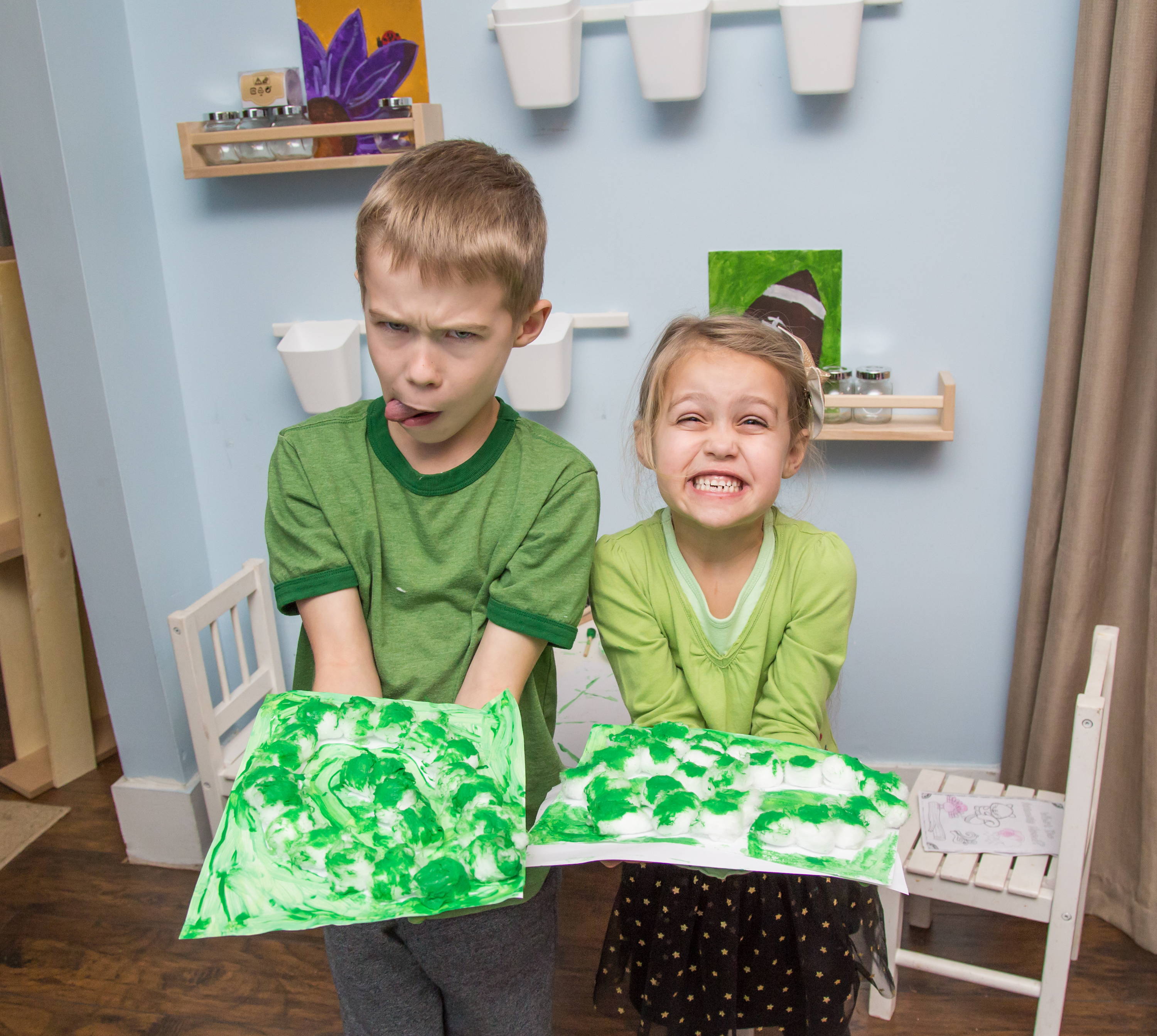 Ta-da! Despite their super goofy faces, they were so proud of their projects.
Whether you are looking for an activity to break up your cold winter days or just an entertaining way to spend some time with your little ones, this project is a definite winner. The final step for them was waiting for daddy to get home so they could show him what they created. He was met at the door with giggles and excitement as they explained everything. I always enjoy watching them complete projects and seeing with their minds conjure up. They never cease to amaze me!

► Activity
Glue cotton balls to paper & lightly paint them
► Length of time spent on activity (approx.)
1 hour
► Materials needed/chosen
Cotton balls, glue, paper, paint, paint brushes, plate (for paint) and wet wipes (for containing the mess).
► Any prep-work? If so, what?
Mainly just rounding up the supplies. Since we used a hot glue gun, we plugged that in before we began so it would be ready.
► Directions / What we did
The kids decided what they wanted to make and then organized their cotton balls on their paper. Next, they glued them to the paper with hot glue. Once they were glued down, they lightly painted their cotton balls and the paper behind them. Lastly, they let them dry and then displayed them in their play area.
► Possible ways to expand on the activity
There are endless ways to expand this activity! We chose to glue them to paper, but you could use anything from canvas to toilet paper rolls. You could also use a variety of different colors instead of just one.
► What would you do differently next time?
I probably would have laid some newspaper down under their projects. They were nervous about getting paint on their table in the beginning even though it was washable paint.
► What my child was able to do by themselves
My 7 year old was able to do everything by himself.
► What my child needed help with
My 5 year old asked for help with gluing the cotton balls down. She was able to do it herself, but she was getting frustrated with how quickly the glue dried and asked for extra hands.
► My child's thoughts about the activity
They REALLY loved this activity! They spent a good hour on this project and probably would have made more if we didn't run out of paint (they decided to use A LOT).
► Any other thoughts or info about the activity?
We can't wait to try it again!
---
Parent Blogger: Denae is a doula and photographer. When she isn't editing photos or at a birth, she is trying to keep up with her 3 energetic kids. She is married to her wonderful, adventurous husband who doesn't know how to sit still. This leads to lots of family adventures, but they're always excited to see where each journey will take them.
Sign-up for our newsletter to receive activity ideas & documentation, here. paintbox