I have always enjoyed sewing. It's one of those things that my mother taught me how to do when I was little and I have been looking forward to teaching my own children. My kids are constantly bringing me a stuffed animal, toy, or dress up outfit that needs to be mended. It's always a reminder that I need to teach them someday soon. When I saw this activity, I knew it would be the perfect opportunity to start and my son was so excited.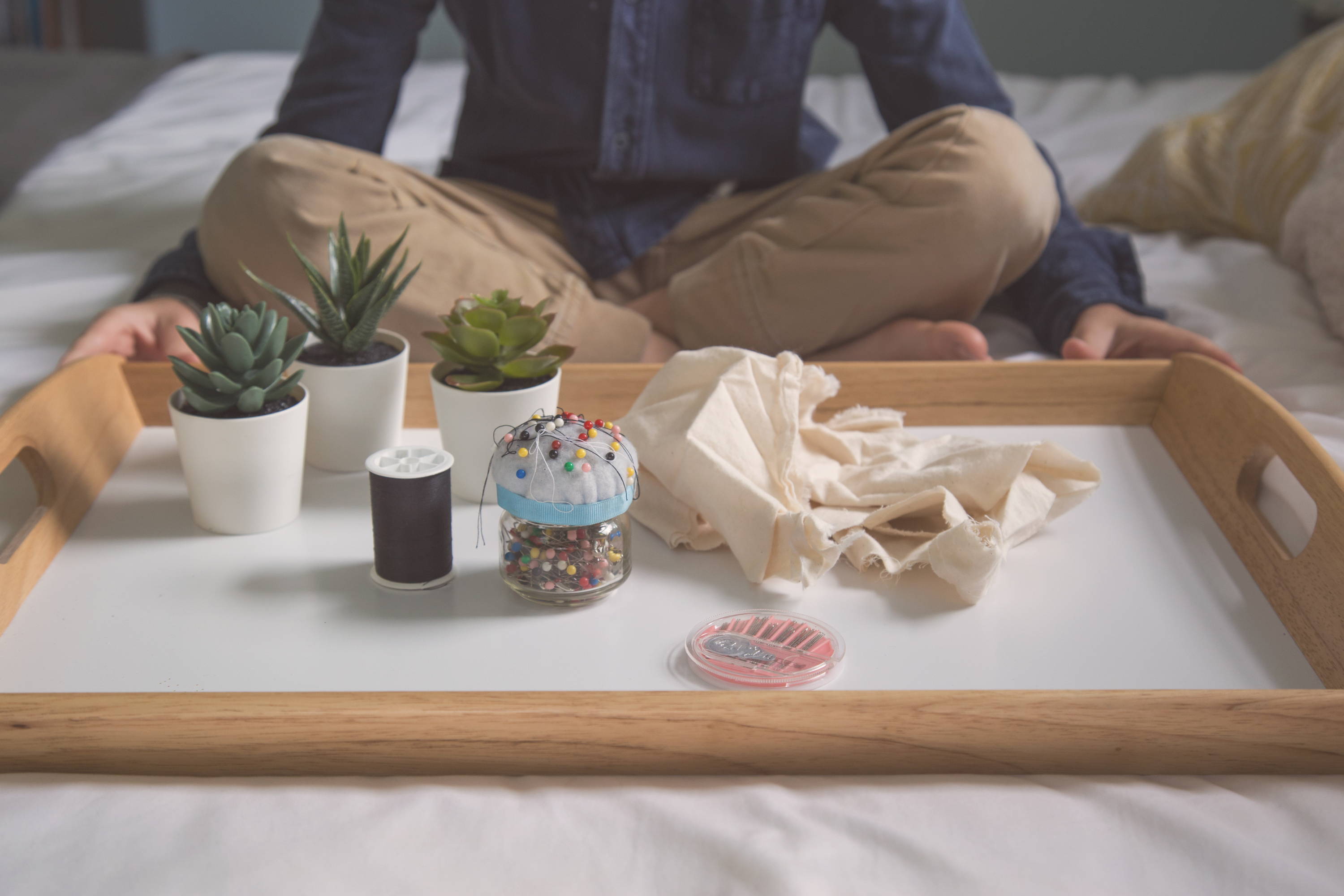 We started by collecting our items. We gathered some black thread, a pin cushion, new needles, a threader, and some unbleached cotton fabric. Everything is on a tray to keep pins and needles from rolling away if/when dropped.
At first, I didn't give any instructions. He read the coin and figured that meant putting the end of the thread through the little hole on the needle. Sounds easy enough! After a couple tries, he declared that his hands were a little too shaky to get it through.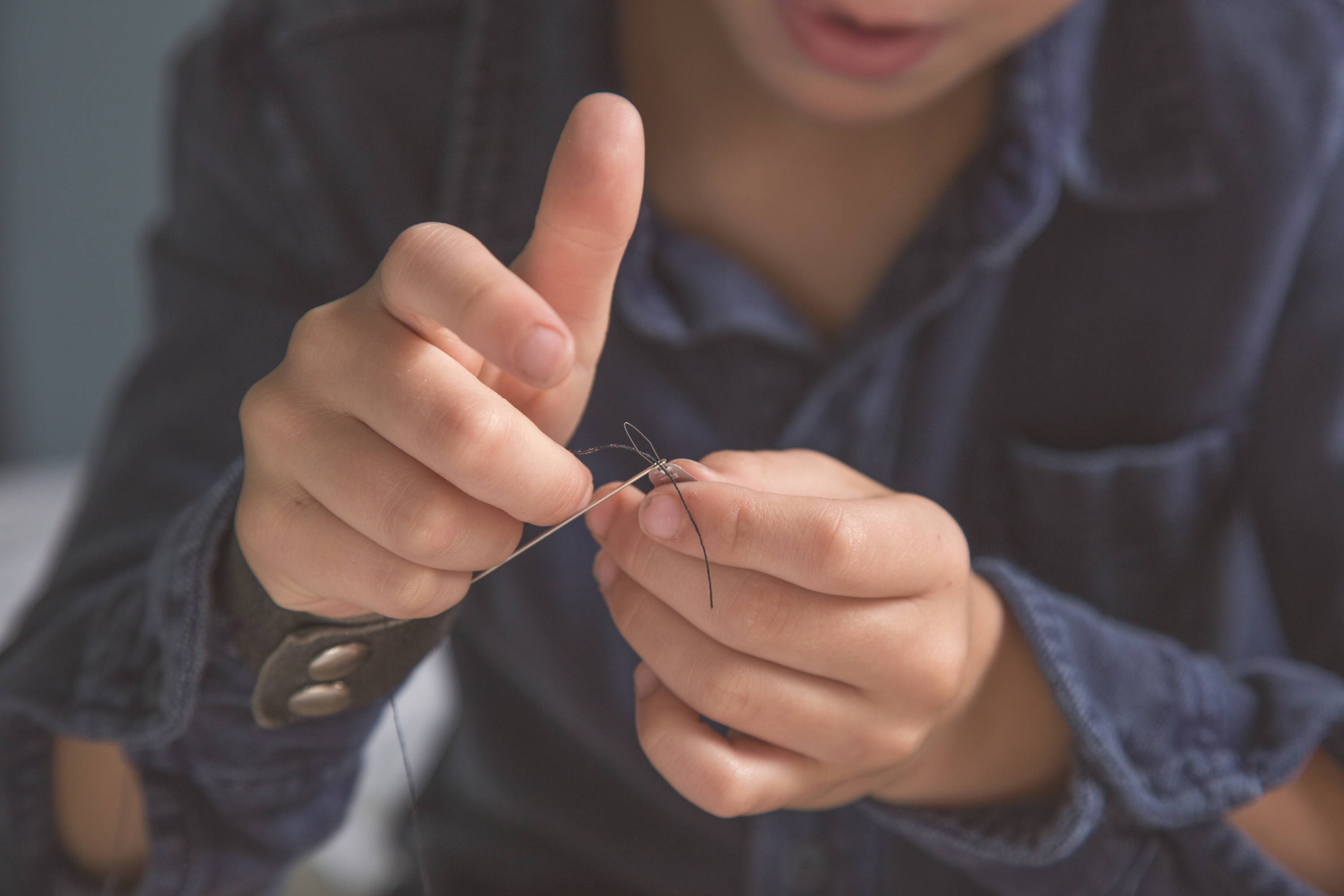 I told him to grab the threader and I would teach him a secret. I explained how to put the wire end through the eye of the needle, then the thread through the wires, and pull them apart.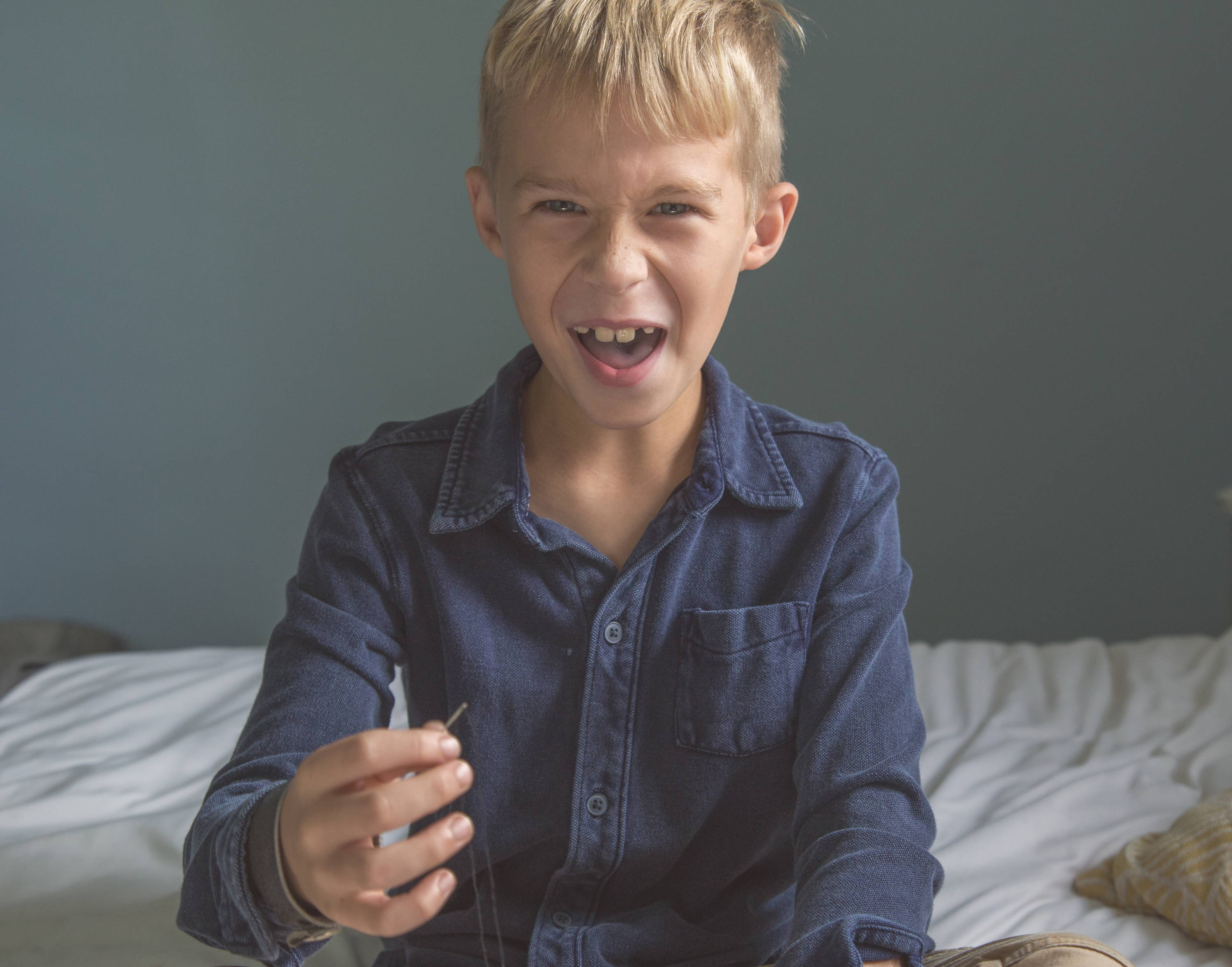 "WHAT?! How did that happen? That doesn't make any sense! Let me try again."
The small threading tool definitely proved to be easier than trying to just stick the thread through the eye of the needle.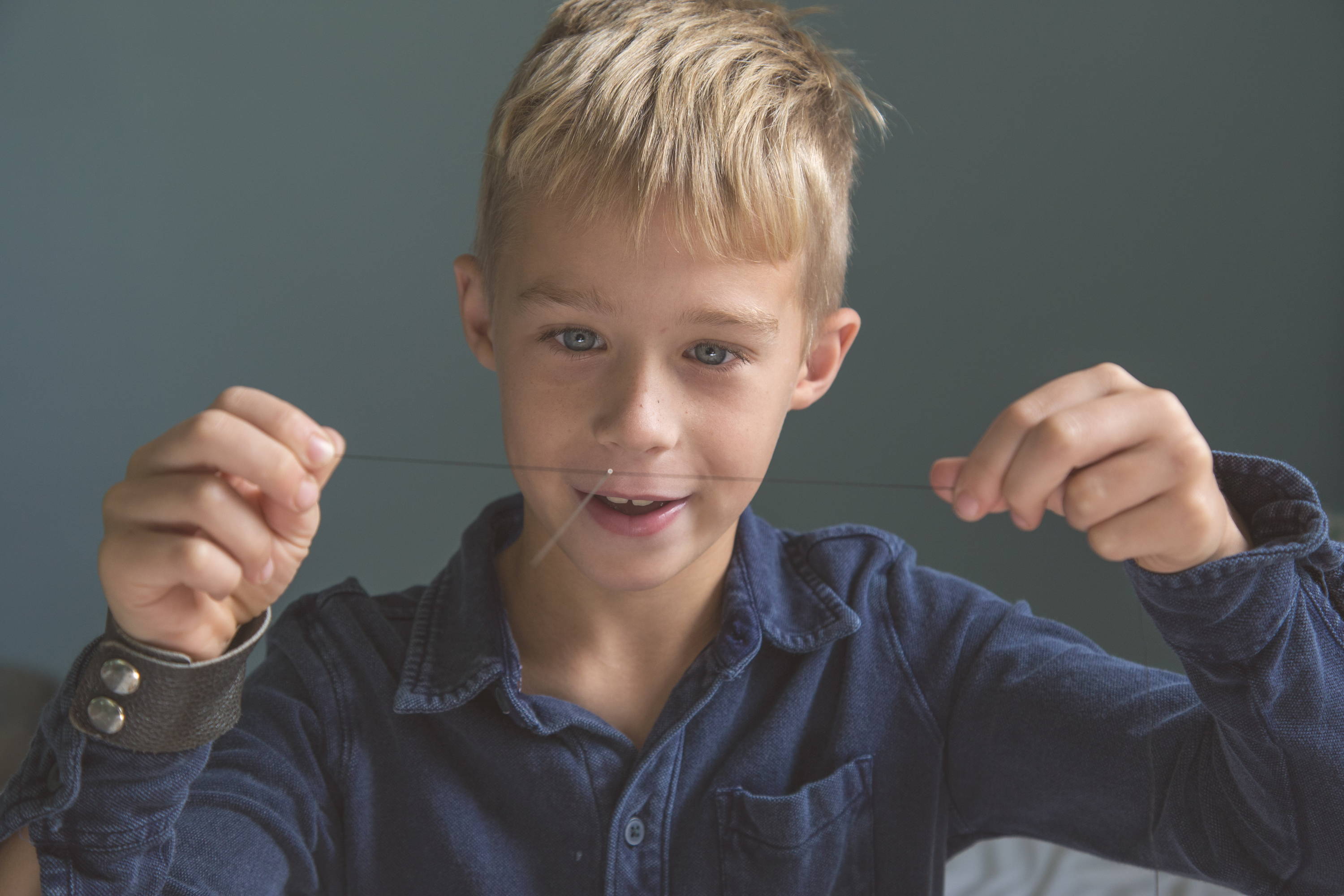 Stephen slowly repeated the process over and over until he figured out the logic of why and how it worked. He has such an analytical mind and has to fully understand each step of everything.
Once he was satisfied with his needle and thread, I explained how to gather the fabric on his needle with a simple straight stitch.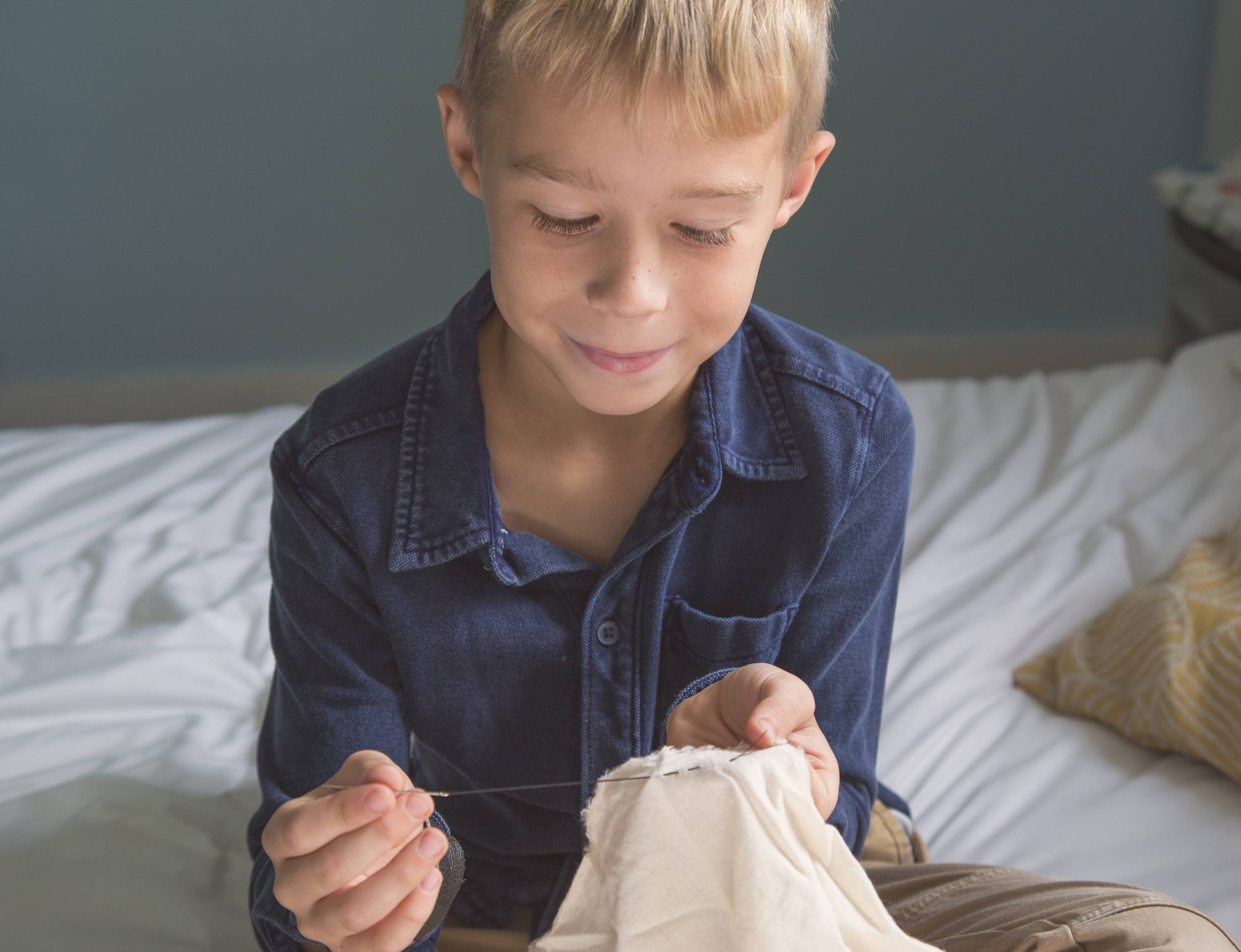 "Next time, you'll have to show me how to sew two things back together."
This was such a simple, yet incredibly useful activity and Stephen loved every minute of it. One of the exciting things is that the possibilities are truly endless. Not that skilled in sewing? No worries! There are so many different projects you can do together with your child with even the most basic stitches. They can even trace their hand on a piece of fabric or felt and then sew up and down the outline like a lacing activity. There are also some other fun tricks and methods for threading a needle. How fun it can be to explore and experiment alongside your child!

► Activity
How do you thread a needle? Can you sew a couple of stitches?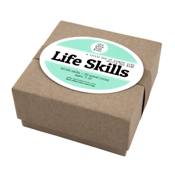 ► Length of time spent on activity (approx.)
15 minutes
► Materials needed/chosen
Cotton thread, large needle, unbleached cotton scraps, needle threader
► Any prep-work? If so, what?
Gathering supplies
► Directions / What we did
We tried different ways of threading a needle and then practiced a few stitches on a scrap piece of fabric.
► Possible ways to expand on the activity
We were originally going to sew some tiny hearts together for Valentine's Day, but we couldn't find a heart hole puncher at the store. You could sew little items together to make a garland or just practice the different types of stitches. My son requested for me to show him how to sew on a button next.
► What would you do differently next time?
We would probably sit at a table next time.
► My child's thoughts about the activity
He absolutely loved it!
► Any other thoughts or info about the activity?
I wasn't sure how long he would sit as the task itself seems quick. It turned out that he kept threading and rethreading the needle and then seeing how his stitches worked on the fabric. This was a surprisingly entertaining activity that is easily expanded.
---
Parent Bloger: Denae is a doula and photographer. When she isn't editing photos or at a birth, she is trying to keep up with her 3 energetic kids. She is married to her wonderful, adventurous husband who doesn't know how to sit still. This leads to lots of family adventures, but they're always excited to see where each journey will take them.
Sign-up for our newsletter to receive activity ideas & documentation, here. lifebox