Just one of the many fun ideas in the Valentines Box is sliding coins into a giant heart made of masking tape.
Simply use masking tape to outline a heart on the floor. If your children are older they can totally help with this. I have a 3 year old and a 17 month old so I chose to do it during nap.
When my daughter woke up I modeled how to slide the coins across the floor and try to get them to end up inside of the heart. It took some practice and we adjusted her distance from the heart a few times. Once she got the hang of it she had so much fun. We worked as a team to see how many coins we could get inside the heart and we had a little competition to see who could get the most coins inside the heart. And my 17m old just enjoyed running around collecting stray coins. So much fun!!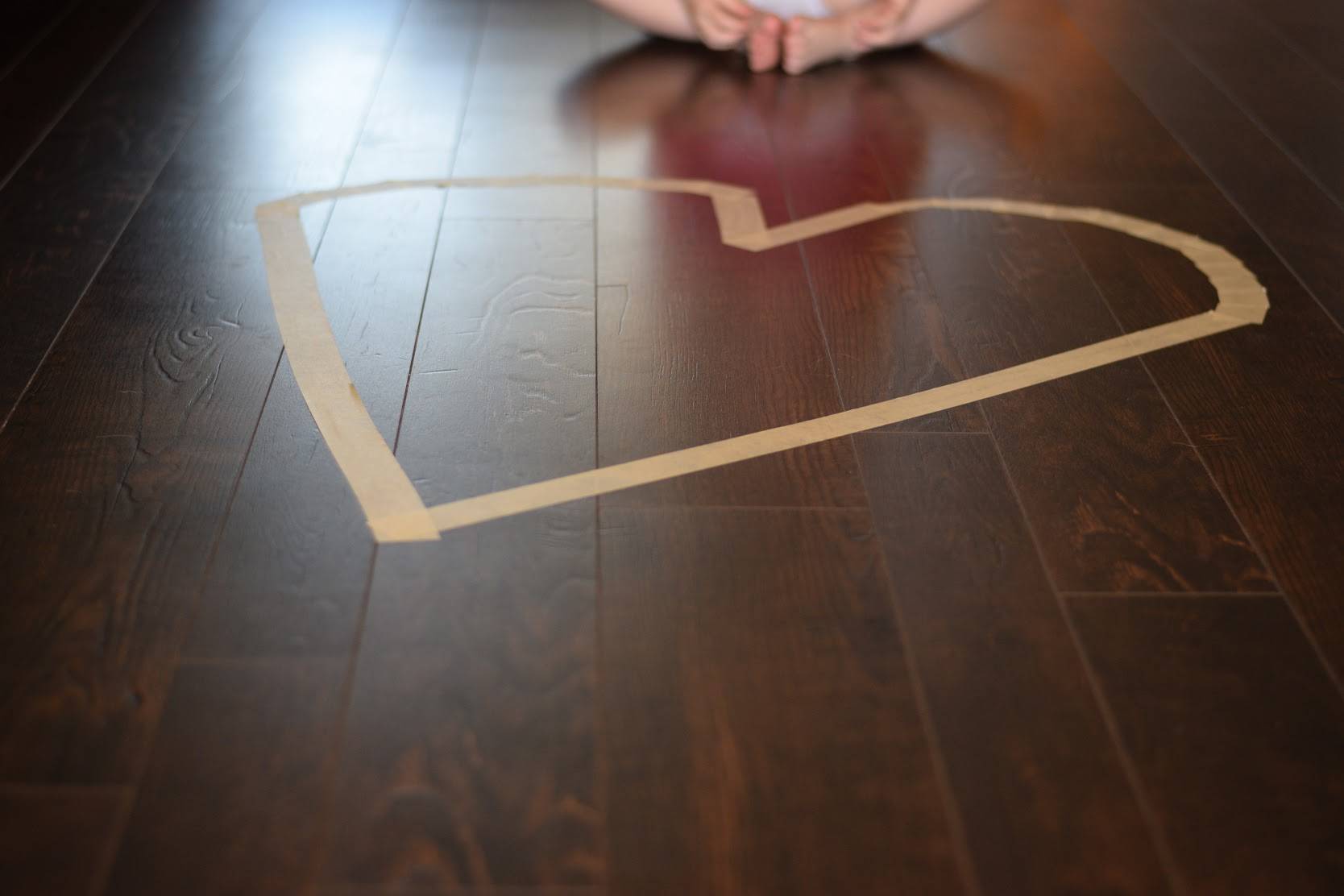 Large heart outlined on the floor with masking tape.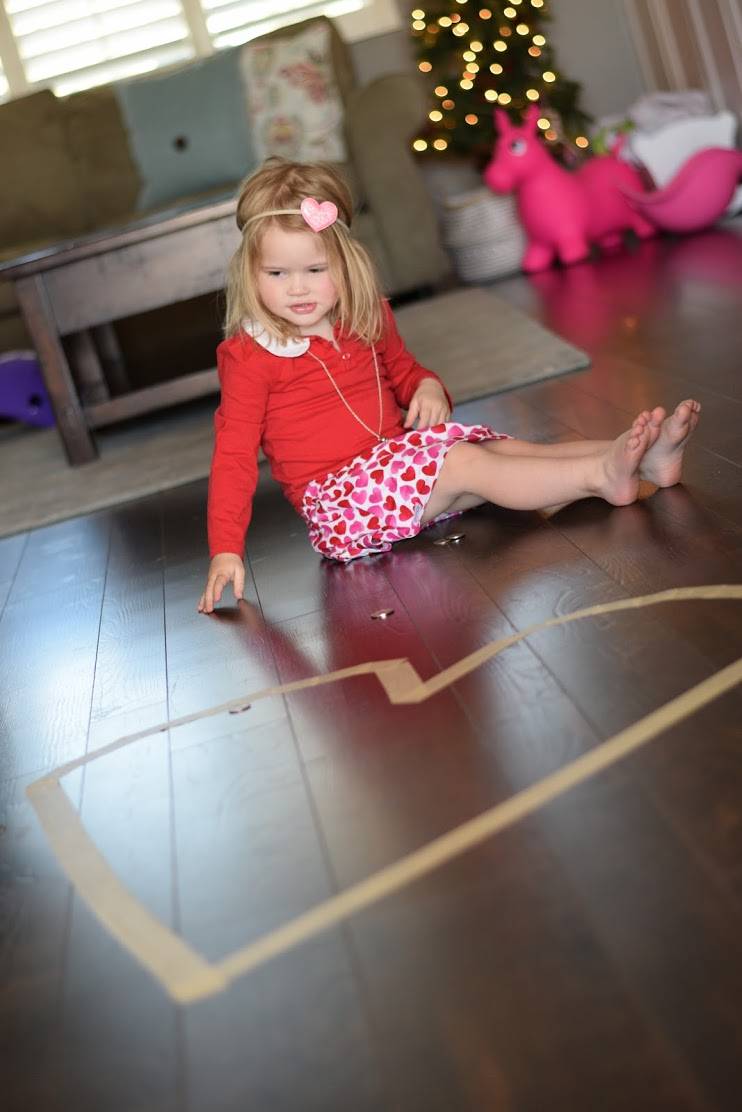 Finding the perfect spot on the floor to allow success and still provide a little challenge.
Learning how to slide vs throw.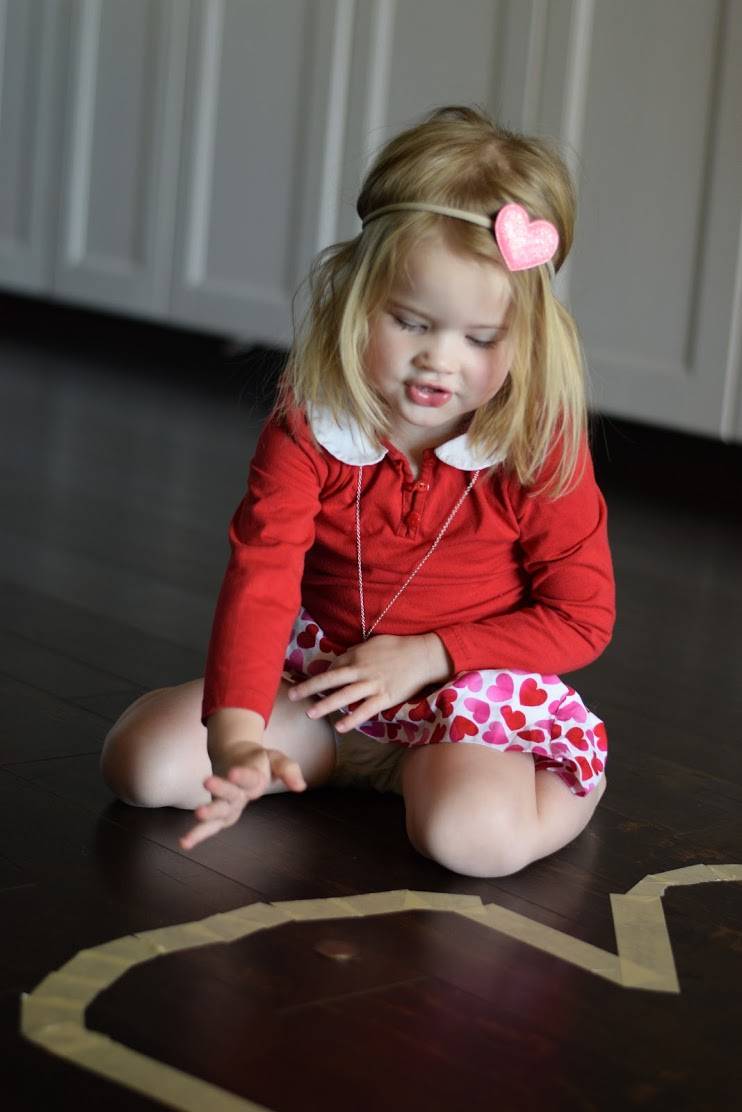 Finally getting the hang of sliding coins.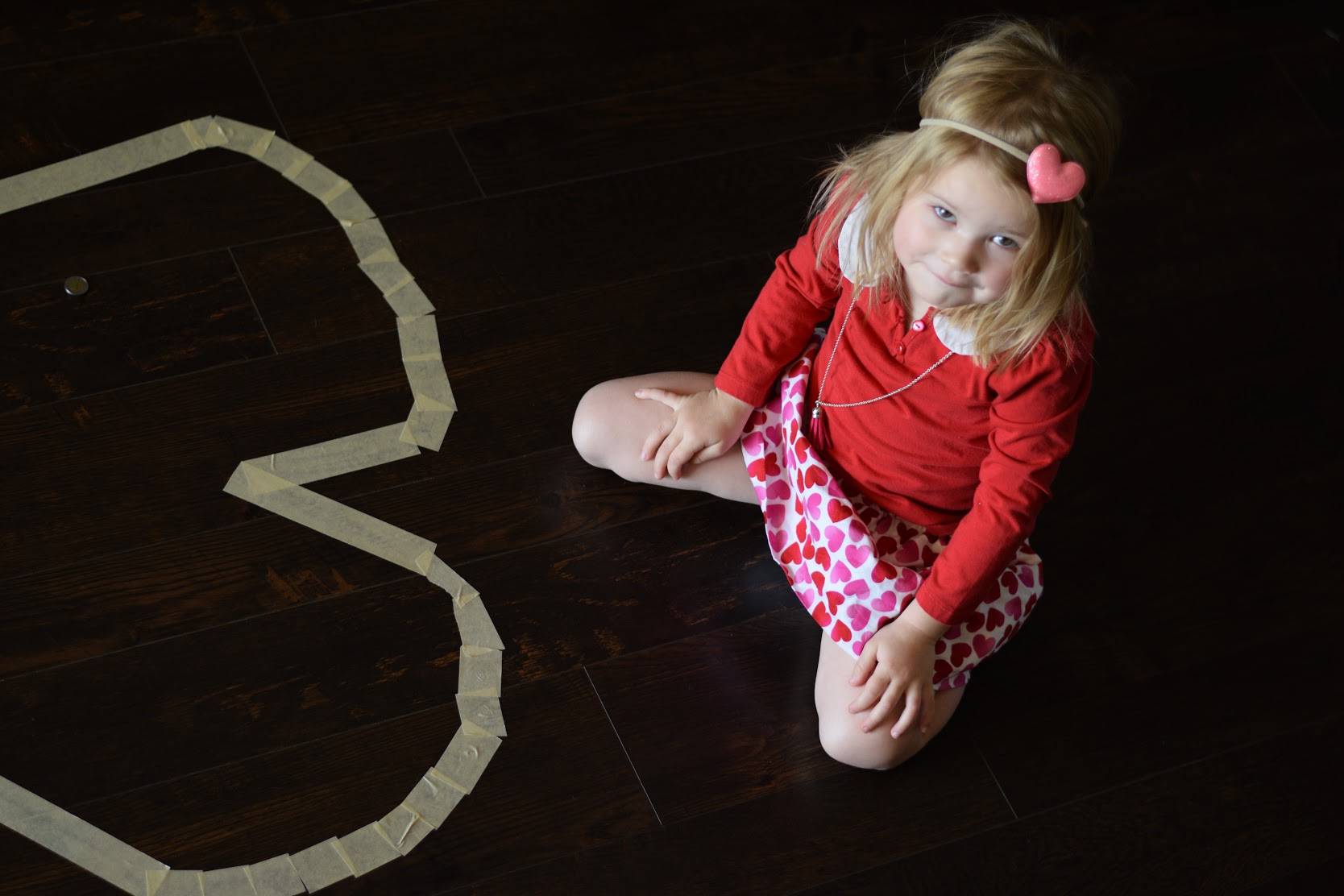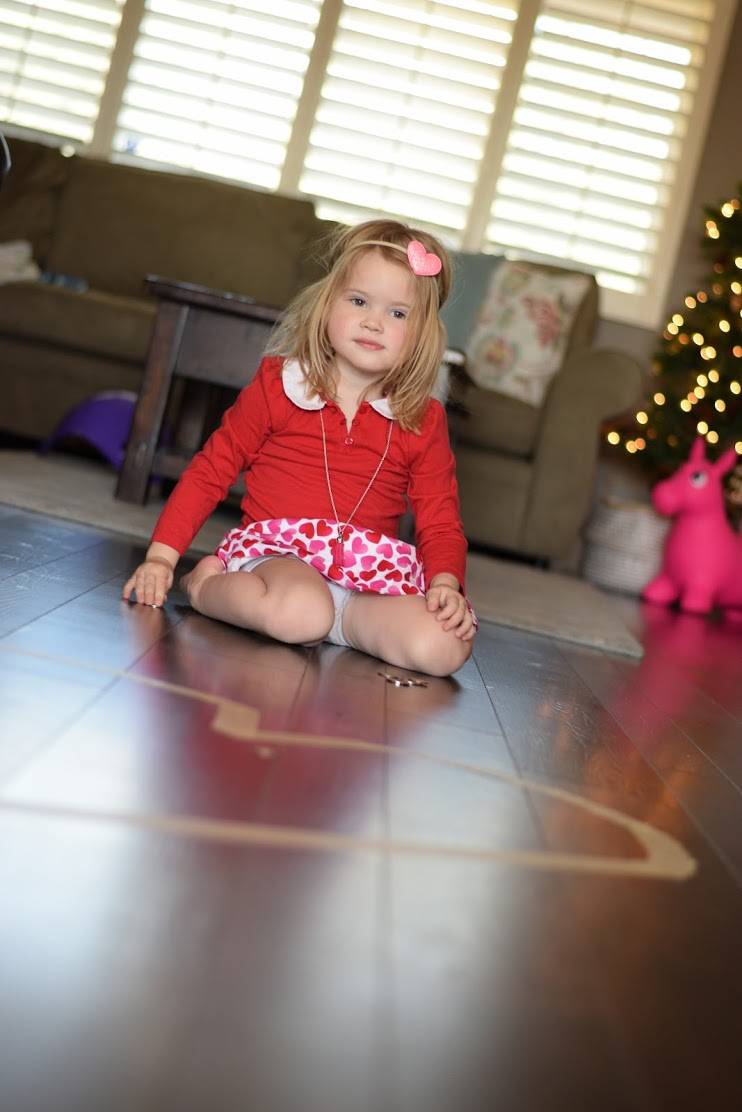 She has her pile of coins and is ready to start sliding.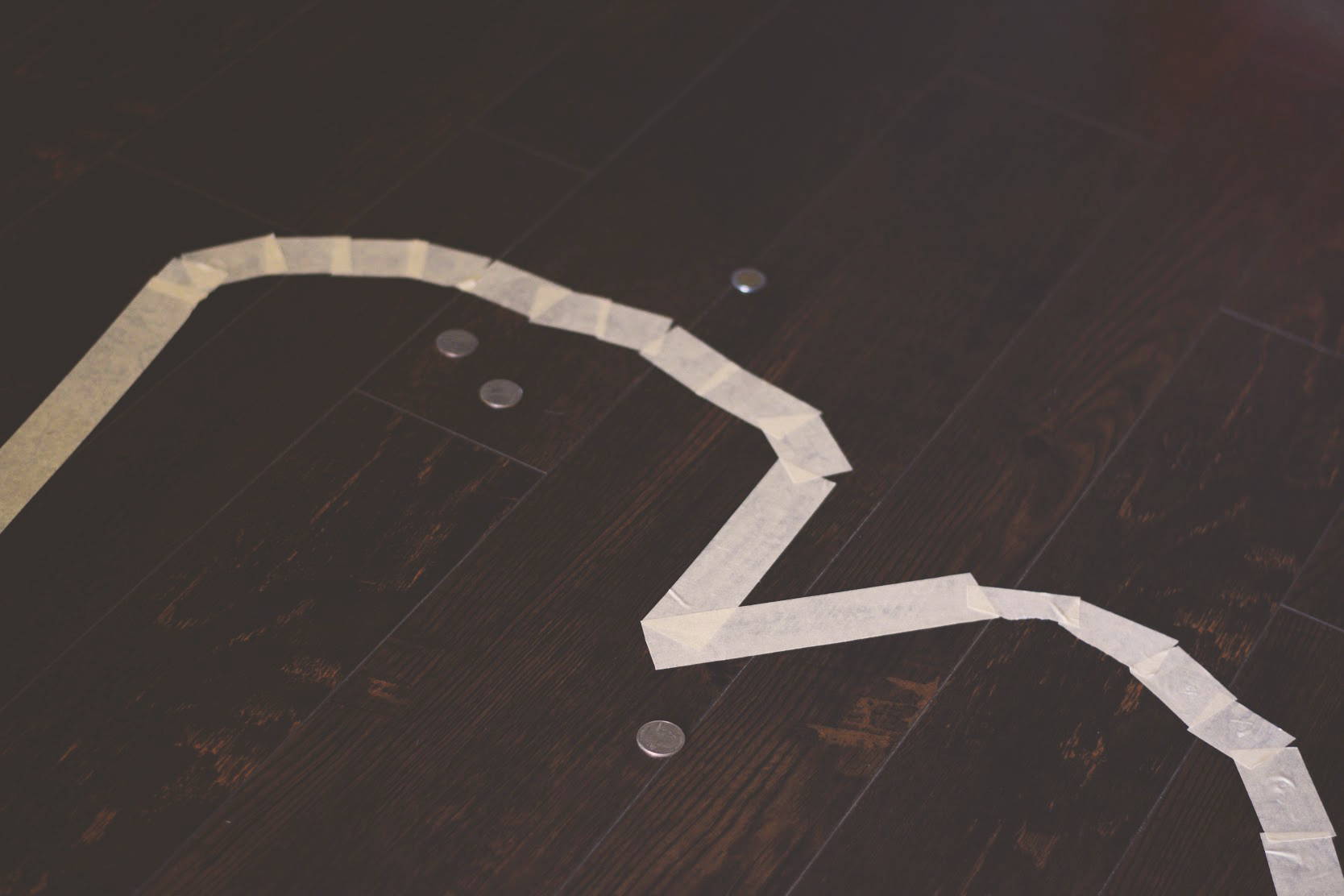 Counting how many coins made it into the center of the heart.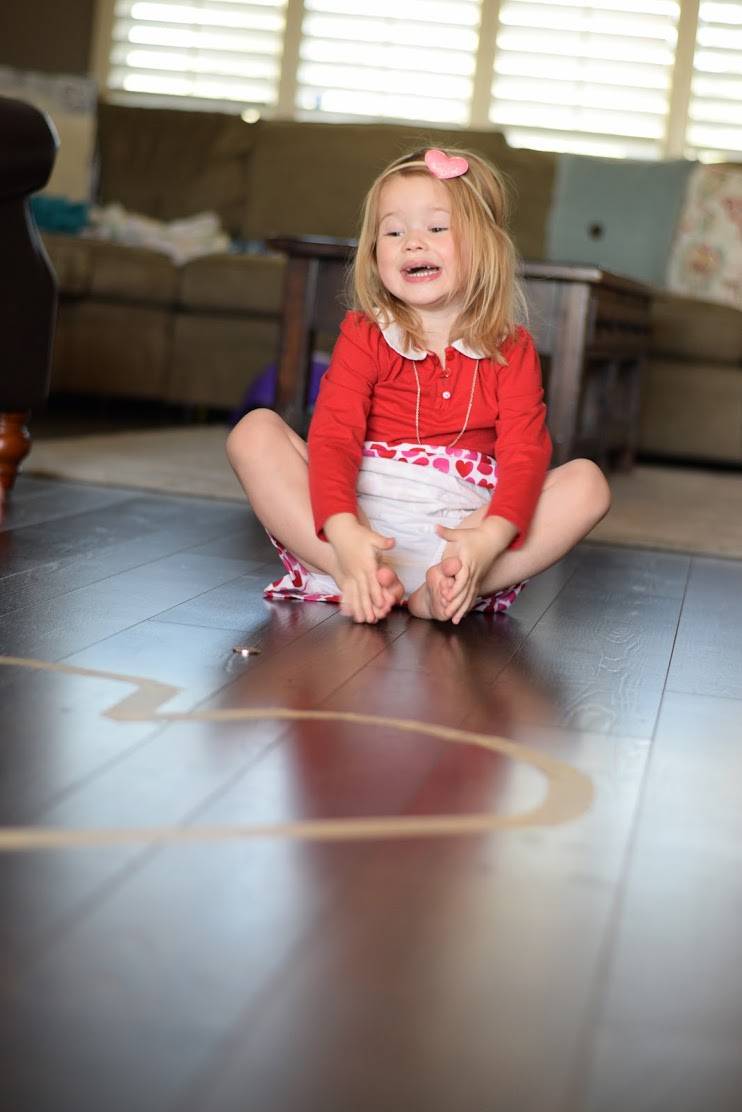 Yay for a fun mess free game!
I love that this activity doesn't take up space, make a mess, or require immediate clean up. Our heart is still on the floor a week later. The girls are still asking for coins daily. If I'm not available to keep an eye on them they will use something else: cars, cheerios, small blocks/legos, etc. You definitely want to keep this idea in mind for a rainy day or a fun holiday themed activity!

► Activity
Outline heart on floor with masking tape. From a distance try to slide coin into heart.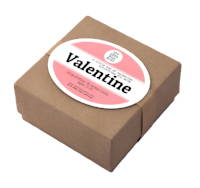 ► Length of time spent on activity (approx.)
15-20 minutes
► Materials needed/chosen
Masking tape, coins, clean open area on a flat surface
► Any prep-work? If so, what?
Making outline of a large heart with masking tape
► Directions / What we did
I outlined a large heart on the floor with masking tape. I then modeled for my daughter how to stand back and slide coins along the floor and into the center of the heart. We then practiced standing/sitting at different distances from the heart until we found a place she could be both successful and still have a challenge. I then gave her a small handful of coins and she would see how many she could slide into the heart, trying to get more inside with each try. We also competed against each other and tried to each get the most coins into the heart (I, of course, had to stand back farther.)
► Possible ways to expand on the activity
Use other objects: cars, cheerios, small legos, etc.
► What would you do differently next time?
Make sure I have a handful of larger coins or even the fake plastic gold coins.
► What my child was able to do by themselves
Slide coins along the floor and have them land inside the heart.
► What my child needed help with
Figuring out how to sit/stand slightly away from the heart and not right on the edge. Understanding the difference between sliding and throwing.
► My child's thoughts about the activity
She enjoyed sliding objects into the heart. It was fun seeing if she could get more coins to stay inside the heart each time. It was also fun competing with me to see who could get more inside.
► Any other thoughts or info about the activity?
I love that this activity is no mess! The heart can be left for a few weeks and provide hours of entertainment!
---
Parent Blogger: Jana
Sign-up for our newsletter to receive activity ideas & documentation, here. vdaybox