One of my favorite things about the Idea Box activities is how open ended they all are. We can totally make it our own! Doing JUST what the coin says, or easily expanding the activity, doing an activity for 15 minutes or stretching it to an hour...we always have so much fun and the creative juices start flowing! And, when that starts happening, you know it's a great activity! That's exactly what happened when we accepted the challenge to practice wrapping small objects.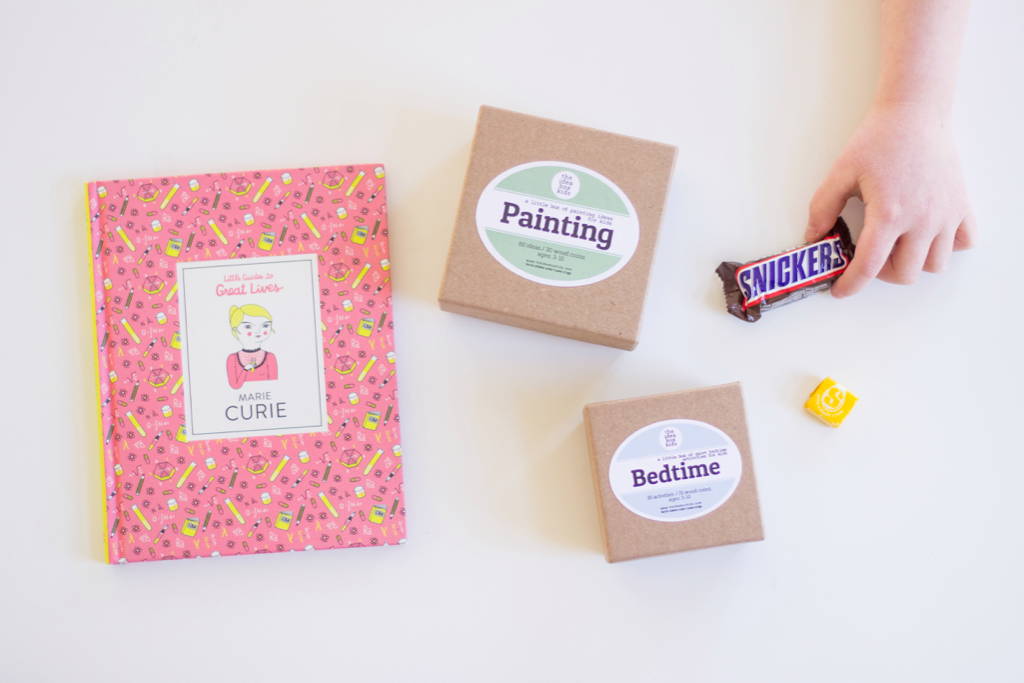 First, we gathered our supplies! Scissors, tape, paper, things to wrap, decorations...we wanted to get a variety of small items: tiny candy, thin books, small Idea Box boxes.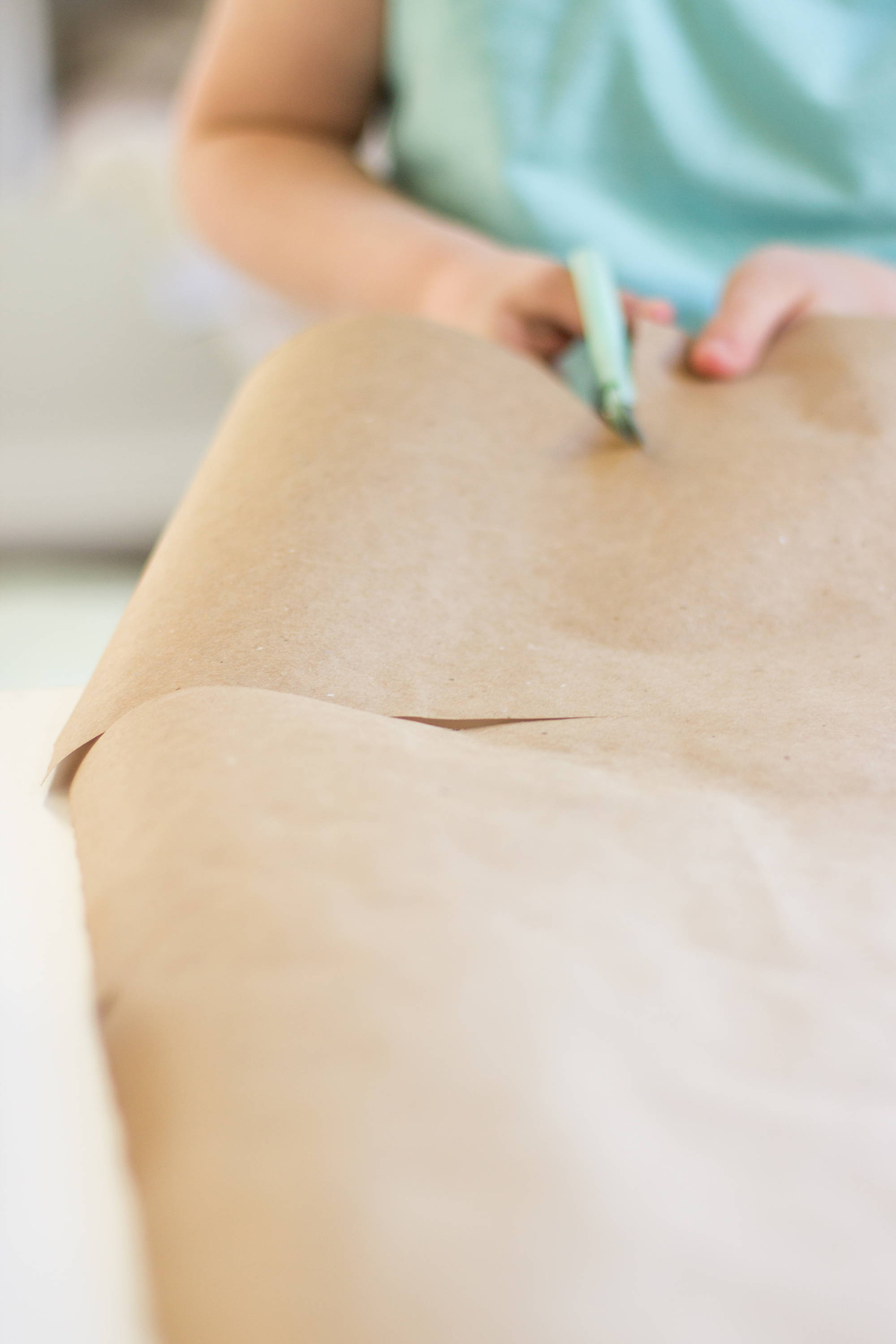 Then, I just let my 7 year old have at it. She tried to eyeball how much paper she'd need...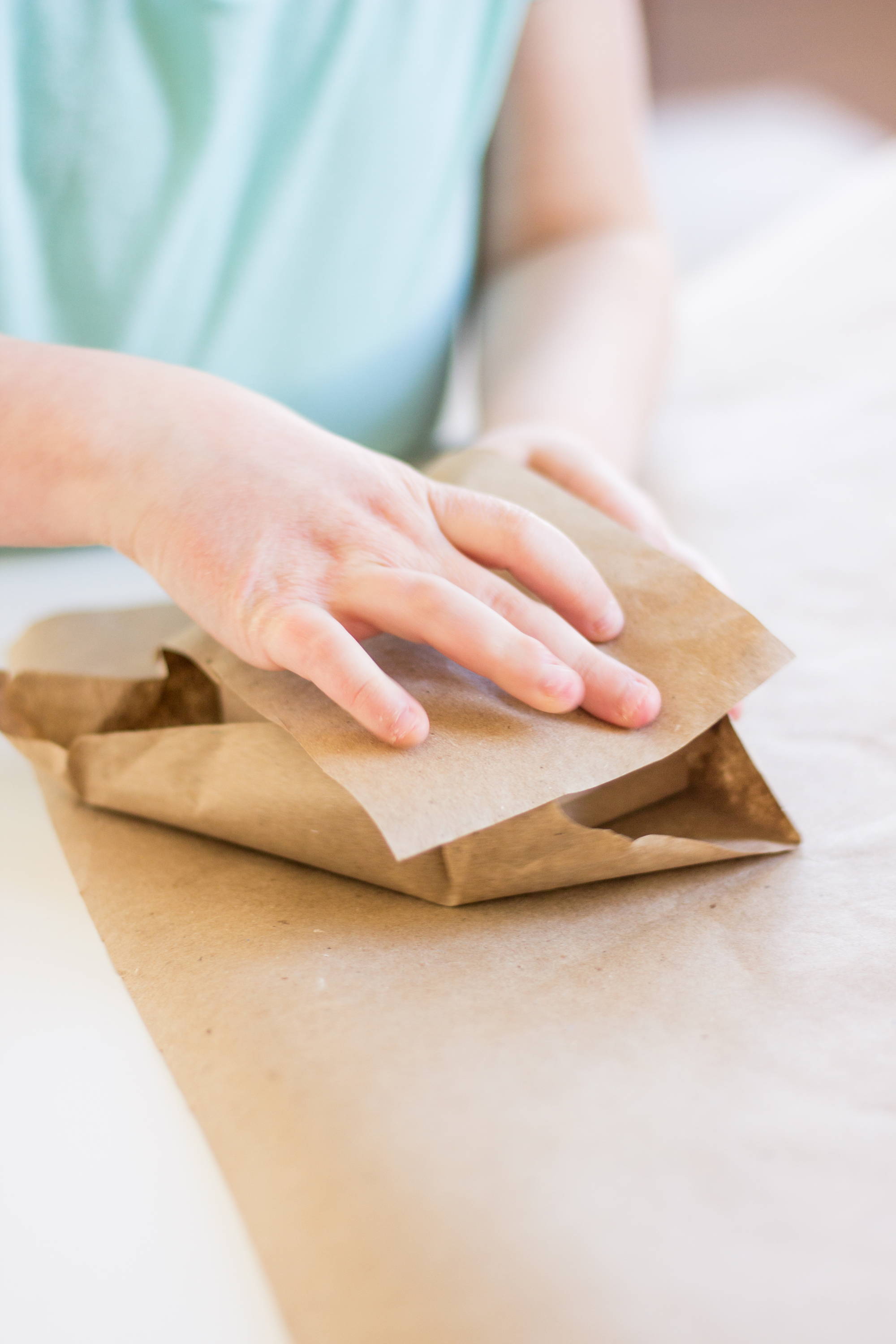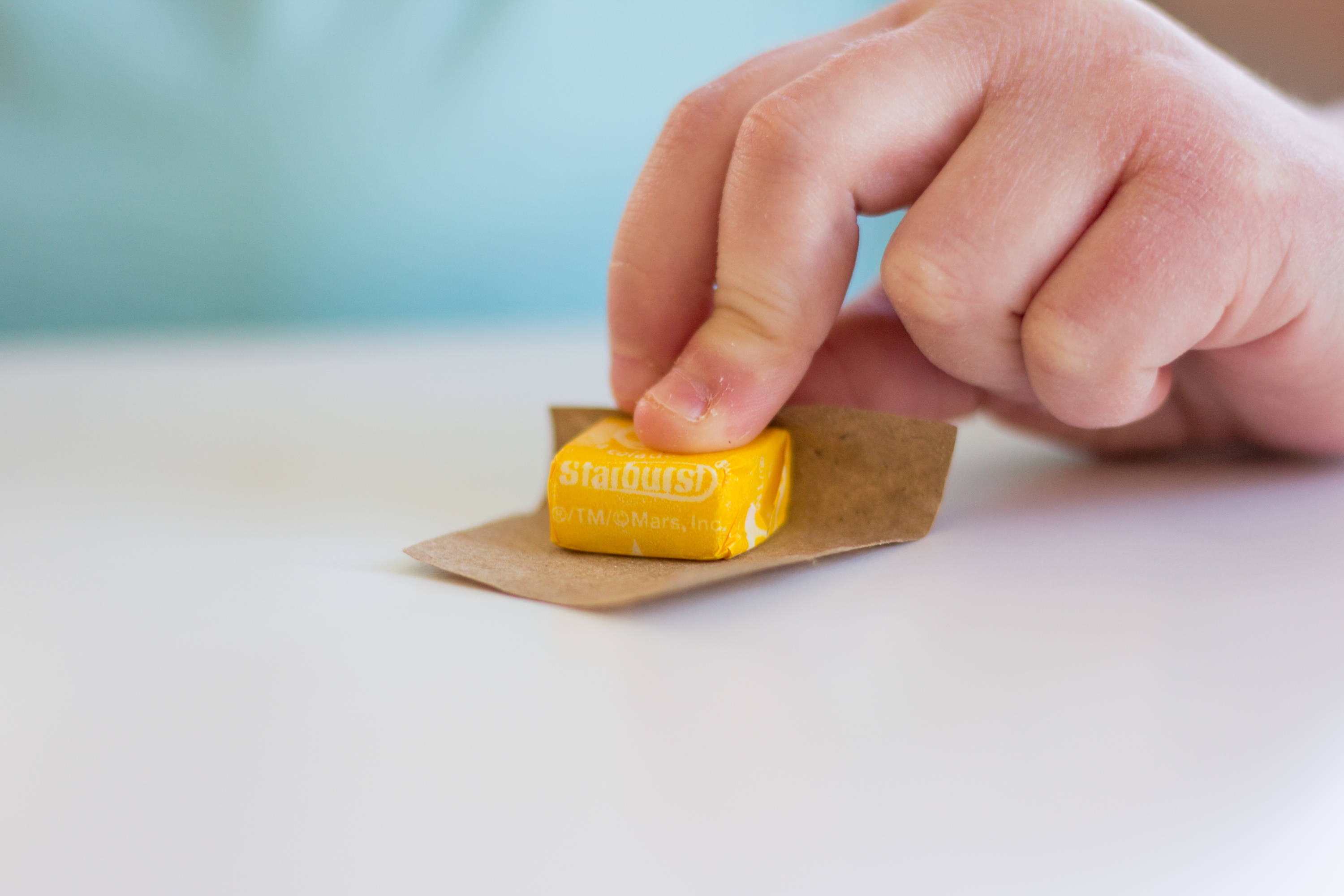 ... and that didn't work out so well. But, she went with it! She's a pretty big perfectionist so I was sure she'd feel like she needed to start completely over, but she just shrugged it off and said that she'd cut another piece of wrapping paper for the other side. (That's another thing I LOVE about these activities: they always stretch my kids a little and help them practice such amazing and helpful skills!)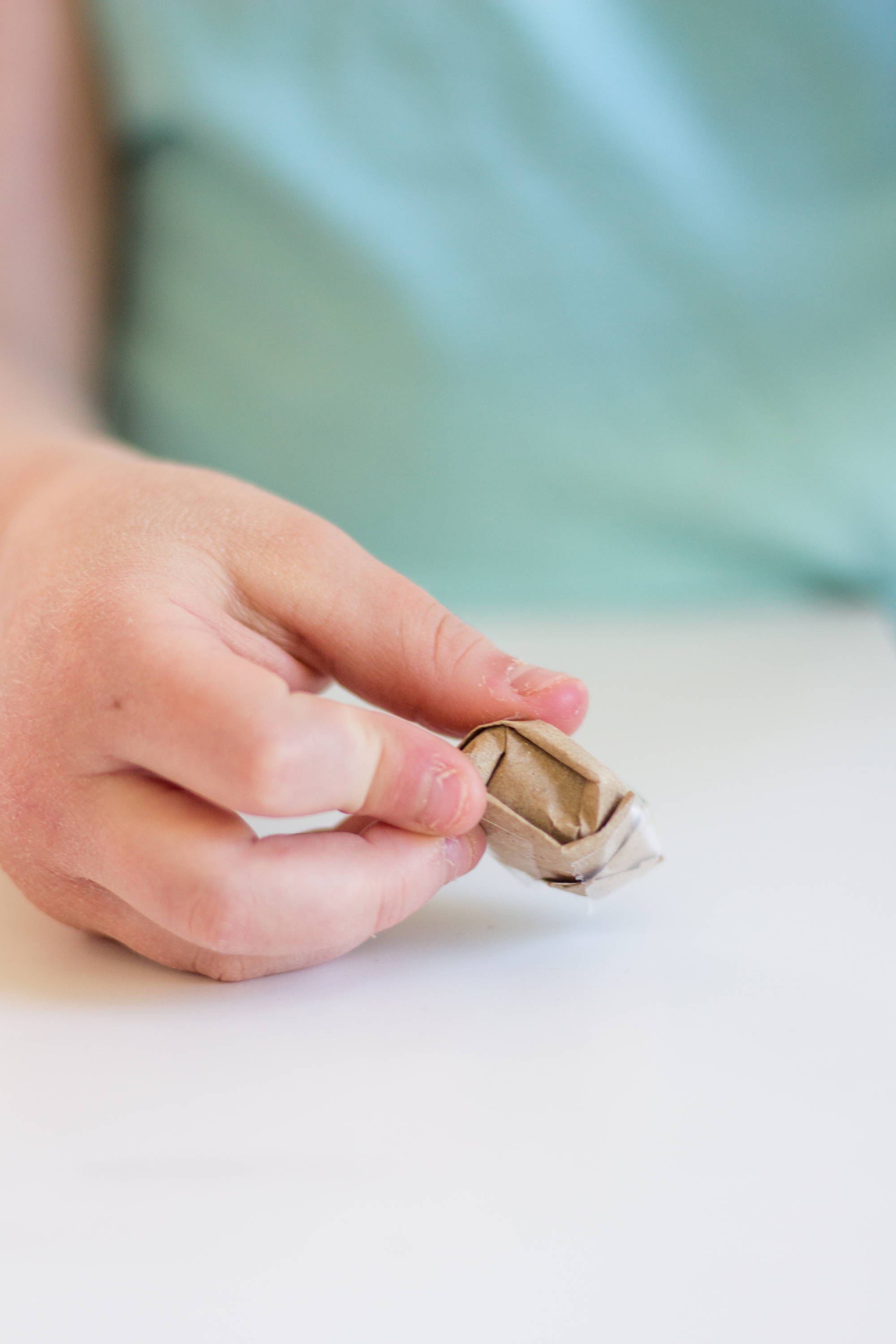 A few more tries, and A LOT of tape later, I stepped in to give her a few pointers for wrapping gifts. Because these activities are so child-led and wonderful, I always hesitate to give any input. And, when you let the children experiment and try on their own first, there is usually very little input to give! They are so smart and creative and almost always figure things out on their own eventually! I just told my daughter that people usually put the item on the wrapping paper and then try wrapping the paper around the object to see how much they need before cutting and it clicked for her!
Then we got to her favorite part, which was the decorating. She had so much fun with all the different materials for this part and it was fun to see her creative juices flowing! Don't be afraid to think outside the box here with the materials you let your kids use to decorate the outside of the package! It's was so fun to see all the things she came up with!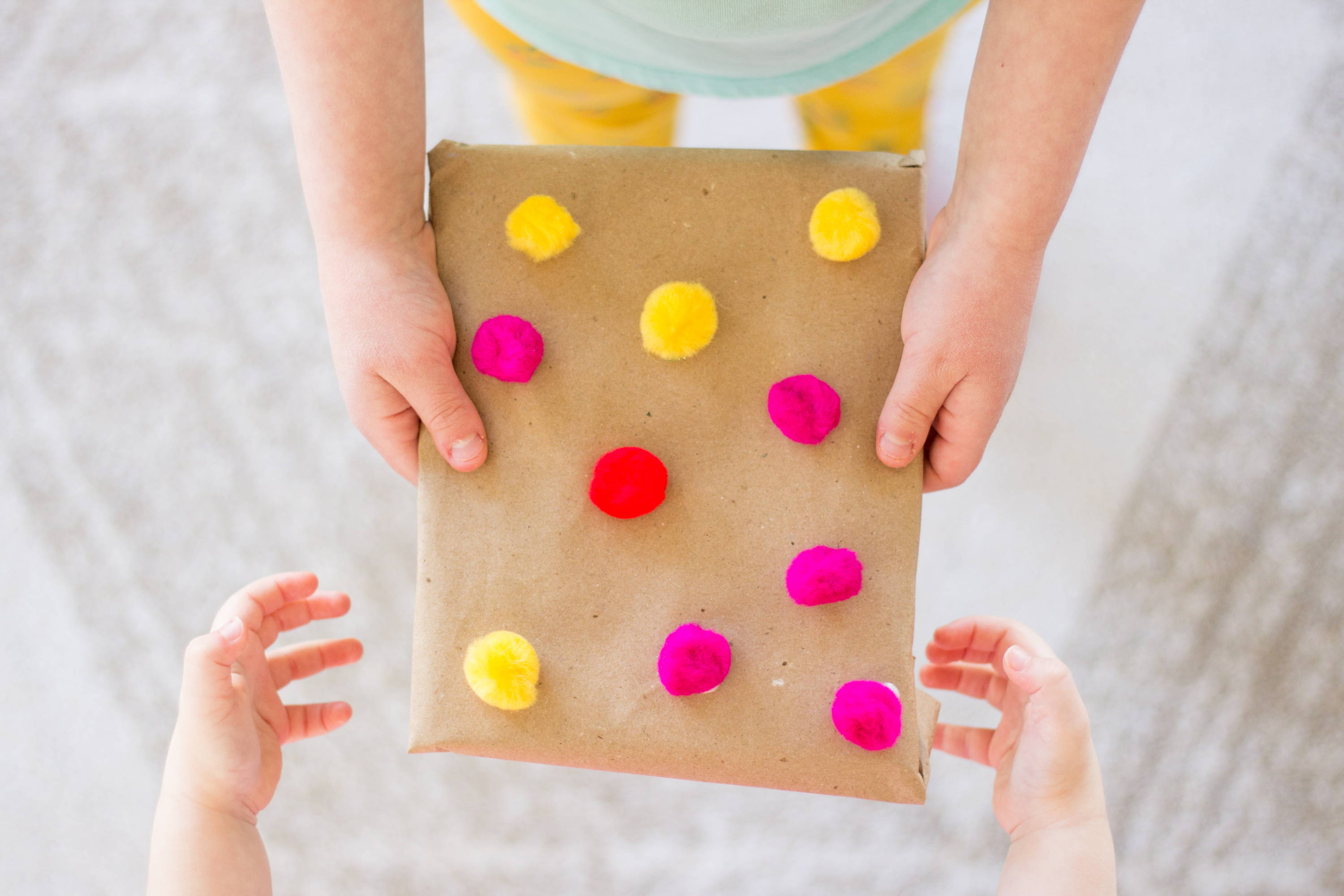 And finally, the best part, the actual gifting of the gift! She is the oldest of four and we did this activity without her younger siblings so the gifts could be a surprise for them. She is so excited for them to see their presents and felt like such a big kid to be the one in on the "what's inside the box" secret!
I love including my kids in activities like this around the holidays to help them take a step back from their gift lists and get excited to GIVE, no matter how big or small what they're giving is. And they always surprise me! When they're included in caring for and serving others, it is always more exciting for them. Activities like this always get me excited to find more ways to involve my kids in activities that I didn't think they could do or would even want to do! (Yet another reason why these activities are always SO good!)

► Activity
Practice your gift wrapping skills & wrap small items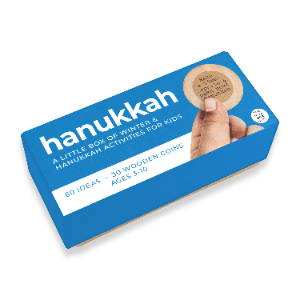 ► Length of time spent on activity (approx.)
20 minutes
► Materials needed/chosen
Objects of various sizes, wrapping paper, tape, scissors, random decorations
► Any prep-work? If so, what?
Just gathering materials
► Directions / What we did
We chose items of different sizes from around the house and gathered wrapping supplies (scissors, paper, tape, etc.). I let my daughter choose which item she wanted to wrap first and then let her have at it without giving her any instructions or tips for wrapping presents. Since it was her first time ever doing so, there was a lot of trial and error! After letting her try it on her own, I gave her a few tips for cutting the paper to the correct size on the first try and some good ways to fold and tape, but I still just let her do it on her own. After she had wrapped the presents, she added decorations to the gifts. She used pipe cleaners to attach a snowflake made from pipecleaners, glued pom poms onto the paper, etc.
► Possible ways to expand on the activity
•Gather items of different sizes and shapes. Guess which would be easiest to wrap and talk about what you figured out at the end!
•Have a wrapping contest. Give everyone the same item and see how can wrap it the fastest, the best, the most creatively.
• Wrap items and have people guess what is in it before opening.
•Use plain wrapping paper and have lots of different items to decorate the paper (stamps, pom poms, pipe cleaners, bows, ribbons, stickers, paint, glue to create 3D designs).
•Wrap every coin from your idea boxes to make choosing a new activity extra fun, especially for holiday boxes!
► What would you do differently next time?
I would include my younger kids! I didn't think my 4 year old would be up for it, but I think he would have had fun with it and it would have been fun to see his approach.
► What my child was able to do by themselves
Everything. My 7 year old needed a few pointers because this was her first experience wrapping, but she did a great job!
► What my child needed help with
I provided a few pointers for getting the right size of paper before cutting.
► My child's thoughts about the activity
She LOVED it. She's really caring so she loved wrapping gifts for others because she loves gift giving and can't wait for them to receive it. She's also super creative so she really starting with a blank slate and being able to decorate the outside however she wanted!
► Any other thoughts or info about the activity?
I love how open ended all of the Idea Box activities are and that we could make it our own, and that the time that they take is totally up to you! They can all be so quick, or take an hour! I would also say that the gifts that your children wrap are likely not going to be perfect, with smooth corners and minimal taping, but don't re-wrap them! Your kids will be so proud of what they've done and the wrapping paper ends up crumpled and ripped anyway! I'm tempted to let them wrap all the gifts this year ;)
---
Parent Blogger: Tori Tori is a mom of four, two gals and two guys, ages 7 years to 4 months. They are the funnest group, with such varied interests. Thankfully, they all love children's books! Their days are filled with stacks of read-alouds, a lot of costume changes, and plenty of laughter, mixed in with a few tears. Follow them on Instagram at @tothebooknook to see their favorite books and fun projects and learning experiences!
Sign-up for our newsletter to receive activity ideas & documentation, here. hanbox